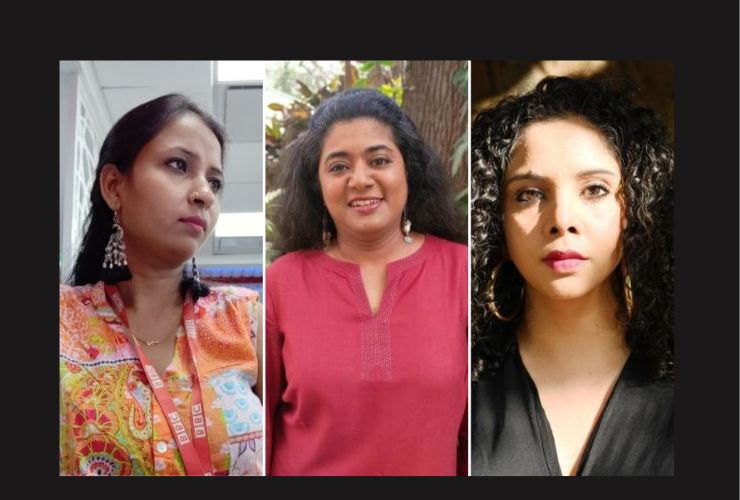 We, at the Network of Women in Media, India (NWMI), are shocked and angry at the incessant online attacks against women journalists, especially those from minority and marginalised communities who are outspoken about the plight of these groups.
NWMI deplores and calls out the shocking impunity accorded by platforms like Twitter, Facebook and Instagram to hate speech against women journalists. In particular, we highlight recent vicious attacks on our members Meena Kotwal and Anna M.M. Vetticad.
It was reported in January this year that Kotwal received threats of violence, including physical violence, from multiple callers. She has told the media that in one of the conversations, she was warned that her phone number was being widely distributed on WhatsApp groups and social media pages, with instructions for others to collectively threaten her. This week, Kotwal posted on Twitter about threats she received on Instagram focused on her Dalit identity. The account in question, which was filled with hate for Dalits and Muslims, has since been taken down by Instagram.
अगर मुझे या मेरे परिवार को कुछ हुआ तो जिम्मेवार ये लोग होंगे👇

वीडियो में बाबा साहेब, पेरियार और मेरे प्रति इनकी नफरत देखिए. मुझे नुकसान पहुंचाने की बात की जा रही है, FIR दर्ज करवाने के बाद भी इन लोगों का कुछ नहीं हो रहा है.@DelhiPolice @NWM_India @NCSC_GoI @NationalDastak https://t.co/qu2JMGR9Qj

— Meena Kotwal (मीना कोटवाल) (@KotwalMeena) February 2, 2022
NWMI stood with Kotwal in solidarity and support when she filed an FIR last month. We continue to stand by her and urge the Delhi Police to take action at the earliest against those attacking her. These violent threats have to stop.
Almost five days after she lodged a complaint of harassment for her video story, journalist and Editor of Mooknayak @KotwalMeena has managed to get an FIR lodged in Ambedkar Nagar police station in South Delhi. Why was there such a delay, @CPDelhi ?

— NWMIndia (@NWM_India) January 20, 2022
Vetticad has also been subjected to a communal and misogynistic hate campaign on Twitter this week, with trolls specifically targeting her for her minority religious identity. She has tweeted a detailed account of the hounding she has faced. NWMI stands by her during this distressing episode, as we have in the past for the communal targeting she faces on a regular basis. You can read an earlier statement here: NWMI condemns misogynist abuse of Anna M M Vetticad, demands end to virtual violence – NWM India
Since I posted this video here, I've been touched by the warm responses from so many good people, but also startled by the storm of Sanghi spammers though I thought I was habituated to online misinformation and hate after so many years of facing organised trolling. (1/n) https://t.co/PJoJ3neEIo

— Anna MM Vetticad (@annavetticad) February 2, 2022
We strongly condemn the online attacks against Kotwal and Vetticad, and urge the authorities to take cognizance of this abuse before it leads to consequences in the real world.
We would also once again like to highlight the recent attacks on Rana Ayyub. A public comment by Ayyub about recent news developments, followed by an online news platform using morphed tweets to spread fake news about her, led to a barrage of hate on Facebook, Twitter, Instagram. At one point, Twitter trends showed 26,400 tweets in her name, and she reported that most contained threats of physical violence.  We reiterate our stand that the complaints filed by Ayyub with social networking platforms and to the police be taken seriously and investigated thoroughly.
Mumbai Police has registered an FIR against those who disseminated fake news, morphed tweets and death and rape threats against me. About time these brazen and consolidated acts of online violence are stopped and the perpetrators brought to book

— Rana Ayyub (@RanaAyyub) January 31, 2022
26.4 thousand tweets, most are abusive, rape and death threats, calling me a terror sympathiser. Most tweets are by the Indian right wing & Saudi nationalists who are attacking me after i posted a tweet in solidarity with Yemen and calling out the Saudis. Hello @TwitterIndia pic.twitter.com/Cd1880betW

— Rana Ayyub (@RanaAyyub) January 24, 2022
Ayyub has been subjected to a sustained and orchestrated hate campaign, and we have issued statements highlighting this in the past. You can read our statements here: "Stop targeting of Muslim women journalists in India": NWMI – NWM India and here:
Stop online vilification of Rana Ayyub: NWMI – NWM India
We demand that social media platforms like Twitter, Facebook and Instagram stop enabling intimidation, harassment, misinformation and violence, and take swift action when complaints are raised. The mental health toll on the women being harassed is immeasurable and the inaction against their harassers inexcusable.
NWMI stands by women journalists who are under attack merely for speaking out and will staunchly defend their right to hold and express their views, however unpalatable to some, freely and without intimidation. Such crass attempts to silence us will not work.
The attacks faced by women journalists comes in the larger context of the hate politics prevailing in India today with marginalised castes and religious minorities being the primary targets. These well-organised online attacks not only vitiate society, they are designed to translate to offline assaults. The hostility towards prominent women journalists, who bear witness to society, is a measure of the fear these organised hate groups have of those, particularly women, who speak truth to power.
The Network of Women in Media, India
 4 February 2022