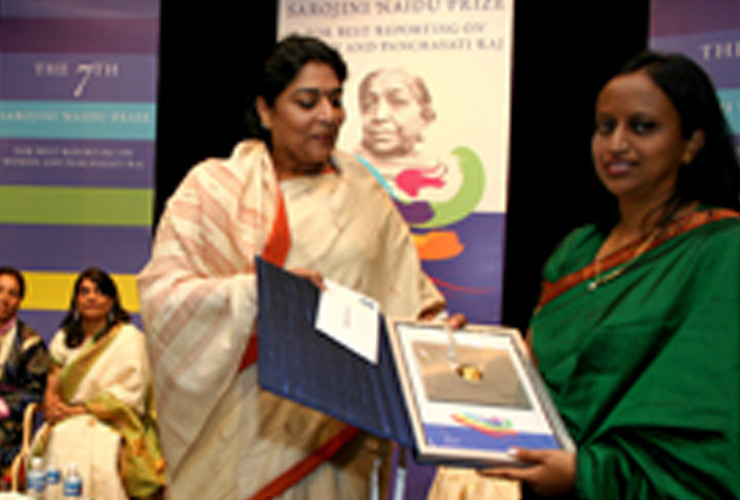 By Editors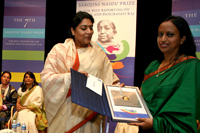 NWMI member Teresa Rehman wins Seventh Sarojini Naidu Prize for best reporting on women in Panchayati Raj.
In a glittering function in Delhi's Chinmaya Mission auditorium, the 7th Sarojini Naidu Prize for Best Reporting on Women and Panchayat Raj, instituted by the Hunger Project was awarded to Teresa Rehman, Principal Correspondent (Northeast India), Tehelka on 2 October 2007. She was conferred a citation and a cash award of Rs 2 lakh by Renuka Chowdhury, Minister of State for Women and Child Development (Independent charge). Asma Jahangir, Lawyer and Activist from Pakistan who is also the United Nations Special Rapporteur on Freedom of religion or belief of the Commission on Human Rights and actor and also special activist Shabana Azmi were also present on the occasion as guests of honour. Rita Sarin, Country Director THP opened the ceremony and shared the work of The Hunger Project India. She narrated how women leaders in Rajasthan insisted for a girl's school within the village for girls, finally managing to pass a resolution in the Panchayat for the same. More than 450 dignitaries, including Ambassadors of various foreign missions, top bureaucrats of Government of India, heads of I-NGOs, Members of UN bodies, academia, media and other prominent citizens attended the function.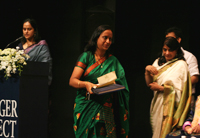 The jury which selected Rehman's story includes Dr George Mathew, Director, Institute of Social Sciences, Shabana Azmi, actor and social activist, Niraja Gopal Jayal, Chairperson, Centre for Study of Law and Governance, Jawaharlal Nehru University, Meenakshi Dutta Ghosh, Secretary, Ministry of Panchayati Raj, Government of India, Alok Mehta, Editor, Outlook Saptahik and Shashi Kumar, Director, Asian College of Journalism.
The Sarojini Naidu Prize, an initiative of The Hunger Project, honours the commitment and contribution of the media in showcasing the work done by these elected women. This year, the prize focused on the contribution of elected women leaders to education. The Hunger Project, over the past seven years, has trained 65,000 elected women and is a witness to their effective leadership in bringing water, basic health, hygiene and education to their villages.
Speaking on the occasion, Asma Jahangir hoped that in the coming years, we should be talking about the vision of these women leaders as they are visionaries of tomorrow at the grassroots level. Asma Jahangir captured everyone's attention when she congratulated India for reserving 33% seats for women at the village Panchayat level. She said she was glad that her country not only followed India's example but went one step further, reserving 33% seats for women in their Parliament. Asma shared that though there was much resistance initially, it is the women members in parliament who are making it vibrant with their presence and participation. She recalled that those who opposed reservation of seats for women in Parliament later sent their own daughters, nieces and spouses to the Parliament. But when during a political crisis though the father resigned his membership the daughter didn't. She said it shows how woman are unwilling to get back to the confines of four walls of home once they have been exposed to public life.
Rehman's story had focused on Hema Kumari Das, a panchayat president from Rajabari village panchayat who had done commendable work in the uplift of primary education in a village inhabited by Internally Displaced People belonging to the Mishing tribe. Rehman in her speech said, "We women have to work under very difficult circumstances in a conflict-torn region like the Northeast. And this empowering of women at the grassroot level has helped in their social, emotional and psychological blossoming."
Rehman also emphasized on the fact that just as the government distributes free textbooks to the school students, they should also distribute free school uniforms to the students so that atleast the girl child do not drop out just because she does not have a dress to wear.
Rehman has written incisive pieces on issues like crimes against women, customary laws and gender discrimination. She is particularly interested in delving into the lives, trials and triumphs of women panchayat leaders, who according to her have a great opportunity to usher in a developed India. She was earlier conferred the fourth Kunjabala Devi Memorial Award for Investigative Reporting on Women's issues by The Assam Tribune group in 2003.