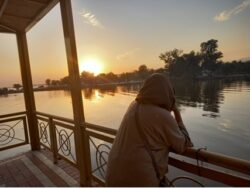 By Editors
Transcript from a recording of Afghan journalist Makia, who talks of her work and life in Afghanistan, and what the Taliban takeover has meant for the media community in the country. Makia is among the lucky ones to have made an escape, first to Pakistan, and now starting life anew in Canada. This has been excerpted from "In their Own Words: Afghan Women Journalists Speak", a report by the International Federation of Journalists and the Network of Women in Media, India, supported by Norsk Journalistlag. 
"I was a child. I watched TV and I watched the news program and I listened to the BBC radio and Voice of America radio with my father because my father listened to BBC and Voice of America at that time. And I liked to listen with him. And sometimes I liked that answer, "Who read the news and other programs on TV?" At that time, when I watched TV with my father and listened to the radio, I said to my father and mother, "I will become a journalist when I grow up," and at that time, I act like a journalist or announcer. So, when I graduated from high school, my mother, my parents asked me, "You must become a doctor in the future." But I don't like to be a doctor, I said to my parents, "No, I want to be a journalist in the future." When I took the entrance exam, I chose journalism. And fortunately, I succeeded. I was very happy, very happy that time because I wanted to be a journalist in the future, and also an announcer. And, that time, when I graduated from the faculty of journalism, I faced difficult times because that time was war in Afghanistan and also after that, the Taliban came and that time, we faced difficult days and nights that time also. Especially in civil war, we faced difficulties. And also, when the Taliban came. After the (end of the) Taliban regime, I started my work with different media. First, I start my work with National TV and was a reporter and announcer, and I prepared different programs. Every day, I have a report. After that, I started my work with Pajhwok news agency. I was the first journalist there.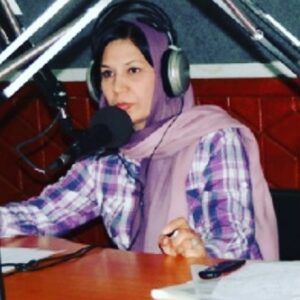 I, like my other colleagues, that when Pajhwok agency started work, I worked with them as a reporter in the political section, election and parliament section, human rights and political parties. After that, I went to Internews Salam Watandar and I worked with them as news manager. And also sometimes as editor and trainer, I work with them. I worked with Internews Salam for five or six years. After that, I went to Voice of America and I worked with them and the election project- the president election project. And, I was their reporter, editor, translator. That all was my work. So after that, I worked with different sections of Voice of America until the Taliban came back to Kabul and capture Kabul and other provinces of Afghanistan. And I stopped my work, as did hundreds of journalists, because I was under threat.
And, I stayed home. And also, my office doesn't want their colleagues working in Afghanistan because they are under threat and they worked with Voice of America and also before I worked with Internews… It was difficult for me to continue my work during the Taliban's capture of Kabul. And also I was director of Women Journalists Coordination Center and in a committee of government.
When the Taliban took Kabul and other provinces and they control these places, our dark days started again after 20 years because we struggle for all things… We struggle for human rights, women's rights, for media. For ourselves, that we lost all things in a hurry. And we are back to 20 years ago, started our difficulties. [We had] started [with] more women journalists, women announcers, women who work in media, in different sections of media. Now, they are staying in home, they haven't any work, they haven't any salary, and they are facing financial problems. We lost all of our things. It's very difficult for us, and for all women, for all men, for all child[ren], that we lost our hopes. We had a lot of hope, but we couldn't after that, to reach our hopes to struggle for our hopes and to work outside the home. What we have, what we want. More journalists are under threat in Afghanistan and were under threat in Afghanistan when Taliban captured Kabul. More journalists escaped from Kabul to other countries. And more of them escaped from (provinces). They are living in Kabul, but they hide and they are facing financial problems.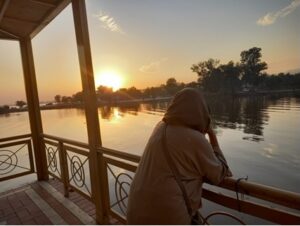 Those who left Kabul and went to other countries, especially neighbouring countries, are also facing financial problems. It's very sad to us. And we think when the Taliban came, we died, we died again like 20 years ago. Yes, I also left Kabul after one month or so, when the Taliban captured Kabul because I feared. I lived with fear and also I was under threat because I write about Taliban on social media and also when some of my friends 'like' something in social media, I comment against the Taliban. My many posts were against the Taliban. And also when I was news manager, I had problems with the reports and other things that my colleagues prepared from different provinces, especially insecure provinces. And we don't want them to edit it. I want them to send the voice and text to us to cover. We will edit it and broadcast it from here. I left Kabul and I left my hopes in Kabul and Afghanistan. Because I had a lot of hopes. And I wanted to be a journalist 20 years ago or 25 years ago. I had a lot of hopes that I must complete it. I hoped to go to other provinces and other villages and prepare different reports, different clips and interviews. But unfortunately, I couldn't go there because the province was insecure.
And I couldn't go there and prepare reports that I want. I wanted to go to the other province with a camera and a recorder, but I couldn't. And that is my hope [aim] which I could not reach. Me and other Afghans want to [see] one day Afghanistan liberated again. And the Taliban [to] leave Afghanistan and Kabul. And our people become free again and we can go back to our country because they obligate us now to leave our country, to leave our hopes, to leave our work, to leave our relation and friends. It's difficult for me, for all Afghans, for all women, for all journalists and for all who hope for their country. You know, when we left Afghanistan, it wasn't a good time for us. We were obligated to leave Afghanistan, we were obligated to see our hopes that died. And other countries that helped Afghanistan for 20 years must make an honest decision about Afghanistan. Our forces retreated but they were forced, obligated to retreat. Now the Taliban kill them every day, kill the human rights activists, the media rights activists, women rights activists, and other people who struggle for freedom. The Taliban kill these people every day. It's a disaster for us, and for all people. We hope, one day, we see the Taliban has left Afghanistan and we become, our country becomes, free again. It's our hope to come back to our homeland. I hope one day our girls go back to school. Our women go back to their office. Our women journalists go back to their media. And all women and youth [fulfill] their [wishes] in their countries, not other countries. We were forced to move from our sweet homeland. We never wanted to leave our country.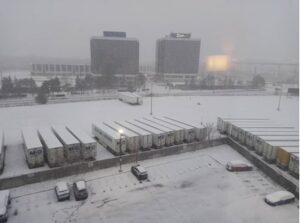 All Afghans like me, they think this: 20 years (ago), I go to different countries, but I came back to Afghanistan because I had a lot of hope in my country. All my friends told me not to go back to Afghanistan because Afghanistan is not a safe place for journalists and other women activists or human rights activities. But I said to them, "No, I could go back to my country. One day, my country become secure and better and better than today, but I'd never thought the Taliban will come back to Afghanistan and capture our provinces and Kabul. We are back to 20 years ago. Our dark days have started again. I never thought that. I say this honestly I am worried about my colleagues, about the women journalists and men journalists that are in Afghanistan. They hide from the Taliban and are facing financial problems. They are facing hard times, hard days and nights in Afghanistan. I'm very worried about them. I want to tell other associations and international associations of journalists that they must help and support Afghan journalists. A lot of them are under threat. A lot of them are beaten by the Taliban and hence it is a disaster for me and all my colleagues that they are still in Afghanistan. I want to [tell] the international journalists' organisations and their countries to take them, real journalists, from Afghanistan. They struggle for human rights, for our country and for their job."
Related:
Journalists For Afghanistan: An NWMI Fundraiser – NWM India
NWMI Statement on Women Journalists in Afghanistan