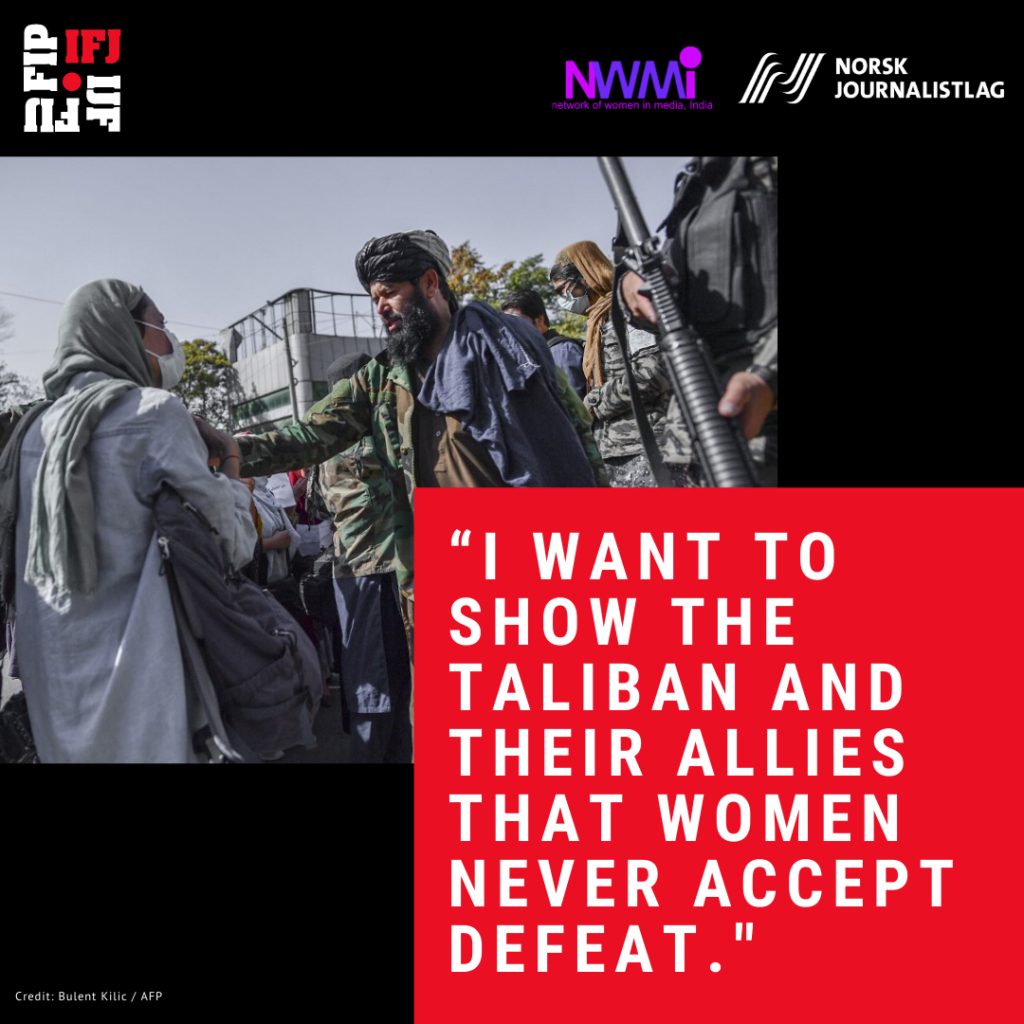 "I want to show the Taliban and their allies that women never accept defeat. Women have always been and will always be with us. With the support of committed women from other countries, we will once again strive to achieve the rights of Afghan women," says Afghan radio journalist Noor Begum (name changed for security reasons).
Noor, like many other women journalists who fled Afghanistan, is attempting to build a new life for herself and her family in North America. But many more remain, facing immense hardships, stripped of their identity as journalists, their livelihoods axed by the Taliban in one fell stroke.
"In their Own Words: Afghan Women Journalists Speak", a report by the International Federation of Journalists and the Network of Women in Media, India, supported by Norsk Journalistlag, launched on Human Rights Day 2021, also marks the culmination of the 16 Days of Activism Against Gender Based Violence. The report tells poignant stories of women in the media clutching on to hope in the midst of utter despair at the sudden violation of their rights over the past few months.
After the Taliban rapidly took over the country in August, Afghan women and girls have borne the brunt of their actions against journalists, especially women journalists. With religious diktats determining content on television and prescribing a dress code for women journalists, the media are being muzzled. Hard-won freedoms have vanished as women were pushed out of their jobs, back into the domestic sphere, and reduced to penury.
Under the banner Journalists for Afghanistan, the NWMI, in collaboration with the Media Safety and Solidarity Fund, launched a photo-fund raiser to support Afghan women journalists. The Associated Press donated prints for the photo print fundraiser. The approximately US$ 100,000 raised through this initiative is being disbursed to cover the daily costs of living, visas, travel out of Afghanistan and equipment to upskill and pursue a livelihood.
This report is an attempt to continue to shine the spotlight on Afghan women journalists and urge the international community to extend support in the shape of humanitarian assistance, visas, work permits and support to continue their professions.
The Network of Women in Media, India
10 December 2021
Related:
NWMI Statement on Women Journalists in Afghanistan
Read the full report below or click here to download
In their own words Afghan women journalists speak