By Rakhee Roytalukdar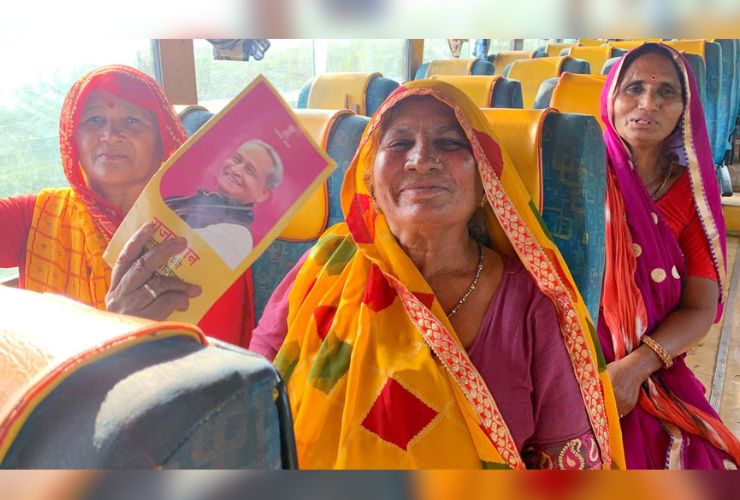 Is there anything known as women's vote in Indian elections? Women voters are generally not rigid when casting their votes.
Sanjay Kumar of the Centre for the Study of Developing Societies (CSDS) had written an article in Mint some years ago : "If survey data is to be believed, there has hardly been a women's vote in Indian elections. Women hardly vote like women; they hardly show any specific preference for any political party, not even for parties which are headed by women leaders."
However, according to him, this trend appears to be changing, especially in state assembly elections, when women may vote for parties headed by women – for example, for the Trinamool Congress (TMC) in West Bengal, headed by Mamata Banerjee. "Not only is there an emerging trend of greater preference among women voters for parties headed by women, but assembly elections held in recent years also witnessed greater electoral participation by women."
Experts say it is important for women to vote, especially since they comprise almost half the population. Women must realise that their votes count and that election results have consequences. By exercising their franchise, they can have a greater say in the policy-making process and in ensuring that specific women-centric problems that plague Indian society are tackled.
The Assembly elections in Rajasthan are scheduled on November 25. The incumbent Congress government has tried to woo women voters by launching several women-centric schemes.
The Ashok Gehlot government's outreach to women is crucial since 2.51 crore women in the state are eligible to vote in 2023. According to Election Commission data, the percentage of female voters stood at 64.21% in 2003 and had gone up to 74.67% in 2018, marking a 10% jump. During the same period, the percentage of male voters increased by only 4.85%, from 69.90% in 2003 to 74.75% in 2018. Rajasthan currently has 52.6 million voters in total; male voters number 27.3 million and female voters 25.2 million. The number of third gender voters is about 606.
Many women, however, realise that most schemes are likely to be discontinued if a new government comes into power. Others are happy with whatever is on offer for the moment.
Savita Yadav (65) is elated with her smartphone. She lives in a basti (colony) beyond one of Jaipur's posh colonies: Jawahar Nagar. Having worked as a domestic help for years, she never bought anything for her own pleasure. Widowed at an early age, all her earnings got spent on bringing up her three children. Now she stays home because her grown-up sons do not let her work any more. Yet they never thought of buying her a phone, even for emergency purposes. "Ashok Gehlot did," says Savita, who is one of the 1.33 crore women slated to receive smartphones.
The Gehlot government had said the initiative, 'Indira Gandhi Free Smartphone Yojana, 2023,' estimated to cost Rs 12,000 crore, was a way to empower women, especially widowed/single women and female students. The Opposition, however, slammed the government for distributing freebies and straining the state's finances to woo women voters.
Gehlot has tried to seek favour from this section of voters by offering the cheapest health insurance cover (Chiranjeevi Swasthya Bima Yojana) of Rs 25 lakh to over 14.4 million families, subsidised gas cylinders at Rs 500 each to around 7.6 million beneficiaries, Annapurna food packets comprising refined oil, wheat, pulses, spices to over 10.4 million families every month as part of Rs 19,0000 million inflation relief package, 100 units of free domestic electricity, 100 days of guaranteed employment under the Indira Gandhi Urban Employment Guarantee Scheme, as well as a 50% concession in fares in all categories of roadways (state government transport) buses. In addition, he has approved a proposal for 90% concession for women in bus fares.
Radhika Barman (35) whose son had a major road accident recently, got him treated free under the Chiranjeevi Yojana in the state's largest government hospital, Sawai Man Singh Hospital. "We just had to pay for the medicines. So many guarantee cards, I get confused sometimes," she said. "I have the Bhamashah Card, too, made during Vasundhara Raje's time. But it is of no use now."
The Bhamashah Card was launched by former Chief Minister Vasundhara Raje in 2014 to empower women through financial inclusion and direct cash transfer to each woman beneficiary's bank account. Raje had also launched the Bhamashah Digital Parivar in 2018, wherein one crore Bhamashah card holders would get Rs 1000 aid to buy smartphones, which could also help them keep track of welfare scheme benefits. These initiatives followed her stupendous victory in 2013, when she won 163 seats out of a total of 200 Assembly seats. In that election, women's voting percentage was 75.51%, as compared to men's, which was 74.91%; this led to the conclusion that women may have overwhelmingly voted for Raje. Yet, despite such progressive schemes, Raje faced defeat in 2018.
According to Kavita Srivastava, general secretary, People's Union for Civil Liberties (PUCL), "Both the BJP and the Congress now acknowledge the needs of female voters and there is recognition of top-down measures to reinforce bottom-up forces aiming to get women equal standing in a largely male-centric society." 
"Many of Gehlot's schemes, like the Udayan sanitary napkin scheme, the Mahila Suraksha and Salah Kendras (MSSK), as well as the smartphone schemes, are steps forward," she added. "The MSSK have introduced a mechanism which enables a rape survivor to approach the SP's office directly and lodge an FIR. Earlier the SP's office would only receive the complaint. The Rajasthan Old Age Pension Scheme for senior citizens, especially old women, and the 25 days added to MNREGA's 100 days will definitely add to the common person's right to live with dignity." However, she pointed out, "Many of the schemes have been announced too late and cannot be implemented. Even the Right to Health rules have not been framed yet."
Although political parties now recognise women's rights at every level, there is still very little political representation of women in the state. The present Assembly has only 27 female legislators – out of a total of 200 – which amounts to only 13% representation. The three women ministers in the state cabinet – Mamata Bhupesh, Shakuntala Rawat and Zahida Khan – have been given charge of ministries like Women and Child Welfare, Devasthan and Science and Technology respectively.
On the poll prospects of the various parties, Sunita Singh, a nurse in a private hospital, says : "All parties offer freebies, saying they want to empower us, because they know our vote counts. But that is only before election time. What do they actually do during their years in power? That is something which we need to debate."
Read more: Women voters weigh options despite welfare deluge in poll-bound Rajasthan
Rakhee Roytalukdar has been a journalist for more than 25 years. She has been writing on politics, gender issues, tourism, wildlife, human interests and other topics. Having started with The Telegraph, she has worked with The Times of India, IANS, The Pioneer, UNI and others. She covered Rajasthan as a correspondent for The Telegraph for more than 10 years. She is now writing for Deccan Herald.