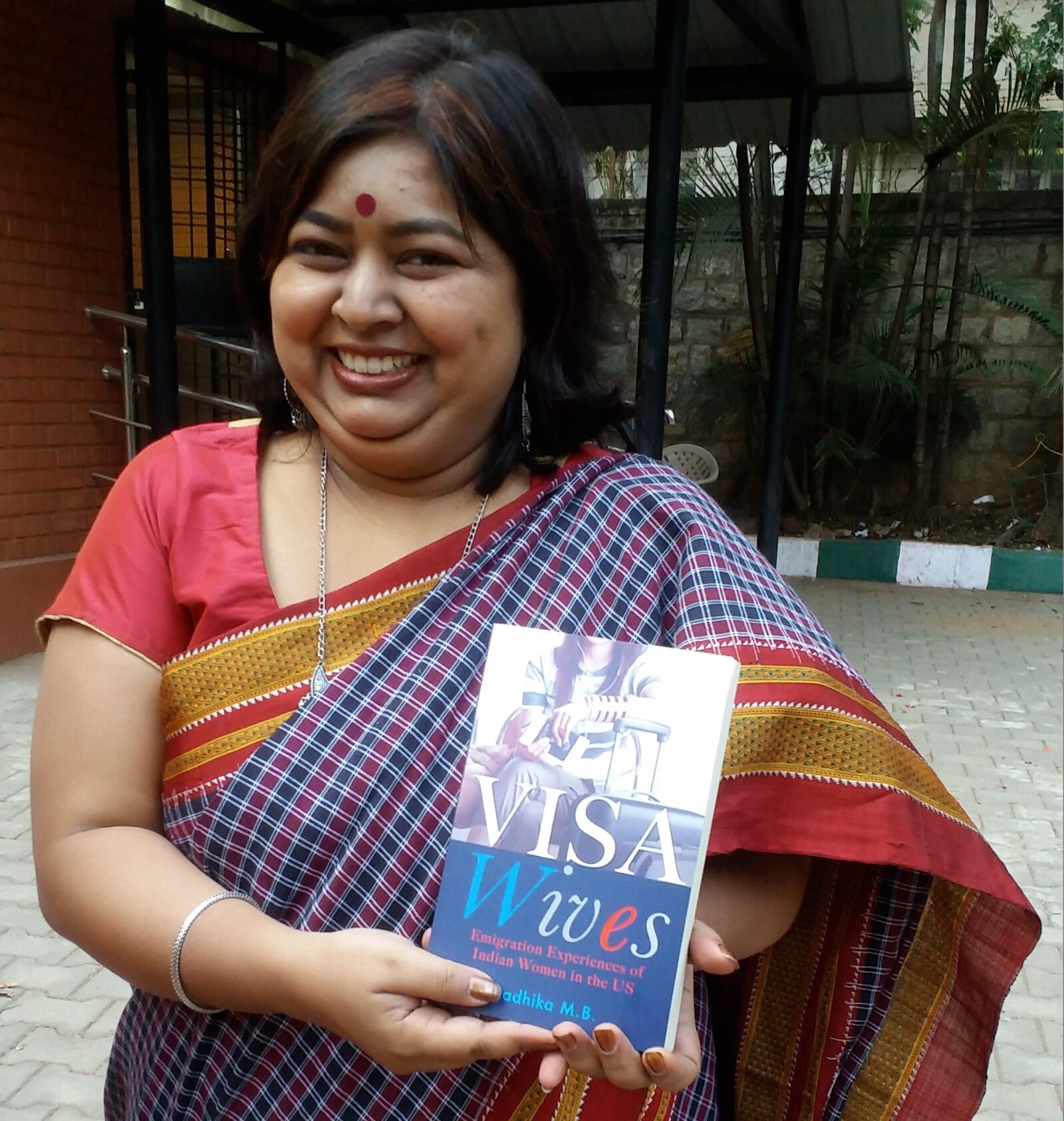 By Anita Cheria and Reshma Krishnamurthy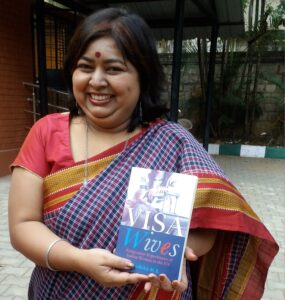 Radhika MB speaks about how she came to write Visa Wives: Emigration Stories of Indian Women in the US. The genesis of the book lay in her own personal challenges, battling depression and loneliness as a 'visa wife'.
Radhika, a member of the Network of Women in Media, Bangalore (NWMB) before moving to the United States in 2011, has been a journalist with Tehelka, The New Indian Express and the Deccan Chronicle. Back in Bangalore for a brief visit, she shared her experiences of being a 'visa wife', which led her to write the book, at an event organised by the network at the Press Club of Bangalore on March 28, 2018.
Visa Wives: Emigration Stories of Indian Women in the US (Random House, 2016) is about women who emigrate to the US on 'dependent visas' to join their husbands working on H1B visas. They often do not know what to expect, and their experiences are usually invisible, partly because conversations with family and friends are dominated by the narrative of the US dream: you are expected to feel blessed, she said.
"Much before marriage I quit work due to ill health," said Radhika. With marriage came changes, including work transfers and moving home – initially from Bangalore to Chennai. But the physical shift to the US was a jolt in many ways, a change I was not ready for. Leaving behind the sense of security that comes from being close to family and friends, moving from a 'collective' society to one based on individuals and where privacy is supreme. It affected me so much that I longed for familiar smells and sounds; I started missing even the pollution of Bangalore! I also developed social anxiety, and an obsessive interest in watching Telugu movies that I hardly used to watch back home!"
According to her, "What makes it tougher is the fact that often there is no scope to complain, or share problems, as the US is the dream destination for many. My problems seemed frivolous to even close family. Then, along with loneliness and bad health, I also had a miscarriage and that made the situation unbearable. Luckily things did not remain that way." Continuing with her own journey she said, "I also learnt to enjoy solitude, which was something I was neither taught nor developed on my own till I got to the US. It's only over time that we start sensing the silent watching out that neighbours do, of being there for each other in times of need, but expressions of concern in different cultures are different."
Radhika said she started to write about her experiences in a column for an online magazine, The Thumb Print, since she could not take up a job in the US while on a dependent visa.
It was a conversation with Teresa Rehman, publisher of The Thumb Print, that gave birth to the idea that her column could be the basis for a book. And then began the search for other women in similar circumstances in order to document their stories of challenge and survival, and research the subject in a deeper way.
Speaking about her personal experience, she talked about how social anxiety, the inability to commute easily as she did not drive, and not being in a position to take up a job pushed her to think about other wives who had come to the US. The problems they face range from loneliness to feeling the pinch of not qualifying for jobs, and practical issues like the non-recognition of Indian college degrees. She pointed out that this led to a loss of identity in the professional sphere, since wives without jobs have no choice but to remain home-bound. She also shared stories from her interviewees – at one level the embarrassment that comes from not knowing how to handle unfamiliar gadgets and technology in a situation where an unattended cooking dish on the stove can lead to fire alarms ringing and causing a public emergency and, at another, the tension of working without legal permission and facing domestic violence in an already isolated setting. The issues may vary, she said, but H1B visa wives see it all.
Describing the process of writing the book, she said balancing facts and privacy was one of the biggest challenges she faced. It was important to maintain anonymity in order to win and retain the confidence of those who shared their experiences. To ensure this some first names were changed, in other cases second names or locations were altered. At times a single person's experiences were attributed to different individuals in order to further conceal identity.
Talking about the feedback she had received, Radhika said that although the book was about H1B visa wives in the US, many emigrant women with similar status in other countries were able to relate to it because they faced similar issues. Some readers said that the book was depressing but she was clear about the purpose of the book: to give a realistic picture, particularly about the emotions that 'visa wives' experience. So, tough luck if they found it depressing, she said!
The session at the Press Club was spiced with rounds of churmuri, peanuts, buttermilk, coffee, tea, rava idlis and chikoos. Radhika's 18-month-old daughter, Ishi, and her husband, Dinesh, joined the gathering towards the end and helped create a celebratory mood to wind up with.
Photo credit: Laxmi Murthy
April 3, 2018