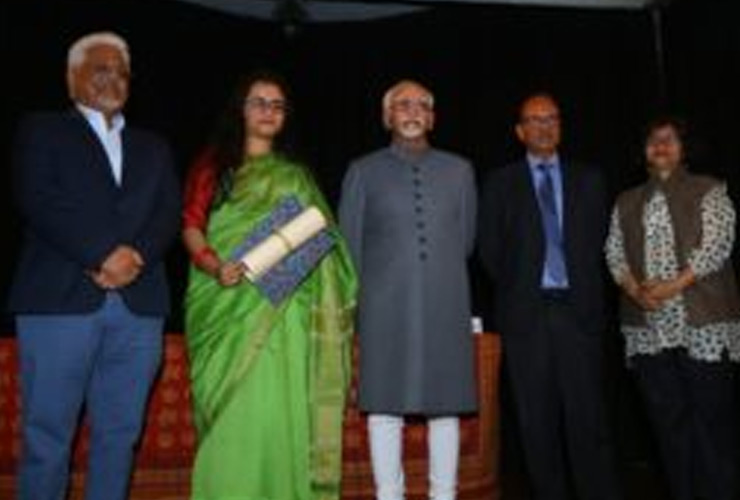 By Editors

On March 9, 2019, NWMI member Priyanka Dubey, bilingual correspondent with the BBC, Delhi, received the Chameli Devi Jain Award for an Outstanding Woman Journalist for the year 2018.
The jury comprising Bharat Bhushan, former editor, Sheela Bhatt, National Editor, (News) NewsX, and Vandita Mishra, National Opinion Editor, The Indian Express, said "Her news reports take up the burning and complex social and political issues of our times, helping uncover the reality underlying them showing them to be layered, complex, and variegated."
Priyanka's acceptance speech:
I thank The Media Foundation and all the jury members for finding my work worthy of this prestigious award. While standing here, I am very much aware of the magnificent and much celebrated legacy of this distinguished award and also of the remarkable body of work that all my predecessors have. This makes me feel very fortunate, full of gratitude, humbled, a little nervous and a lot more responsible.
This award is most special to me personally because it is largely the recognition of my last year's work published in BBC's Hindi service.
I have reported and filed in both Hindi and English languages for the past nine years and in my limited experience I often felt that a lot of extraordinary and important journalism happening in vernacular languages goes unnoticed just because the 'mainstream' opinion makers cannot read or understand these languages. So, I want to take this important opportunity to root for good journalism happening in all languages all across India.
This recognition reconfirms my already strong faith on the power of a good story. A good story – done in any language – published in any platform from any hidden corner of the world is bound to shine. Once published, a good story almost takes the form of a powerfully flowing river which – sooner or later reaches everyone who is seeking it and its impact. It's bound to serve public interest.
But a good story takes a lot out of you too. Sure, it does.
I came to journalism nine years ago with a lot of idealism and a lot of anger about multiple forms of inequalities and injustice that I saw around me while growing up. And I wanted to change things. So, I started from my home.
I was born in a small town and in a fairly conservative family which had absolutely zero background in journalism, literature or even reading of any kind. Yes, you are listening to this in 2019. And yes, nobody in my family was happy when I said that I wanted to enrol in a journalism course after passing school. I had to resist a lot and the resistance went on for days. It's difficult for me to go into the details of this but what I can say here is that the prospects of me working odd hours, frequently traveling, going to public places like police stations and courts and meeting lot of strange men was initially very intimidating for my family. My relatives would often feed my parents that a profession which involves so much of movement of woman is disrespectful. I had to go through a long dark tunnel to free myself from the burden imposed 'respect' in order to find my own way. After nine years, I think I have finally seen a bit of light but the darkness of that tunnel keeps coming back every now and then. It's a constant struggle.
The battles I had fought on my domestic front were so difficult and hurtful to go through that finally when I stepped out – the outside world – with its all difficulty and trappings– felt easy to cope with.
Sure, reporting was tough, writing was tougher and also very lonely. The last nine years have been like a blur. But this has undoubtedly been the most gratifying journey. Because reporting constantly makes you learn and unlearn.
One such learning that I have gained is that any good story – or for that matter sustaining reporting on important subjects over the years – requires giving up a lot of your personal life. The situation becomes more challenging if you are a woman reporter.
But, on the other hand, the opportunity to work on an array of urgent issues like religious intolerance, gender crimes, collapsing state health institutions, epidemic related deaths, police excesses and fake encounters, hunger, agricultural crisis and farmer suicides, mob lynchings and many many other subjects that I have covered during the past decade – has pushed me to look at the world with a more nuanced eye and a more compassionate heart.
My investigations on human trafficking, child abuse, caste-based violence, rapes and rights of the marginalized have altered me deep to my bone.
While these reports have made me aware of the many blind-spots in Indian democracy, they have also made me understand two important points.
First is the huge importance of sustained reporting on issues like health, farmer suicides and gender – subject which might appear mundane or old or repetitive to the quote unquote 'mainstream Indian media'. Second is the significance of always holding power to account and just standing tall in favour of pro-people public interest journalism.
As a reporter, my first and foremost commitment is to the truth, to the common people of this country and above all – to that man and woman standing on the margins of Indian democracy.
But this journey would not have been possible without the help, guidance and companionship of so many people because of whom I am standing here today.
My former editors – Sanjay Dubey – who trusted the reporter in me in my initial years, Nisha Susan and Vinod K Jose, who always had unflinching faith in my capabilities as a reporter.
My editors here at the BBC- a big shout to Rupa Jha who is no less than a force of nature heading all Indian Languages at BBC. Mukesh Sharma –for backing and encouraging public interest journalism throughout. Journalism which is often tedious, painstaking and time taking. And also for being the feminist editor that he is. Rajesh Priyadarshi and Rajesh Joshi, for picking up the weed from my long copies, and the brilliant vizjo team and Shadab Nazmi at BBC for their injecting life in my stories through their illustrations. Brijesh Singh, my oldest and bahut garibi ke dinon wala dost. Prashant, Himanshuji, Divya, Sushila, all my BBC colleagues and all my wonderful friends and family who are here today, cheering for me.
The Network of Women in Media, India for providing guidance and support when I most needed it. To all my sources and to the wonderful extraordinary and generous army of regional and local reporters who have helped me through out. Without them, I would have been lost. To all the people who trusted with their stories, I am grateful.
My husband, for loving and supporting me without ever laying down any conditions. My in-laws and my parents, who have endured many sufferings and made numerous sacrifices for me.
Most importantly, this belongs to my unlettered mother – who taught me compassion and did everything possible in her capacity to ensure that I could have one more hour to read.
Thank you everyone.
Photograph (from left): Bharat Bhushan, Priyanka Dubey, Hamid Ansari, Harish Khare and Sheela Bhatt.