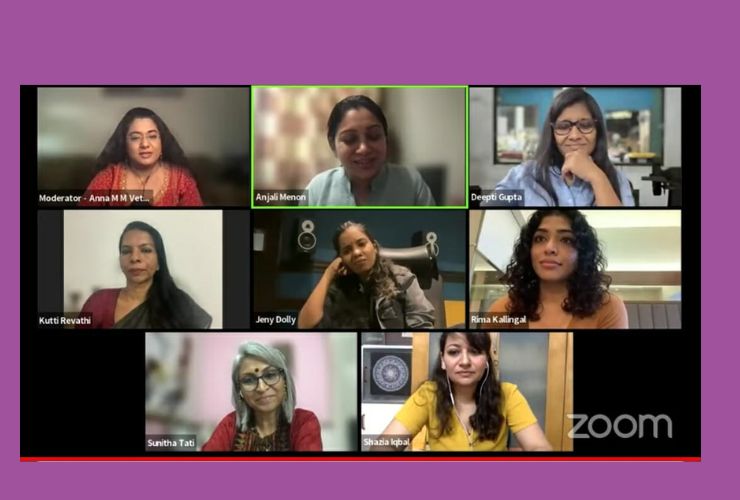 By Anna M.M. Vetticad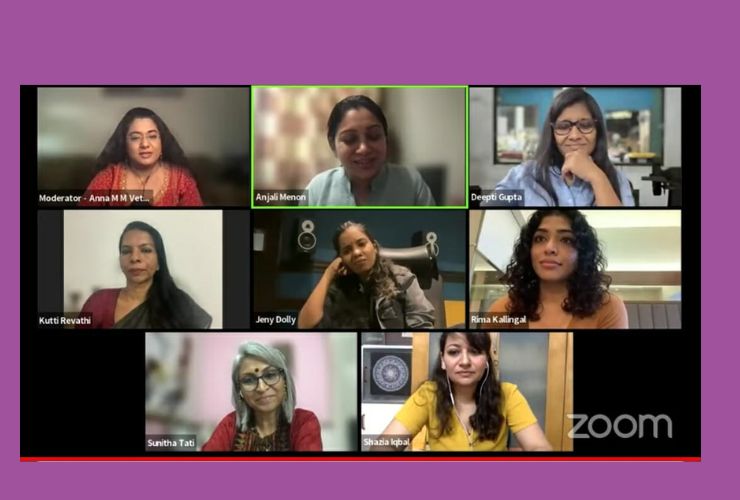 As part of the three-day-long 20th anniversary celebrations of the Network of Women in Media, India (NWMI), a panel discussion was held in association with the Women In Cinema Collective (WCC) to examine the question of why so few women occupy behind-the-scenes positions in Indian cinema across languages and whether an increase in women producers, directors, writers and technicians will lead to an increase in films with important and/or central female characters, gender-sensitive storytelling and themes.
The panel consisted of producer-director-writer Anjali Menon, filmmaker and cinematographer Deepti Gupta, assistant director Jeny Dolly, writer-director Kutti Revathi, producer-actor Rima Kallingal, production designer Shazia Iqbal and producer Sunitha Tati. Menon and Kallingal are both founder members of WCC.
The discussion was moderated by journalist and author Anna M.M. Vetticad, who is an NWMI member.
The programme was introduced by two industry veterans – film editor Bina Paul, who is the artistic director of the International Film Festival of Kerala and also a founder member of WCC, and journalist Meenakshi Shedde who represented NWMI.
Men-centricity, the marginalisation of women and the trivialisation of sexual violence are the norm in commercial Indian cinema in the present day.
Male dominance manifests itself most often in commercial films in the form of women characters who are conventionally identified as the "female lead" or "heroine" yet serve no purpose beyond being the male lead's romantic partner. Even women supporting characters of substance are few in number in such cinema, but the role described by some film industry members as an "item number" remains common – this almost always involves a woman actor, sometimes a star, making a cameo appearance for a song and dance sequence featuring her in minuscule clothing with camera angles focused entirely on her bare body.
The frequent occurrence of this kind of cameo in commercial Indian cinema substantiates the following findings (to quote a report in The Hindu) of the first-ever UN-sponsored global study of women characters in popular films across the world published in 2014, commissioned by the Geena Davis Institute on Gender in Media, with support from UN Women and The Rockefeller Foundation:
India topped the charts in showing attractive women in its movies, with as much as 35% of these women characters shown with some nudity
Indian films had a significantly higher prevalence of sexualisation of women characters
Less than one-third of all speaking characters in films worldwide were found to be women, with British/American and Indian productions being the worst performers on this front.
This is the background to NWMI's decision to team up with WCC and assemble a panel of prominent women from diverse departments of filmmaking, drawn from various Indian film industries, to analyse the factors contributing to the marginalisation of women and women's concerns in Indian cinema and to consider the way forward.
Throughout the discussion, the panelists remained optimistic and determined to continue to be change-makers despite the discouraging scenario in which they work. "At some point we have to make Gully Girls," Shazia Iqbal said. Sunitha Tati added: "I'm not going to compromise to be half the picture. I want to be the full picture."
The panel admitted, however, that it would be naive to presuppose that an increase in women in behind-the-scenes roles will automatically and immediately lead to more on-screen roles – and more well-rounded on-screen roles – for women in Indian films, since patriarchal structures within film industries would continue to place huge constraints on women who do manage to break glass ceilings.
Anjali Menon and Rima Kallingal bore testimony to the hardships faced by women film professionals who join hands to fight this patriarchy, in the way that they, along with several leading lights of the Malayalam industry, did by forming WCC in 2017. Notwithstanding WCC's struggles, the fact remains that the women of India's other language film industries have not yet got to a place where they could come together in a similar fashion, survive for five years and make a difference as WCC has (although beginnings have been made on this front in a couple of other Indian film industries). 
There were and are no easy answers to the questions addressed by this panel.
The complete discussion is in the video below.
SPEAKER PROFILES:
ANJALI MENON is an award-winning writer, director and producer. She is best known for her directorial ventures Manjadikuru, the segment Happy Journey in the anthology Kerala Cafe, Bangalore Days and Koode in addition to the film Ustad Hotel that she wrote. Her company, Little Films, produces fiction and non-fiction works. She is a founder member of the WCC.
Filmmaker and cinematographer DEEPTI GUPTA has shot Laxmi and Me and other documentaries, feature films ranging from Honeymoon Travels Pvt Ltd to The Fakir of Venice and Ranu. She has also directed the documentary feature Shut Up Sona. She is a founder member of the Indian Women Cinematographers' Collective.
JENY DOLLY joined director-producer Pa. Ranjith as an assistant director in 2016 and worked with him on three of the biggest Tamil blockbusters of the past half decade: Kabali, Kaala and Sarpatta Parambarai. She is involved in casting, costumes and dialogues. She also wrote and directed the film Share Auto produced by Neelam and Pa. Ranjith.
KUTTI REVATHI is a poet, lyricist, screenwriter and director who has been associated with popular Tamil movies like Maryan and Vaazhl. Her lyrics for Yenga Pona Raasa and Nenjae Ezhu for Maryan were critically applauded. She has written lyrics for a number of other successful films, published three books of poetry and is the editor of Panikkudam, a literary quarterly for women's writing. Kutti Revathi made her directorial debut with the film Siragu.
RIMA KALLINGAL is a producer, dancer and award-winning actor working mainly in Malayalam cinema. Among her notable films as an actor are 22 Female Kottayam, Rani Padmini, Virus and Santhoshathinte Onnam Rahasyam. In 2019 she turned producer with Virus, a film about the Nipah outbreak in Kerala the previous year. She is a founder member of the WCC.
Production designer SHAZIA IQBAL has worked on Sacred Games and Lust Stories, besides other projects. She is also a writer-director. Her debut short film, Bebaak, won her several international awards. The script for her feature film, Blood Circle, was selected for Film Independent's Global Media Makers 2019 Residency Lab in Los Angeles, and she has another film in development.
After gaining work experience across films, TV and radio, SUNITHA TATI set up her own production house, Guru Films Pvt Ltd, and went on to produce multiple Telugu blockbusters including Oh! Baby, Sahasam Swasaga Sagipo, Accham Yenbadhu Madhamaida, Courier Boy Kalyan and Bangaru Kodi Petta, as well as critically acclaimed feature films like Shor In The City (Hindi).
MODERATOR:
ANNA M.M. VETTICAD is an award-winning journalist and author of The Adventures of an Intrepid Film Critic. She has worked across print and television media, and is now an independent journalist writing for national and international publications. She reports on entertainment and social issues, and specialises in the intersection of cinema with feminist and other socio-political concerns.