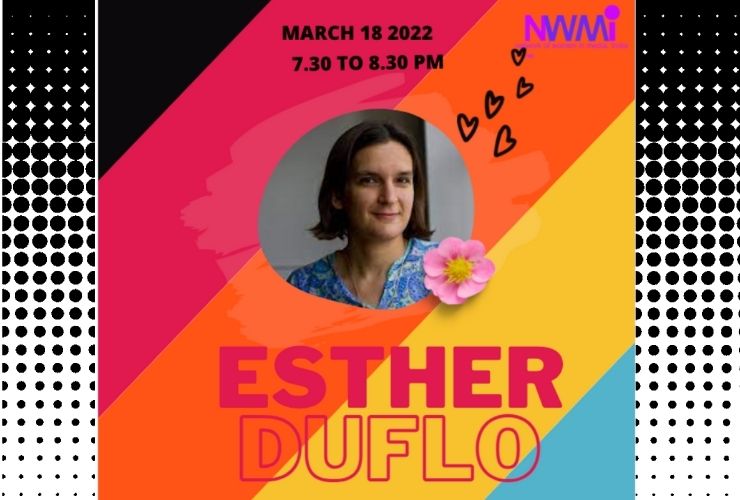 By Raksha Kumar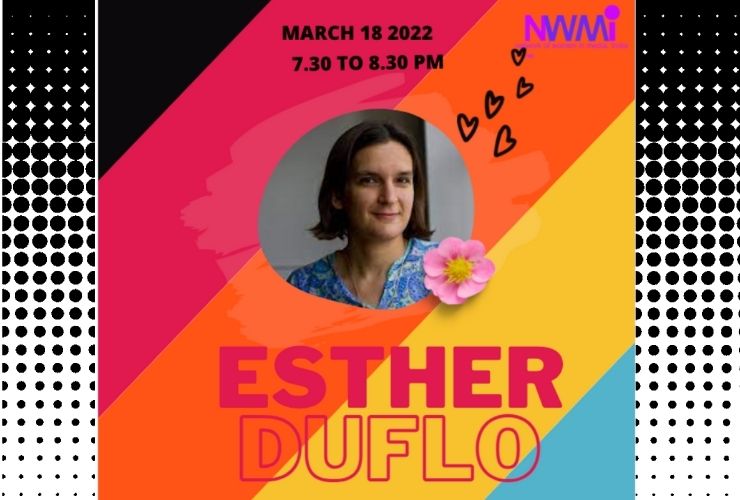 Nobel laureate Esther Duflo's keynote address kicked off NWMI's 20th anniversary celebrations on 18 March, with NWMI members, social scientists and activists logging in via zoom and visiting our YouTube channel to listen to the economist's views on the importance of women leaders in the Indian political system. Prof Duflo spoke on women politicians at the local level, drawing upon her own research with women pradhans in West Bengal and Rajasthan.
Prof Duflo started by noting that the pandemic years had forced the world to acknowledge the wonderful job done by women in power, citing the examples of Kerala's (former Health Minister) KK Shailaja, New Zealand's Prime Minister Jacinda Ardern, and (former Chancellor) Angela Merkel in Germany. People began to wonder what it was that made women better leaders, she said. Were women in positions of power better leaders because they were women? Or is it because countries that are smart enough to think of putting women in power are also smart enough to do what it takes to protect against covid, with social support programmes? It requires a special kind of maturity to select women leaders in the first place, Prof Duflo said. Her own research suggested that women do different things than men, that women in politics do make a difference.
Despite India being a pioneer in political reservation (for socially and economically less privileged groups), it was not until 1993 that it mandated reservations for women at the panchayat and ward levels. Even then, India took the first step of having reservations for women at the local levels and "left it at that, thinking they had done enough," Prof Duflo said. The country still doesn't have reservations for women at the state and central levels. The intention was to see how it goes and progressively introduce reservations for MPs and MLAs as well.
Duflo and Raghav Chattopadhyay, Swati Bhattacharjee along with other colleagues started looking at this question in the early 2000s. Their work, which began in Birbhum in West Bengal, later expanded to Rajasthan, and has been taken up by researchers elsewhere as well. They looked at the first batch of women who were elected pradhan in their villages, to find out how things changed when women were elected to head village councils.
They found women were often puppets for their husbands. "They are shy, can't make a difference, they are a stand-in," was the common refrain, Dulfo said. The term 'pradhan pati' came into existence explaining the importance of the pradhan's husband in the affairs of the village. In several West Bengal villages, she noted, "When there is an election of the pradhan, there is a huge photo of the husband and a smaller one of the wife."
However, the research team also found that women found it strategic to keep mum in public, and do their work quietly, push their agenda through in private.
As part of their research, the team sat down with the villagers and mapped out the development projects done in the women pradhan's tenure. This dataset contained the number of roads constructed, the jobs created, other benefits distributed, and so on in the last two years. They then asked the women and the men in the village which projects they found important. They found the women's responses tallied with the tasks completed by women pradhans.
Most women said they were keen to have a functional drinking water infrastructure in their villages, followed by road projects. "Women were more likely to invest in goods that were important to the interest of women," said Prof Duflo.
The team also wanted to find out if electing women changed mindsets. They started by visiting households in other parts of West Bengal as well, and asking people how women pradhans were performing.
They gathered mostly negative responses. People didn't like having women pradhans, and they liked it even less if these pradhans had been elected in seats reserved for women.
But "people say what they think you should think," said Prof Duflo. The research team wanted to go beyond these responses, to find out what people really thought.
So, the researchers recorded a speech about a pradhan turning down a man's request, once in a male voice, and once in a female voice. They asked the people of the village what they thought about the speech and about the person who delivered it.
In most cases, while men did not think the male voice was 'bad', they responded negatively to the female voice. However, in villages where the seats were reserved for women, the men did not consider the female voice to be 'bad'. This was a significant finding in how electing women to positions of power changes mindsets.
There are unintended benefits of electing women to power, according to Prof Duflo. One of them is that it helps other women express themselves better. The other is reduced corruption. The first women pradhans are the sacrificed generation. Many more women were elected in the next election cycle – but they were not the same women, she added.
The popular narrative is that quotas limit people's choices, but the research of Prof Duflo and her colleagues found that in the longer run quotas expand the number of eligible candidates. "Having reservations not only changed the outcome in the immediate future but also changes the whole political game," Prof Duflo said.
In Rajasthan, Prof Duflo worked with an organisation which uses puppetry in social and political campaigns to talk about the role of the sarpanch in administering the National Rural Employment Guarantee Act . They found that while the puppet show portrayed the women sarpanch as capable of delivering on work, this did not translate well in the villages. "This showed that we cannot short circuit the process," Prof Duflo said. Women need to actually be in action for people to realise that women can be effective and fair leaders, Prof Duflo said. Messages through art and craft can do only so much.
Prof Duflo concluded her address by talking about the indirect benefits of having women in leadership positions. In villages where a woman was a political leader, girls were less likely to drop out of middle school, she said. Aspirations between boys and girls in regions that have seen women leaders are very different. "Women in visible positions serve as role models," she said. "Younger women tend to follow."
Watch the full address here: