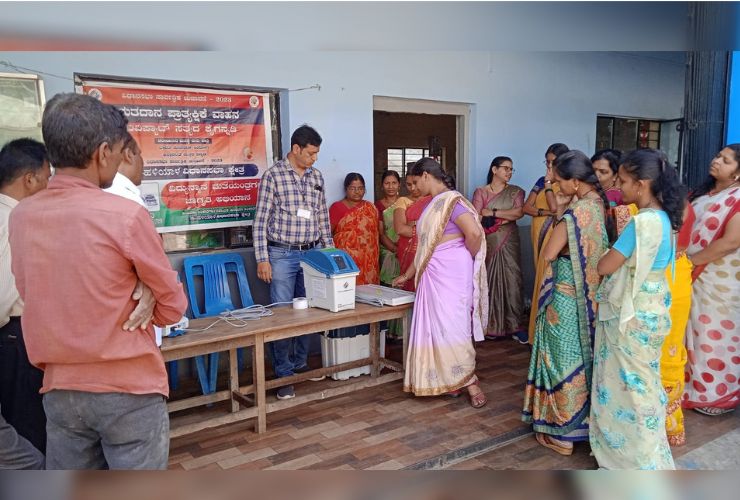 By Revathi Siva Kumar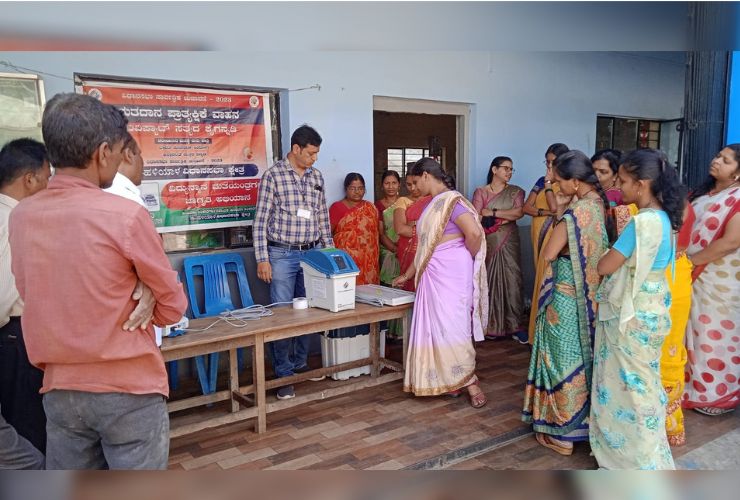 As the Karnataka Assembly election fevers rise with the summer temperatures, a heartwarming improvement in women's voting patterns is visible. The uptick was identified through secondary data and explored through a primary survey by a 2023 Knowledge, Attitude and Practices (KAP: method with predefined questionnaires for quantitative and qualitative information) analysis, released recently.
The survey shows positive indicators catalysed by the Election Commission of India's (ECI) Systematic Voters' Education and Electoral Participation (SVEEP) efforts in three phases, from 2009 to 2023.
ECI's SVEEP attempts to create an enabling environment has motivated more women to participate, while repeated appeals and advertisements have driven more female voters into the polling booths and improved gender participation in elections. However, it is not enough.
Registration
For one thing, SVEEP has not exactly been sweeping. An analysis of secondary electoral data shows that despite continuous efforts to increase registration for 18-19-year-olds, the Elector Population ratio (eligible elector population and estimated total population in the country for a year is presented as Elector Population [EP] ratio) in Karnataka is poised at only 36% in 2023, mainly due to lower registration by young women.
Female registration and voting rate in the state are low, even though the turnout gender gap declined from 12.1% in the 1962 elections to just 1.2% in 2018. While the sex ratio in the 18+ category, according to the 2011 census, is 989, the gender gap in electors (the ratio of female to male electors multiplied by 1000) improved from just 944 during the 1962 general elections, to 958 in 2013 and further to 986 in 2018, due to the increase in female registration. Still, the trends indicate that, with more effort, the gap can be brought down to almost zero.
The main reason for the gap seems to be that registration itself can be a challenge for women, who need to factor in the location of their homes and the timings (11 a.m. to 5 p.m.) when a registering office is functional. Females showed 6.2% less registration than males in 2023. In other districts, such as Koppal, Raichur and Bijapur, the gender gap in registration is more than 10%.
Among younger voters, registration is relatively higher for males compared to females in all the districts. The difference in registration patterns between males and females among young voters is lowest in Dakshina Kannada (43.4 [M] and 42.4 [F]) and Bangalore Urban (20.4% [M] and 18.6 [F]) districts. Udupi is an outlier which registered more young females (50.2%) compared to males (46%). mainly because young men here tend to emigrate for education and careers.
Voter turnout
An increase in women's Voter Turnout Ratio (VTR), which seems to have risen from as low as 52.2% in 1957 and 63.2% in 2008 to 71.5% in 2018, is another ray of sunshine. SVEEP helped to boost the female VTR between the 2008 and 2013 elections by 7.3 percentage points, much more than the VTR for males in the same period. On the other hand, the rate of increase in voter turnout was similar for males and females between 2013 and 2018.
While the gender gap in terms of participation in the voting process is improving, the process needs to accelerate. In 1962, the gender gap in votes cast was 769, but it improved to 958 in 2018. This means that for every 1000 males only 769 females voted in the 1962 general elections. But this improved over time and in the 2018 elections 958 women voted for every 1000 women.And, the wide variation in the gender gap in votes polled across districts ranged from 898 (Haveri) to 1,123 (Udupi). It is heartening that the difference between the gender gap in electors, on the one hand, and in votes cast, on the other, is continuously narrowing; it came down to just 15 in 2018. However, the ECI needs to concentrate on boosting female participation in districts such as Bangalore Urban, Bidar, Bijapur and Haveri, where the gender gaps are about 950.
Awareness (Primary data)
A survey was conducted recently, covering 4,452 respondents from 45 assembly constituencies, spread across 23 districts in four administrative divisions (Kalaburgi, Bengaluru, Belagavi and Mysuru). Females constituted 42.8% of the respondents, while 57% of the respondents were males and 0.2% of the respondents identified as transgender voters in the 'third gender' category of the survey. [You can read more about transgender voters in Karnataka here].
Female voters (68.4%) showed relatively higher awareness compared to males (66.3%) on some issues. A higher percentage (98.1%) of female respondents had voter cards, compared to males (97.7%). About 92.6% of the female respondents were slightly more aware of voters' lists as compared to male respondents (90.7%). More female respondents (97.1%) knew that their names were enrolled in the voters' lists as compared to males (96.6%). And across occupation categories across genders the survey reports that homemakers had the highest awareness about the voters' list. Women participants in Focus Group Discussions (FGDs) seemed to be unaware about the EPIC card requirement, even if they had voted earlier.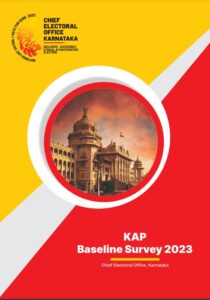 However, women's awareness was low on many issues. Only 40.2% of the female respondents were aware of the Braille option in the Electronic Voting Machines (EVMs), compared to 49.2% of the males. Only 52.7% of the women knew about Voter Verifiable Paper Audit Trails (VVPATs); 62.9% of males did. While about 88.4% of the women said they knew about the minimum age of voting, 90% of the men said they did. About 67.5% of male respondents were aware of the "None of the Above" (NOTA) option on EVMs, compared to females (50.3%). The lowest awareness levels were among homemakers (44.6%).
Regarding the National Voters' Day, celebrated every year to mark the foundation day of the ECI on January 25 (1950), awareness was found to be lowest among homemakers (19%). Only 25.3% of male respondents and 20% of female respondents knew about it.
Reasons for voting                                                                          
Hearteningly, the main reason for voting was cited to be to fulfil "one's right and duty" – more among women (79.8%) than men (78.8%). Another important reason mentioned by respondents was the candidate being "good" – 47% of women as against 54.3% of men. Getting registered in the electoral rolls seemed to be the third highest reason for voting – 14.2% of women compared to 12.4% of men. However, it seems significant that almost half the respondents said they are not influenced by the performance, personality or ideology of the candidate.
Interestingly, only 3.5% of the women (and 5% of the men) said the reason for voting was for "being a political party sympathiser". About 7% of the women (against 6.8% of the men) said that it was because the candidate was of their choice, religion and community, while 4.4% of the women (and 6.1% of men) wanted to defeat a particular candidate or party.
About 3.8% of the women (and 5.8% of the men) agreed that they had been influenced by friends, 4.1% (against 4.7% men)  affirmed that the head of the family had asked them to vote. About 3.2% females (and 4.3% men) said the candidate had visited them personally.
A solid 33% of the women felt that male members or elders should be consulted before voting. This finding has made it to media headlines but it is actually heartening that a strong majority says they don't agree with this view. The 'strongly agree' proportion was lower in the urban cities of Bengaluru (5.9%) and Mysuru (2.7%), while they were 11% in both Belagavi and Kalaburagi. If one third of the women respondents were of the view that they need to consult men and/or elders about who to vote for, it reinforces the common perception that, even though women constitute half the population, they are still considered second class citizens with no right to their own opinions.
Inducements
Only 1.4% of the women (and 2.4% of the men) said their reason for voting were bribes in cash, kind or liquor. However, most respondents were convinced that a number of 'inducements' were given by political parties to sway the mood of the electorate. Compared to urban respondents (4.7%), more respondents from rural areas (5.8%) reported activities that might influence voters, including gifts such as vanity boxes, sarees, food boxes and cash that could induce women.
When asked about bribes in recent elections, 4.8% of respondents from rural areas reported the distribution of food packets and 4.6% of respondents reported distribution of cash to women through Self-Help Groups (SHGs) However, more urban (6.3%) than rural (4.6%) respondents felt that money was distributed to women through SHGs. More respondents from rural (5.1%) rather than urban areas (3.7%) cited the distribution of purses, bangles and vanity cases to women in an attempt to lure more voters.
Most respondents seemed to be unaware of the fact that inducements are undemocratic and to be convinced that voters are entitled to bribes. However, some women admitted that although they accepted bribes from all political parties, they ultimately vote for the party they want to!
Need for encouragement
While the trends revealed by the survey show fluctuations in women's awareness and keenness to participate in elections, it seems clear that most still need encouragement to vote on Election Day, with the necessary transport and escort for security, especially for pregnant and lactating women.
In focus group discussions, when women were asked about voting practice, they revealed important indicators that suggest what could work in the future. For instance, the question of what is the 'best time for women to vote' elicited the unanimous answer of 'afternoons' – basically, between 11 a.m. and 5 p.m. Also, respondents explained that since they could not always attend public awareness events, outreach ambassadors such as Anganwadi (rural child care centre) workers, Accredited Social Health Activists (ASHAs) and members/leaders of Self Help Groups (SHGs) would be better sources of information for them.
The challenge before the ECI is to institute 'sweeping' SVEEP measures to further enhance voter awareness and ensure more independent voting behaviour, especially among women.