By Vidhu Lata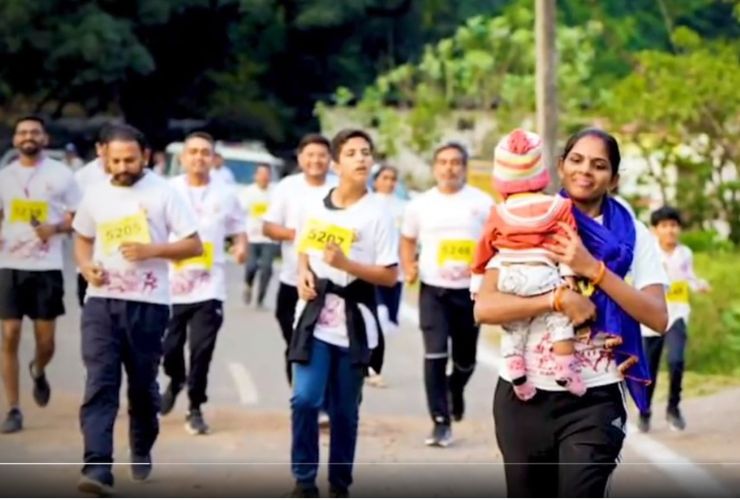 Translated from the Hindi version by Sumita Jaiswal
Jiski jitni aabadi, uski utni hissedari (an equal share according to our population)!
Political parties across the spectrum have been raising this cry, along with demands for a caste census, as the country gears up for elections in Madhya Pradesh (Nov. 17), Rajasthan (Nov. 23), Telangana (Nov. 30) and the second phase of polling in Chhattisgarh (Nov. 17)—and for next year's general election. Mizoram voted on November 7.
Late last month, in Bihar, Rashtriya Janta Dal (RJD) president Lalu Prasad Yadav, making a pitch for next year's general election, promised a nationwide caste census if the I.N.D.I.A. alliance was to come to power in 2024. He made his declaration while presiding over the birth anniversary celebrations of Bihar's first chief minister Shree Krishna Sinha—a strategic platform as Sinha, more than six decades after his death, is still considered a towering leader committed to social justice—at Sadaquat Ashram, the office of the Bihar State Congress. A caste census, Yadav reiterated, would ensure an equal share of power for every caste as per their population.
Amidst the clamour for a caste census and a fair share of political power, it is pertinent to note that women, who account for 50% of the population, are yet to participate equally in politics. The women's reservation bill, which was first introduced in Parliament in 1996 to provide 33% reservation for women in politics, spent more than two and a half decades in the cold as political parties lacked the will to give greater representation to women. With some amendments and a new name, Nari Shakti Vandan Adhiniyam, the women's reservation bill was passed in both houses of Parliament in September 2023. A third of all seats in Parliament and state assemblies are now reserved for women. However, this will only come into force after the delimitation exercise based on the new Census, scheduled for 2026.
In the current poll season, discussions have abounded about the challenge of increasing the number of women candidates and achieving gender parity in politics. While 33% reservation may be rolled out on the ground only in 2029, parties' candidate lists for the poll-bound states will prove whether all the talk about empowerment and the Nari Shakti Vandan Adhiniyam is just vote bank politics or if the intent behind the action is real.
Little space for women
In Madhya Pradesh, which goes to the polls on November 17, an intense competition is on between the ruling Bhartiya Janta Party (BJP) and the Congress. Both national parties have announced a slew of welfare schemes and freebies in an attempt to woo women voters. Yet, both parties have fielded only a few women candidates, and have made no attempt to reach 33%. For the 230-seat assembly, BJP has fielded 28 women candidates and Congress 29. Among the six political parties in the fray, only the state president of the Aam Aadmi Party is a woman.
There are 2.72 crore women voters in the state, accounting for 48% of total voters in Madhya Pradesh. Women voters outnumber men in 29 assembly seats in 13 districts, which includes six tribal districts. Women voters will play a decisive role in the victory of any party, yet there are few women candidates for them to choose for women are only in the fray for 29 seats. Going by these numbers, the representation of women in the next Madhya Pradesh assembly will be far below 33%. If the law were in force, women candidates would have to be fielded from 76 seats, more than double the current number.
Madhya Pradesh has had prominent women leaders though they were few in number. Among them are former deputy chief minister and Congress leader of Opposition the late Jamuna Devi, former minister the late Urmila Singh, BJP Jansangh founder the late Vijayaraje Scindia, former Union minister and Vidisha MP the late Sushma Swaraj, and former Lok Sabha Speaker and Indore MP Sumitra Mahajan. Their determination and dedication to people's welfare made them popular. Feudal and hierarchical set-ups and patriarchy made their journey hard but they excelled. Other prominent names include former chief minister Uma Bharti, BSP MLA Rambai, sitting health minister Nirmala Bhuria, and the popular former deputy collector Nisha Bangre, who recently left administration for politics.
In the fray this time are Congress' Hina Kawre and former minister Dr. Vijaylaxmi Sadho, BJP spokesperson Archana Chitnis, sitting state minister Yashodhara Raje Scindia, Govindpura MP Krishna Gaur and Rajya Sabha MP Kavita Patidar. This time, the BJP has put its weight behind first-timers such as Priyanka Meena and Pratima Bagri, and given important roles to Neha Bagga and Varsha Tripathi. In the Congress, Raksha Rajput and Rashmi Patel are leading the charge, while Pratibha Raghuvanshi and Sangeeta Sharma have shouldered important responsibilities.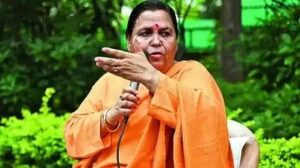 The tale of women leaders in Madhya Pradesh is incomplete without the mention of firebrand former chief minister Uma Bharti. Ironically, Bharti, who single-handedly brought the BJP to power in the state in 2003, is missing from the list of star campaigners. The Congress has held power in Madhya Pradesh for 20 years, and people were clamouring for a change from former chief minister Digvijay Singh as electricity, water and road services were abysmal. In 2003, the BJP, after much deliberation, declared Uma Bharti as the chief ministerial candidate—because it was women who bore the brunt of electricity and water shortages. The strategy paid off—Bharti won the hearts of women voters with her flamboyant style.
During the election campaign, Bharti's car would be plastered with turmeric and vermilion, the signs of a traditional welcome in the state. The BJP won a record-breaking 173 seats in the 230-seat assembly, and Congress was reduced to 38 seats. With huge support from rural women who turned out in large numbers to vote for her, Bharti was sworn in as the first and, till now, only woman chief minister of Madhya Pradesh in November 2003.
Of the 3.79 crore voters in Madhya Pradesh in 2003, 1.98 crore were male and 1.81 crore female. Of the women voters, 1.12 crore exercised their franchise, and the overall turnout was 67.25%. Bharti got full credit for the landslide victory, but had to resign after nine months when a Hubbali court issued an arrest warrant against her. At present, however, the BJP has distanced itself from Bharti. Political analysts are of the view that male politicians find it hard to let a woman take the lead in politics and governance, and women are often made pawns.
Political stars to watch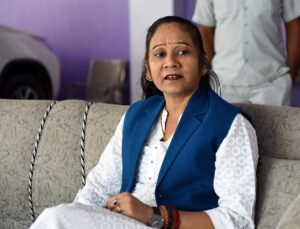 BSP's Patharia MLA Rambai Govind Singh Parihar is often in the headlines for helping people and taking officials to task in her candid, confident style. She won the Patharia assembly constituency of Damoh district in 2018 on a BSP ticket, and will contest again.
During her stint, she has raised problems relating to water and electricity supply, harassment of women, and women's safety. Though the Opposition benches thump the tables loudly when she speaks, there is little respect for her efficiency, and she is often discussed for her buoyant style than her work.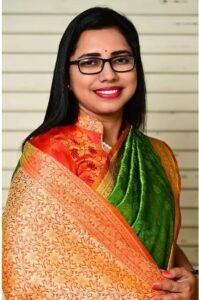 Another rising political star to watch for is Nisha Bangre, who recently resigned as Deputy Collector of Chhatarpur in Madhya Pradesh and joined the Congress. Bangre had applied for leave to attend a sarvdharma samman (all-faith gathering), which was denied, and she resigned. The Madhya Pradesh government did not accept her resignation for four months until the Congress list of candidates was released and the High Court directed it to take an early decision on her resignation. Bangre earlier marched 300km from Amla in Betul district to Bhopal to protest against the delay and was arrested for a day. The delayed acceptance of resignation deprived her of a ticket but Madhya Pradesh Congress state president and former chief minister Kamal Nath has said she will be given important responsibilities after the election.
BJP MLA and minister Yashodhara Raje Scindia, part of the Scindia family that dominates state politics, has refused to contest this election due to poor health. She has won the Shivpuri seat of Gwalior for the BJP thrice, and has been active since she joined the BJP in 1998. She still has a strong support base in the state, lending credence to the popular notion that only women who are wives, daughters or daughters-in-law of political dynasties, rich families or powerful male politicians can climb the ladder in politics.
A total of 57 independent women candidates will try their luck in the Madhya Pradesh Assembly elections. Despite more than 100 women candidates in the contest, a quick survey of local newspapers shows that they get little space in the news. On the front pages, powerful male candidates get all the space.

One newspaper recently ran a headline that read, 'Wake up, think and choose! Now our turn has come' but the illustration depicts a woman as a voter, not a leader.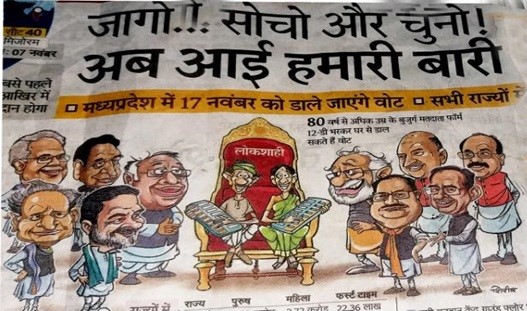 A 2018 report from Association for Democratic Reforms and National Election Watch, 'Women's Political Participation and Representation', puts the number of women in the Madhya Pradesh state assembly at 9.13%. Of the 230 seats in the Madhya Pradesh Assembly, 21 are held by women.

Fierce competition
The fight is on right now for women's votes. Chief minister Shivraj Singh Chouhan, after filing his nomination from Budni, announced that he would make "every sister a lakhpati didi", or a woman earning Rs. 1 lakh a year, within the next five years. In May 2023, his government introduced the Laadli Behana to deposit Rs.1,250 in bank accounts of women every month with a promise to increase it to Rs.3,000. Preeti, a young former sarpanch of Heerapur village in Sehore district, says there is little use for the cash if problems of education and healthcare in the rural area is not solved.
Congress is not lagging behind: Its manifesto promises include one to deposit Rs.1,500 in the bank accounts of women by implementing Mahila Samman Yojana. Although the BJP is playing the Hindutva and Sanatani card, both parties are looking towards the laadli behana (beloved sisters) with great hope for victory.
Tight contests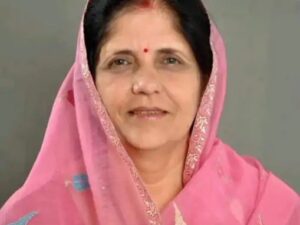 There is going to be an interesting contest in six seats where women candidates of the Congress and BJP, most of them relatively young, face off. In Balaghat, BJP candidate and 43-year-old engineer Mausam Bisen is facing Congress' Anubha Munjare, 57. Manju from Nepanagar is BJP's 33-year-old candidate taking on Congress' Gendu Bai Chauhan Rajendra Dadu, 49. In Pandhana, there is a tough contest between BJP's 49-year-old Chhaya More and Congress' 33-year-old Nandu Bare. In Raigaon, BJP's Pratima Bagri will face Congress' C. Kalpana Verma. Dhar's BJP candidate Neena Verma is up against Congress' Prabha Devi Gautam. Similarly, in Bhikan village, BJP's Nanda Brahmin is facing Congress' Jhuma Solanki.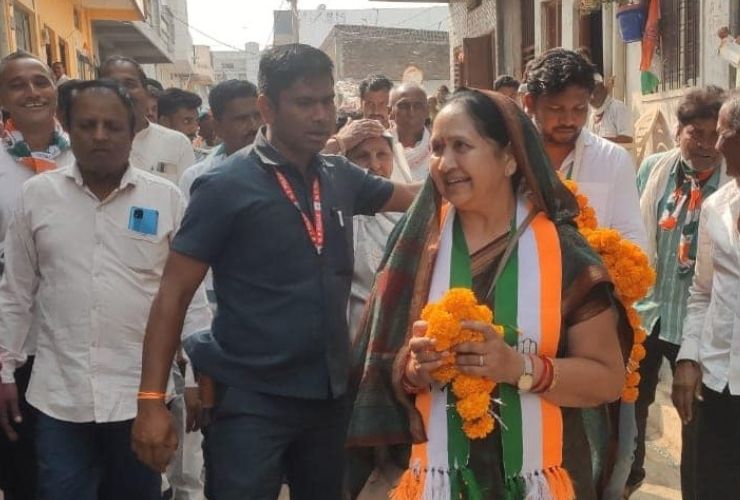 Over the last few years, the MP government has made many lucrative poll promises to the tribal population, including guaranteeing tribal rights on water, forests and land. In these 20 years it has become clear that strategy drives sops for women voters but they are not valued in the House. Their seats are helpful to form the government, but no sincere action is taken to resolve their problems.
This time, the BJP has given tribal woman politician Sulochana Rawat's seat in Jobat constituency of Alirajpur to her son Vishal Rawat. Congress has fielded ST candidates from general seats as well. Women politicians remain strong in rural Madhya Pradesh, but both parties can be seen to be gradually side-lining outspoken women leaders.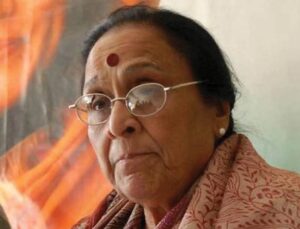 An example is the case of the late Jamuna Devi, a dynamic veteran tribal woman leader, who was a minister in the Congress government led by Digvijay Singh and a strong Opposition leader in the Assembly. Despite her strong stance for tribals, her efficiency and strong organisational skills, and open assertions that people wanted a tribal chief minister—"Yes, I want to become the chief minister," she said often—the Digvijay Singh government used her merely as a face to consolidate the tribal vote, which constitutes about 21% in the state and is the second largest voting bloc, after the OBC voters who are about 50% of the electorate.
Women voters outnumber men
In 29 assembly constituencies across 13 districts (out of a total 55 districts), women voters outnumber the men. This includes six tribal dominated districts. The sex ratio is comparatively better in poor districts with a low literacy rate. These districts include Balaghat, Jhabua, Barwani, Dhar, Mandla, Ratlam, Alirajpur, Seoni, Dindori, Anuppur, Chhindwara, Ujjain and Indore. Earlier, women would follow the lead of their husbands, fathers or brothers when they voted, but now women in the community understand the importance of their vote as a means to raise women's issues. This is the reason why all political parties have launched a series of welfare schemes to woo women voters. These 29 assembly constituencies are expected to play a decisive role in election victory.
The state has about 10.5 lakh first-time voters, and Madhya Pradesh Election Commissioner Anupam Rajan has said that the State Election Commission is tracking social media and the challenges of monitoring paid and promotional posts.
While opinion polls are not always accurate, dependable or free from bias, the India TV-CNX poll has projected 115 seats in the 230-seat assembly seats for the BJP, a number very close to the majority figure of 116. Congress, it predicts, will take 110 seats, and others, including Independents, five. The election results are to be declared on December 3. There's no denying that the contest is a close one in Madhya Pradesh, with the BJP and Congress being neck and neck, and it remains to be seen what the role of women will be in the new government.
Vidhu Lata is Editor of Aurat magazine and based in Bhopal, Madhya Pradesh. With a career spanning 22 years, she has covered gender extensively, and written on politics, labour and human rights in Madhya Pradesh.
Edited by Shalini Umachandran