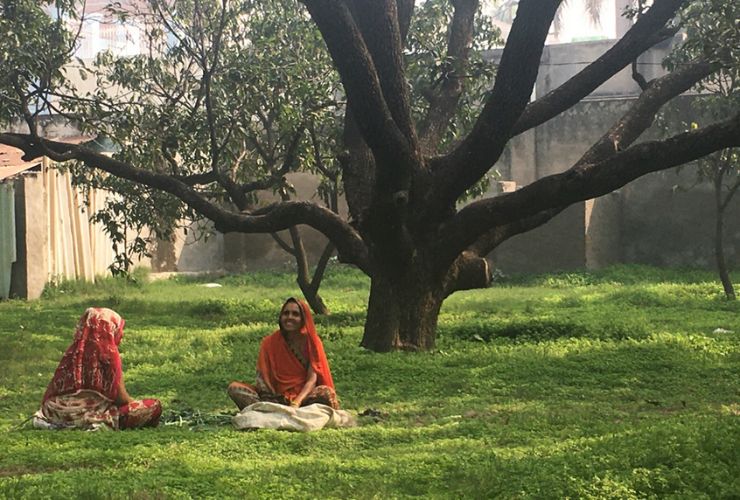 By Meher Ali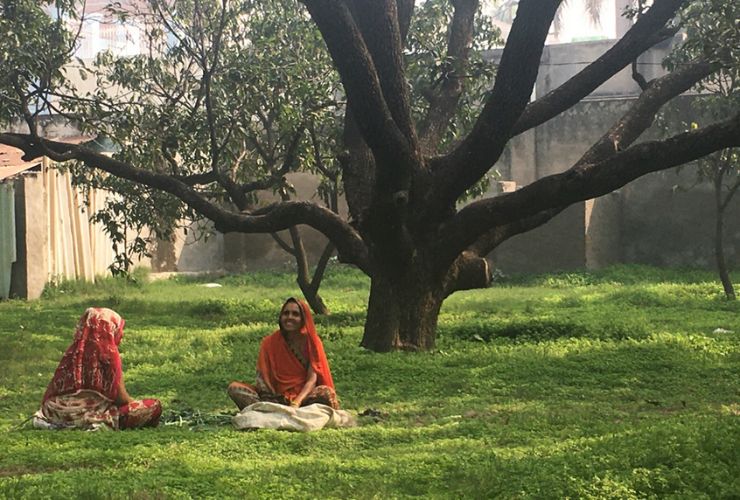 It is not as if the public does not care.
In 2017, Climate Trends, a communications company, conducted a survey in six cities in Uttar Pradesh to find out whether the public in the most populous state cared about climate change. 
The United Nations defines climate change as "long term shifts in temperature and weather patterns." It identifies human activities, specifically the burning of fossil fuels, such as coal, oil and gas, as the main cause of this change.
The survey found that more than 80% of people wanted the government to take action on climate change, with more than 70%, saying that they wanted the rising level of air pollution to be addressed by political parties campaigning in the 2022 assembly elections. 
Yet, neither the BJP nor the SP have done so, though the latter's ally the Rashtriya Lok Dal as well as the Congress have in their respective manifestoes. Even so, if one looks at the speeches made by candidates of all major political parties or media coverage of this election, it is apparent that there are no proposals on the table to tackle heatwaves, floods, droughts and other disasters that have increased over the years, as a result of climate change. 
This is the reason why I chose to speak to voters in Aligarh on election day. 
Aligarh is both the name of the district and its headquarters, which is where I conducted the interviews. It is located in western Uttar Pradesh and falls within the fertile Ganga-Jamuna region, also known as the Doab. It is famous for its lock industry and the Aligarh Muslim University.
Even though it is a four-hour-drive from New Delhi, Aligarh hardly makes news and, when it does, it is usually related to events at the university. As far as the environment is concerned, there have been scattered reports such as on industrial pollution from small-scale industries, lead poisoning among children and the environmental impact of slaughterhouses but I was unable to find any comprehensive report on the state of the environment of Aligarh or how it has been impacted by climate change.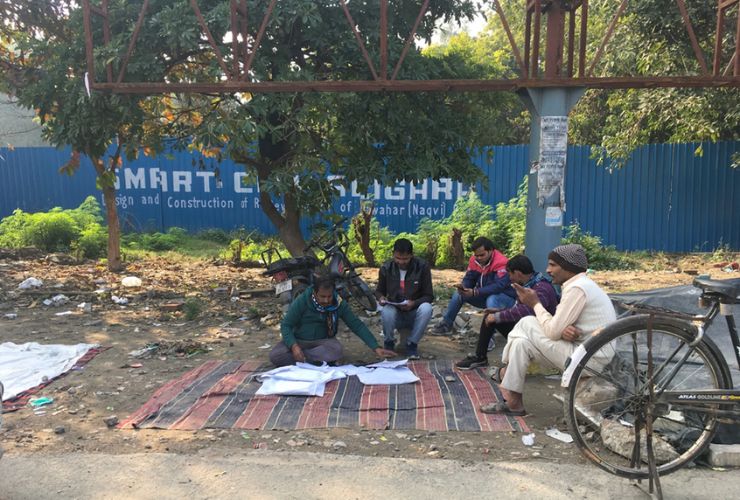 Yet, it is important to engage with climate change-related issues at the local level because this is where the most immediate impact of climate change is felt, according to Gender CC: Women for Climate Justice, a network of activists, experts and organisations whose work focuses on climate justice and gender equality.
I especially spoke to women voters since women are disproportionately impacted by climate change, especially those living in developing countries, such as India, where they are among the most marginalised, poor and dependent on natural resources that are at risk of depletion. Although efforts have been made to incorporate this gendered understanding of climate change at the international level, this has not been as widespread at the local level.
So, on election day—February 10th—I set out to talk to women, who make up 47% of Aligarh's total population. I wanted to understand their concerns and hopes for this election and whether their day-to-day struggles were in any way tied to the realities of our warming planet. 
This was the first phase of a seven phase election that ends on March 7th. I spoke to women voters in two very different neighbourhoods of Aligarh: the first group lived in middle to upper middle class neighbourhoods that surround the arterial Lal Diggi Road and the other lived in the working class neighbourhood of Jamalpur. Both of these areas fall within the Koil constituency. 
Worlds apart
High cost of living was the most immediate concern of working class women, and specifically the high cost of electricity.
Electricity has received a lot of attention in this election. The Bharatiya Janata Party (BJP) has promised farmers in the state free electricity, while its competitors – such as the Aam Aadmi Party (AAP) and Samajwadi Party (SP) – have promised 300 units of free electricity for everyone, with the latter also offering free electricity to farmers for the purpose of irrigation. 
Kumkum Devi (50) is a widow with five children, including two daughters and three sons; the latter are all daily wage labourers. She herself works as a domestic help, cleaning other people's homes. Yet, even with four earning members in the family, she says that she is sometimes unable to pay the electricity bill.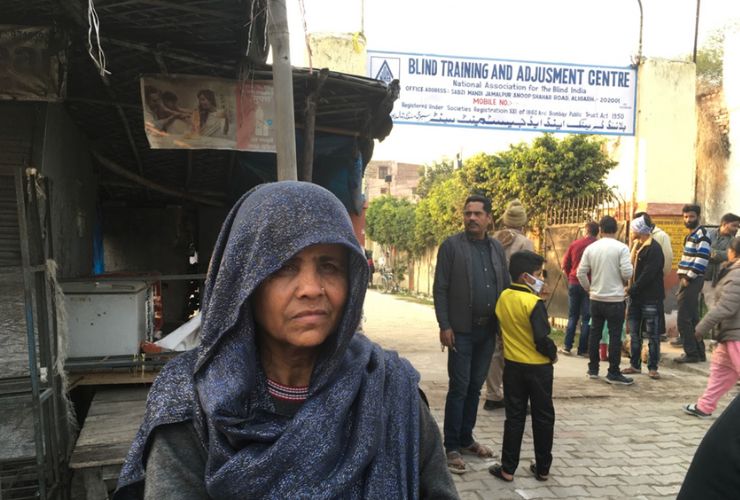 Even though Kamrun Nisa (45) works as a domestic help and cooks in houses in the Lal Diggi area, including mine, electricity is an issue for her as well. Her husband drives an e-rickshaw and charges it at home and so paying the electricity bill becomes crucial. At times, she says that paying the bill takes precedence and she has to cut back on provisions significantly. The problem becomes worse if she or her husband fall sick because then the choice is between getting treatment or paying their electricity dues.
The BJP's free electricity promise does not apply to these women, most of them domestic helpers. And the 300 units promised by SP and other parties translates to free electricity for only about four months, based on computations on the "Consumption Calculator" on the UP Power Corporation's website, which assumes that a household only uses three CFL lamps and three fans.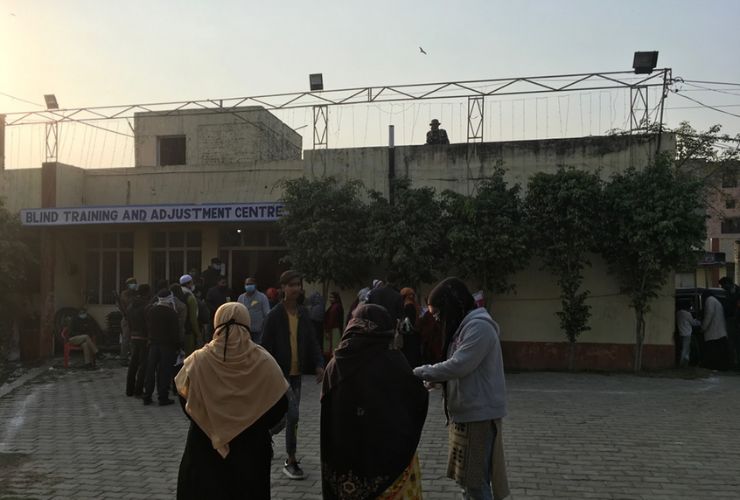 Women are also concerned about the high cost of food, which they are unable to offset despite procuring supplies from ration shops. 
Gayatri Devi (45) and her sister-in-law, Rajamala (32), buffalo herders who live in Dodhpur, say that they get one litre of refined oil from the ration shop from December to March, but even that became available only last year. When it gets over, they have to buy oil at a regular provisions store where it costs them between Rs 180 and 190 per litre. Before the 2020 lockdown, it used to cost Rs 100 per litre.
Each household also gets five kilograms of wheat and three kilograms of rice from the ration shop but, since theirs is a 13-member household, they run out of staples about ten days before the end of the month. So they have to rely on a general store during the last part of each month. The purchase of atta (flour) at Rs 30 per kilogram cuts deep into their pockets because, as Rajamala says, "Jo koi 200 rupay kamaata hai, uske liye to bohot zyaada hai– (it becomes expensive for those earning just Rs 200 per day)."
High rent adds to the cost of living. Qamar Jahan (35) says that the one thing that she wants most is her own home. This is so that she doesn't have to spend Rs 2500 per month on rent; she often does not have money left over to spend on food. "Paanch saal se koshish kar rahi hoon– (I have been trying [to get my own home] for the last five years)," she says.
The pandemic has made things even worse. In cities such as Aligarh, where people often used rickshaws and tirris (e-rickshaws) to commute, the lockdowns have hit those who provide such local transport especially hard. 
Kamrun Nisa's husband was out of work during the lockdowns since neither students nor teachers needed to use his service. Naseema Begum's (43) husband drives a rickshaw. She says that he was also unable to get passengers during lockdowns but also now rickshawallahs have to compete with tirriwallahs for passengers.
Only two political parties, the Congress and AAP, have promised monetary relief to families of healthcare workers who died in the pandemic. Neither rickshawallahs nor tirriwallahs have made it to their pandemic relief list.
The main consequence of the pandemic, coupled with rising costs of living in Aligarh, is that children from poor households have been unable to continue their education; most have dropped out as a result of the financial strain on their families. I found this to be the case in all three women-headed households.
Kumkum Devi's youngest son was in school, she says, but had to drop out due to lack of money. 
Qamar Jahan's husband is paralysed and she is the main breadwinner in her household. None of her four children go to school and her eldest son, who is 15, also works. "Income nikle tab hee to bhejoongee– (only when I have some income left over will I be able to afford to send them to school)," she says.
Gayatri Devi's husband used to run a tea stall. When he passed away, she could not afford to send her four children to school. This is despite the fact that one of her daughters had managed to earn a Master's degree in Education from DS Degree College before her father's demise.
The BJP has promised to increase pension for widows to Rs 1500 per month. Chief Minister Yogi Adityanath had already announced in December 2021 that it would be increased from Rs 500 to Rs 1000 per month, but both the widows that I spoke to said they continued to receive Rs 500 per month.
In fact, Gayatri Devi says that she has only received Rs 6000 in total, even though her husband passed away four years ago. This means that, even at Rs 500 per month, she is still to receive dues of Rs 18,000 from the government.
Aligarh Public School is less than two kilometres away from Jamalpur but the concerns of the middle class women voting here were less about the rising cost of living and had more to do with safety.
All of them spoke about the recent events in Udupi (Karnataka), where six college students wearing the hijab were barred from entering their classrooms. 
Anjuman Begum (46), a mother of three, said that Muslim women should not be harassed and instead should be made to feel safe and content in their surroundings.
Rakshanda Manzoor (45), Asma Khan (45) and Darakhshan Bazmi (40), all friends who had come together to cast their votes, said that women should have the freedom to wear what they want and everyone should have the right to free speech and to practise their religion. "Hum taxes detein hain, saare rules follow kartein hain, to phir hamein bhi to return mein safe mehsoos hona chahiye –(we pay taxes and follow rules [like everyone else], so we in turn should also be made to feel safe)," Khan said.
On common ground
Despite their class differences, most women I spoke to shared one common concern, which was the loss of tree cover and green spaces in the city.
Gayatri Devi says that she has been coming to cut grass at my ancestral home in Aligarh for more than a decade, since the time that my grandmother, Shahida Begum, herself a widow, was alive.
She and her sister-in-law, Rajamala, cut grass for their buffaloes, cows and calves. All of them separately give 4-5 litres of milk per day and the women sell it in their mohalla for Rs 50-60 per litre, which gives them a regular source of income.
They mix the cut grass with bhoonsa (wheat husks) and feed it to their cattle. This mixture lasts only four days, so they generally cut grass every other day to keep up the supply.
They bring two gunny sacks with them and Rajamala estimates that, when the grass is stuffed, each weighs at least 20 kilograms. I tried to lift one of the gunny sacks and failed splendidly. The two women carry these gunny sacks on their heads and walk a kilometre to Dodhpur, dodging traffic and potholes.
According to Gayatri Devi, it was much easier during my grandmother's time to find green grass growing across Dodhpur, especially because there were no apartment buildings back then and no boundaries demarcating plots. Now there are no such empty spaces, so we can only come here to cut grass, she says.
For Rakshanda Manzoor, Asma Khan and Darakhshan Bazmi, the major concern is the lack of safe green spaces for women. In urban life, both trees and urban green spaces help counter the effects of air pollution.
"Sirf red light lagaane se smart city nahin ban jaati hain (It is not enough to just put red lights on roads and call it a 'Smart City')," Bazmi said, referring to the Aligarh Smart City project launched in August 2015 under what the media termed as Prime Minister Narendra Modi's "flagship" Smart Cities Mission. 
Asked what she thinks about the pond near Lal Diggi that was recently cemented over under the "Smart Cities" project, Anjuman Begum says, "Main to yaheen samajhtee hoon ki qudrat jaise hai waise hi use chod dena chahiye (I think that nature should be left as is)." 
Asma Khan points out that there are no parks specifically for women, as there are in Delhi, where she can go for a walk or just relax, and there are no parks where her children can go and play either. 
When I ask about Naqvi Park, located right across from the polling station, she and her friends explain that they don't find it very "family-friendly" because it has become a popular spot for couples.
I realise as I speak to them that their concerns about the felling of trees and loss of open, green spaces are related to the fact that nature has helped them cope with the personal and economic stresses of living in a city like Aligarh.
Kamrun Nisa came from Asansol 30 years ago and calls Aligarh her home. This is where my daughter was born, she says.
In Asansol, there were trees near where she lived and she feels that they are essential because they help poor people access cool air during the hot summers. "Agar mere ghar mein bijli nahi hai to main ped ki thandi hawa to kha saktee hoon (If I don't have electricity in my house, at least I can get a cool breeze from the trees)," she says. 
But more trees have been cut to make way for flats, one very close to where she lives. "Yeh to AC laga lenge, aur hamein kahan se thandi hawa milegi agar sab ped kat gaye to? Hamein to AC ki garam hawa milegi (These people [in the new flats] will install ACs, but where will we get cool air from? We will only get hot air thrown out from their ACs)," she says.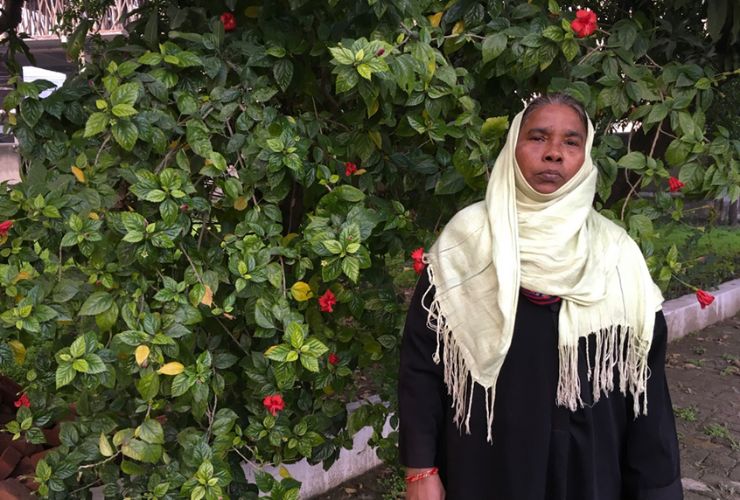 Qamar Jahan recalls that her own father was fond of trees and they had a guava tree in her childhood home. She says that she has inherited this fondness. "Acche lagte hain ped-paudhe. Garmi mein ped ke neeche baith jaata hai ghareeb insaan (Plants and trees feel nice. Poor people can sit underneath trees to get respite from the summer heat)," she says.
The observations of both Kamrun Nisa and Qamar Jahan on the importance of trees in their context is especially relevant since many poor families are unable to afford to pay high electricity costs, as mentioned earlier. The shade of trees is often the only cool and free space where they can get away from the summer heat. And they cool down the surrounding area's temperature by "6-10 degrees."
Overall, they help counter the effects of climate change. When fossil fuels are burned, they produce carbon dioxide (CO2), which accounts for "two-thirds" of the total greenhouse gas concentration in our atmosphere. Trees absorb and store CO2 during photosynthesis, and so help reduce its levels in our atmosphere. 
Trees become even more critical for the poor and homeless given the fact that heatwaves and heat-related stress will intensify within this century, according to the sixth assessment report of the International Protocol on Climate Change (IPCC).
The Indian Meteorological Department defines a heatwave, for the plains, as temperature that exceeds 40 degrees celsius. If it exceeds more than 6.4 degrees celsius, it is defined as "Severe Heat Wave." 
Heatwaves have become a common feature on the plains of Uttar Pradesh during the summer months. In July last year, parts of Uttar Pradesh and other north Indian states experienced a heatwave that lasted at least two days. And in May 2020, Etawah, just four hours from Aligarh, set the record for being the hottest place in the state at 43.8 degree celsius.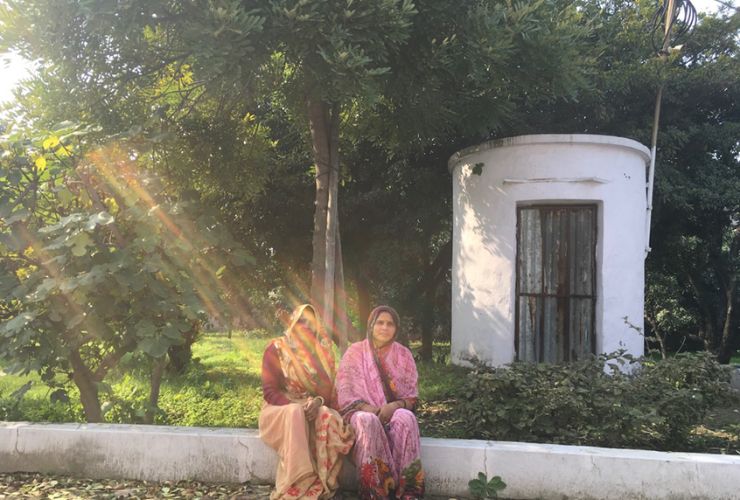 Like the shade of trees for Kamrun Nisa and Qamar Jahan, for Manzoor, a teacher at Blossoms School, the greenery in her courtyard is what offers her respite from garbage-choked naalaas (drains) near her house. She says she loves watering and watching her plants in the mornings, before leaving for work.
When the stress of daily life becomes too much for Anjuman Begum, she likes to step out. The Lal Diggi area where she lives is adjacent to the university and still has trees, unlike many other parts of Aligarh. She says she enjoys the greenery and khuli hawa (literally open air, but the actual reference is to taking a breath of fresh air in open spaces) and finds sukoon (tranquillity) by spending time in such spaces. "Zehen fresh ho jata hai (the mind becomes fresh)," she says.
This piece is dedicated to the memory of my grandmother, Shahida Begum.