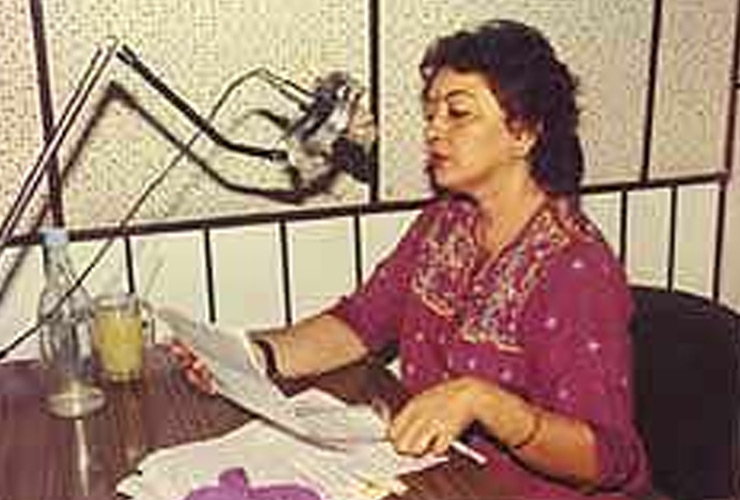 A walk down memory lane with mediaperson Luku Sanyal. 
Sanyal, an English professor and one of the earliest faces on Doordarshan, has witnessed the birth of television journalism in India. There is scarcely a field of media that Sanyal has not ventured into. Newsreader with Bombay Doordarshan for eight years, anchor, speaker and writer of numerous award-winning newsreels and documentaries, she has the rare distinction of being placed in the A-plus category by the Ministry of Information and Broadcasting.
Childhood and family
Although I am trained in Kathak and Bharat Natyam, I never managed to perform on stage because I would be dogged by ill-health each time there was an opportunity to do so. I started doing radio plays at 13 on AIR Calcutta. During my school and college years, I was deeply involved in theatre and even performed on the public stage in my last year. I was even part of the team that set up the Undergraduates Circle in Calcutta.
When in college, Satyajit Ray (my father's associate and friend) had seen me at a wedding and asked my father if I would act in Devi, which he was casting for. I declined, giving priority to my studies. A wrong decision? Maybe.
Teaching career
I completed my Masters in English in Calcutta in 1964 and followed it up by an extensive study tour of Europe. On arriving in Bombay thereafter, I applied for a teaching job in several colleges. In 1967, I joined Bombay's
KC College as junior lecturer. In 1972, I was transferred to MMK College as head of the English department from where I retired in 2001.
Some years ago, I also did a lot of stage and even went abroad with a Bengali play.
As a voice artiste
At around the same time, I did the odd radio play on AIR Bombay. I was even offered voiceover assignments and I didn't accept them because I didn't know what it meant! I had recordings in several languages for the radio and one of those recordings landed in HTA, the advertising agency, in the hands of advertising veteran Promod Dasgupta. He got in touch with me and that's how I first started – doing voiceovers for ads, only in Bengali, as there was a tight monopoly on the English voiceover market.
My first audition at Films Division was rejected. Thereafter, I was taken on their voice panel in the B category. I soon started writing my own scripts and was promoted to the A category as both speaker and writer. In addition, I was a regular translator from Hindi to English. For the award-winning documentary Anand Bhavan, I did the script while Partap Sharma did the voiceover.
The break on TV
At a party in late '73, I met Mr Bhagwat, assistant station director at Doordarshan. He liked my voice and asked me to come over for an audition. That visit was a strange one because I was kept waiting for ages before anything happened. Then someone asked me to audition in Hindi with a ready script. That went off so well that I was soon asked to do a live interview of Harbance Kumar, a West Indies-based film producer, my first show on TV.
I was nervous as hell and still recall the cameraman Ajit Naik's advice to me – "Remember that people who love you are watching you. Speak like you're speaking with them." My first TV appearance was on February 5, '74 and my father died on February 10.
A few months and several TV programmes later, TP Jain and Kunwar Sinha, my friends from Doordarshan, told me about the daily English news to be telecast from Bombay. They coaxed me to apply and the auditions were held in May-June '74. I remember the huge crowds that had queued up to audition. During my turn, I read longer than the others and the choice of the selection panel was unanimous.
Then our rehearsals began where we would record our own voices and replay them. Then on July 3, '74, the English news bulletin was telecast from Bombay for the first time. The opening panel consisted of Gerson DaCunha, Partap Sharma, Nirmala Matthan and me. Dolly Thakore joined us later.
Those years on TV
We used to wear our own clothes and I used to even do my own eye make-up. I insisted on pronouncing names the way they were meant to be – like Bengali names should be pronounced the Bengali way. We were a committed team and I have warm memories of my time with Doordarshan. It was wonderful being a woman in the Doordarshan TV centre. There were no biases against gender.
Unlike in Films Division, where I would often be overlooked. Even when I wrote the script, a man would be asked to read it.
A funny bias that worked against me was my bass voice. I lost out on a lot of commercial work because of the tenor of my voice, something that worked perfectly for the news.
I read the news when Indira Gandhi was arrested, when SD Burman died, when Begum Akhtar breathed her last. The bulletins during the Emergency were a challenge. Stories were killed at the last minute.
On December 31, '81, when I anchored the Marathi New Year's Eve programme on Doordarshan in the regional language, I received an astonishing amount of fan mail.
And then on August 14, '82, I anchored the last Saturday news from Bombay Doordarshan. We bid adieu. It was a poignant occasion and I had a huge lump in my throat.
After we wound up in Bombay, some years later, when I was in Delhi, I did an audition but was rejected on absurd grounds. The person-in-charge did not watch the recording! So I didn't pursue it anymore. Anyway, I am very busy with my other work.
As a mediaperson, then and now
There was no hype over media people in those days, unlike today. I've been written about too but things were far more low-key. Today, publicity is the name of the game. I agree that it's because of television that I'm a recognised face today. Television is a powerful medium and has an immense impact. We were conscious about that and took more care with diction and language, unlike today.
Among the better newscasters today is Vikram Chandra of NDTV.
New horizons
Apart from my teaching and other freelance work as writer and speaker that I do in India as well as abroad, I did some interesting assignments recently — a poetry reading with Naseeruddin Shah and Tom Alter, the voiceover for the The Good Food Guide on Star Plus and Tiger's Eye for BBC. Writing and speaking for commercials and corporate films keeps me busy. I dub in English, Hindi as well as Bengali as well as do workshops on presentation skills.
I live in Bombay with my two daughters and cat. Almost all areas of education and communications interest me.