By Editors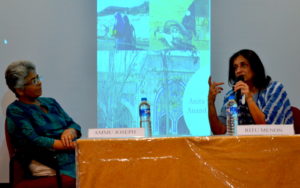 The Network of Women in Media, Bangalore (NWMB) in collaboration with the MA Political Science Department of the St Joseph's College of Arts and Science, hosted an event with writer Anita Anand, author of Kabul Blogs: My Days in the Life of Afghanistan, and its publisher Ritu Menon, founder of Women Unlimited.
The programme on March 20, 2017, started with a multi-faith prayer and was followed by a welcome by Dr Priyanca Mathur Velath of the Political Science Department. Susheela Nair briefly introduced the NWMB to the audience comprising teachers, students and a few network members.
Tejaswini, a student of the Department, conducted the event and offered brief introductions of the speakers.
In conversation with Ritu Menon, NWMB member Ammu Joseph initiated the discussion by asking about the evolution of the book from the publisher's point of view. That led smoothly into the next question about publishing in the time of social media and the process of transforming blogs into books. Ritu clarified that Kabul Blogs was not the first book based on blogs that she had published; the first one was Baghdad Burning: A young woman's diary from a war zone, by an anonymous Iraqi blogger known only as 'Riverbend', which was published in 2007. She also stressed the fact that quite a lot of work goes into putting together a collection of blogs, pointing out that it is not just a matter of reproducing blog posts in print. Asked about the challenges of publishing books about countries outside of the 'mainstream', Ritu said that one of the primary goals of her publishing house is to make lesser known and heard voices, both in India and elsewhere, more available to a wider public. She admitted that both publishers and readers have increasingly become insular and/or oriented towards the West in general and the English-speaking world in particular, but she intends to continue publishing books that go against this tide.
NWMB member Laxmi Murthy began the conversation with Anita by recalling her first meeting with her as her boss in the Women's Feature Service. She then went straight into posing questions to Anita.
The overwhelming sentiment of the book is one of optimism and hope. You mention that the experiences of the loss of their homes and loved ones, or constantly migrating, did not seem to have made the people in general angry or bitter, only sad. What do you think gives them hope?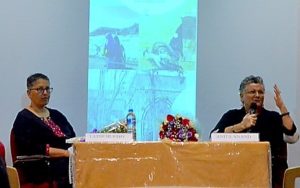 The hope that – for the first time in two and half decades – they have a country which is theirs. It is a democratically elected government and a big change from what they have experienced. For those who were in Afghanistan under the Soviets and Taliban, it is a liberation of sorts. For those who left the country seeking asylum in neighbouring Pakistan or Iran, it's amazing to be back in their country. For those who could make it to Europe and North America, it's an opportunity to come back, as part time consultants and experts, bringing skills and their hearts to the country they left behind. The sadness is from seeing their country devastated by wars, external and internal; an economy in shambles; a toxic environment after years of poisonous gases and weaponry; and the loss of lives in almost every family. Many have had no childhoods, and women and girls, along with men and boys, have suffered enormously and many continue to.
Through the book, there is a running thread about the psychological fallout of violence, which you describe as 'social suffering', and you mention that "no Afghan is immune from trauma". Does this situation continue, and what is being done to address it?
The situation does continue and while the government and international and civil society organisations try to address it, there are great challenges. As I said before, the devastation of the institutions, including healthcare, have left a deep mark on Afghan society. There are few trained personnel to detect and cater to the traumas of war and displacement that the Afghans have suffered over 25 or so years. There is no Afghan and [no Afghan] family I have met who hasn't suffered greatly, in and out of their country. Mostly commonly they suffer from Post-Traumatic Stress Disorder, which is manifested in anxiety, depression and physical disorders.
You bring out very well the contrast between what seems to be an idyllic life in the guesthouse and the precarious security situation in the city, though of course you are aware of the bombings and violence. What allowed you to savour this gentle side to Kabul and how difficult was it?
First, I was in Kabul most of the time. Much of the overt violence was in other provinces. Being an optimist, I could separate the violence from the peace (as it would seem). I was overwhelmed by the natural beauty of the country and the people. Not having been in a post conflict (a misnomer, as it is still in conflict) country, I had no preconceived notions of what I'd find. I found a Kabul where people woke up in the morning, got dressed and went to work, children walked to school, and the streets were full of people and commerce. The open air markets were bustling and I was delighted to experience all this. There were incidents in Kabul – rockets, firings, abductions, kidnappings and break-ins. However, I was convinced that I would come to no harm.
What seems to bind friendships in the transient [way of] life you led seems to be the daily intimacies: house decor, food, cooking. In fact you bring a beautiful ceremonial ritual to the act of cooking and serving friends. Is this something that deepened for you living on your own in Kabul?
Yes, it did. Being in a non-family station I lived in houses and guesthouses with other people. It was like being in college or working and sharing apartments. Only, I was an adult (a senior adult!) and quite fascinated by the people around me – what brought them to Afghanistan, their lives back home, and how they responded to being in Afghanistan. In fact, I started writing a blog during the six months in 2006 when I was in Kabul. I called it 'Letter from Afghanistan', and it was the beginning of many blogs which then came together in this book.
Your first training group trying to develop a gender perspective consisted of 10 men and one woman, which you attribute to the recent war. Yet, women continue to be under-represented in the Afghan media – both in sheer numbers and in decision making positions. What more needs to be done?
Naturally, this cannot change in 15 years. There are years of socialisation and conditioning – of men, women and the media. In Islam, it's not appropriate for women to show their faces in public – like TV for example – or circulate their photos. They may be OK in radio or print journalism, but here too there are dangers, as security is an issue. Often there is pressure on women, from their families, to not spend too much time at work, outside the home. While the numbers of women in the media has increased, there are fewer women in senior and decision making positions, just as in the rest of the world. Unless women stay in organisations and work their way through, they cannot achieve this. I don't believe the climate for this is right, now.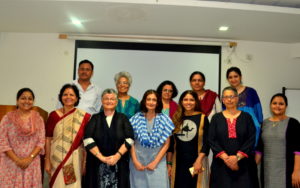 How did you get your students to discuss taboo issues like sexuality, reproductive health, violence against women or the drug trade, and learn how to report sensitively in these topics?
It was a challenge. These are issues I have worked on in my professional and personal life. I am very comfortable talking about, writing and discussing them. I did it in an open way, by asking questions, presenting facts such as rates of maternal and child mortality in Afghanistan, the side effects of the drug economy, and how violence had seeped into the home. I discussed the issue of rights in a broader framework – the right to life – and all that goes with it. I focused on how we, as individuals, violate others' right to life – physically, emotionally, etc. I found the students open and willing to discuss sensitive subjects such as incest, homosexuality, family planning, etc. As for reporting on the drug economy, I said it needed to be done carefully, as a dead reporter was no good to anybody!
Women's participation in the elections is very relevant to India as well. You describe the processes at some length – what struck you the most?
The Afghan constitution, adopted in 2004, has a quota for women at the national and provincial levels. In the first national elections 27 percent women were elected. In 2009, the Afghan Women's Network, an umbrella organisation of women's organisations and individuals, launched the 5 Million Women Campaign – to get women to vote and stand for office. A campaign starting at the grassroots level was launched for electoral literacy of women. What struck me the most is that women are willing to stand for public office and serve their country.
And a style question for you: Could you talk a little more about why you chose to paint water colours, and not document through photographs?
I did take a lot of photographs. It's these that then became water colours.
To conclude, could you give us a gist of the changes you witnessed in the decade between your first visit (2004) and your last (2016).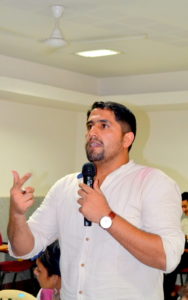 There's better infrastructure, a more open and expanded media, more women in the workforce and streets, more children in schools, more debate and dialogue on TV and radio (the more popular media), more experimentation in music, theatre and art. Afghans are stepping out and participating and competing regionally and globally in sports, theatre, music and film. A democracy in the works, with two steps forward and one backward.
In a fitting conclusion, Anita allowed the audience to glimpse 'another' Kabul by reading an evocative passage from her book describing the transition from zamestan (winter), eagerly awaited bahar (spring) to the hot tabestan (summer).
Students participated actively in the Q&A session, some wanting to know more about the status of women in Afghanistan, others – especially the Afghan students in the audience – questioning the author about her focus on Kabul and not the rest of the vast and varied country. One Afghan student was clearly keen to establish that all is not gloom and doom for women in Afghanistan and read out a list of prominent women and positive developments in the country to prove his point.
Melanie Kumar, NWMB co-ordinator, made her concluding remarks, addressing a playful question to the author: "Are you planning another book, My days in the life of right-winging India,?" to which Anita replied, tongue in check, "No comments." After Melanie's vote of thanks, the speakers and audience headed to the basement for a sumptuous high tea.