By Editors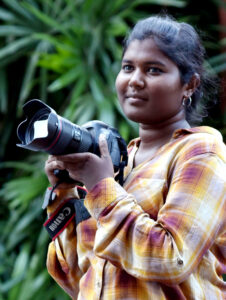 The Network of Women in Media, India (NWMI) is very pleased to announce that photojournalist Akhila Easwaran has been conferred the Fifth NWMI Fellowship (2021). 
The Selection Committee was impressed by Akhila's sensitive work and bold and enthusiastic approach in the precarious world of photojournalism. 
Akhila Easwaran hails from Theni, Tamil Nadu. After an education in aeronautical engineering, she switched gears to pursue her passion: journalism. Following a formal education in photojournalism, she worked with some of the major newspapers. Despite the pandemic-era job crunch as media houses opted to rampant downsizing, she has persisted with her dream of becoming a documentary photojournalist and is reluctant to take up lucrative offers in fashion and wedding photography. 
Akhila has documented the lives of women and children living under the bridges of Mumbai, transgender artists and migrant workers during the lockdown. She has won the "Women Photojournalist Homai Vyarwalla Award 2020" instituted by the State Photojournalist Association of Andhra Pradesh for her news coverage on Role of Women and children in Anti-CAA protest. Akhila is now embarking on a visual documentation project that will capture the problems faced by fisherfolk in Tamil Nadu due to various government policies, evictions and natural disasters. 
"Being woman and becoming a photojournalist has pushed me through heights. Passion for photojournalism along with compassion became my motto.," says Akhila. Please visit www.photojournalistak.com to see Akhila's work.
The Selection Committee had the difficult task of selecting from a range of outstanding applications, a majority from Kashmir, and others from Assam, Delhi, Madhya Pradesh, Maharashtra, Odisha, Rajasthan and Uttar Pradesh and West Bengal. 
The Committee would also like to commend the following applicants:
Maya Muktai

, journalist and activist based in Nasik, Maharashtra, for drawing strength from her deprived background, in addition to bringing up three children as a single mother. With an amazing journey from a child-bride rag-picker to video story-teller, her stories have had tremendous impact for the local Dalit community and others whose voices have been thus far suppressed.

Bhawani Negi

from the Kinnaura tribe from Giabong village in Kinnaur district of Himachal Pradesh, for hanging in there despite two decades of sheer struggle in journalism. The Selection Committee was moved by her deep empathy and sensitivity towards gender, the environment, tribal movements and politics of the land as well as her optimism that journalism can help the underprivileged.

Karpu Chisi

from Leparda, Arunachal Pradesh, a part of the country that rarely features anywhere in the media. The Selection Committee was appreciative of her choice of stories and her professional approach to investigative journalism. Her decision to stick it out despite the low salary and hostile environment for women journalists is commendable. She would like to write about issues from Arunachal that deserve national attention. 
The works of these tenacious women journalists will be showcased on the NWMI website in the coming weeks.
The NWMI Fellowship, raised through voluntary contributions from members, consists of a modest annual stipend of Rs. 72,000, as well as professional equipment, if required. The Fellowship also ensures that the recipient becomes part of a nurturing and supportive community of media professionals. Mentoring, including help in the form of contacts with media houses and editors, guidance in pitching story ideas, and sharing of other professional skills, as desired/needed, is an important part of the solidarity and support extended by the network. 
For details on previous awardees, click here.