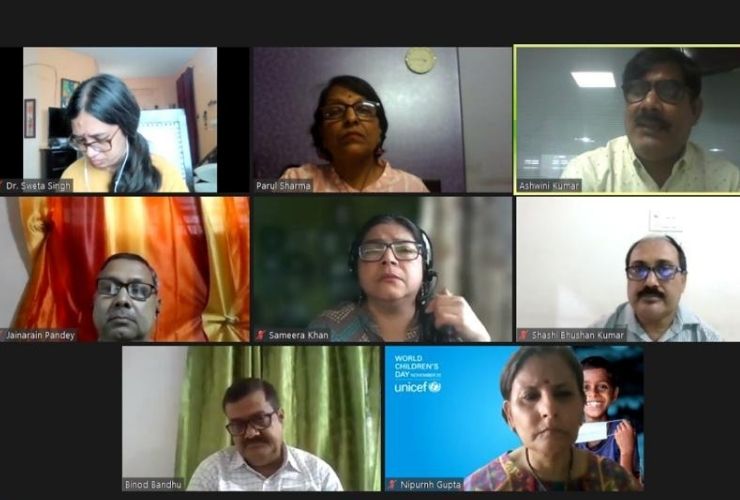 By Sumita Jaiswal and Parul Sharma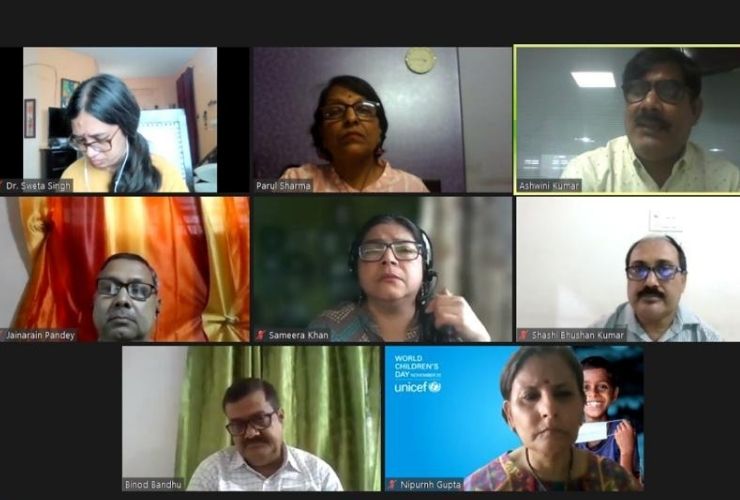 "We need to move from a gender sensitive and gender responsive approach to a gender transformative approach," said Nafisa Binte Shafique, Chief, UNICEF office for Bihar, speaking at a webinar on 26 July, 2021, organised by the Bihar Chapter of the Network of Women in Media, India (NWMI), the United Nations Children's Emergency Fund (UNICEF), and the United Nations Population Fund (UNFPA) on 'The Role of the Media in a Gender Equal World'.
More than 150 participants – editors, senior journalists, media students, and representatives of civil society groups and development organisations – took part in the programme.
Over the two and a half hour webinar, the group shared their research, experiences and views on media coverage of gender issues and how the media can play a transformative role. Speakers analysed the changes in the work culture of media houses, and challenges that need
to be overcome. New strategies to achieve gender equality for women as workers and as news gatherers were also discussed. Editors in decision making positions were asked to speak on what they thought was the way forward to achieve gender justice.
Introducing the objectives of the meeting, Nipurnh Gupta, Communication Specialist, UNICEF Bihar, emphasised the importance of going beyond sensitising senior media persons on such issues to reach young media students, the scribes of the future.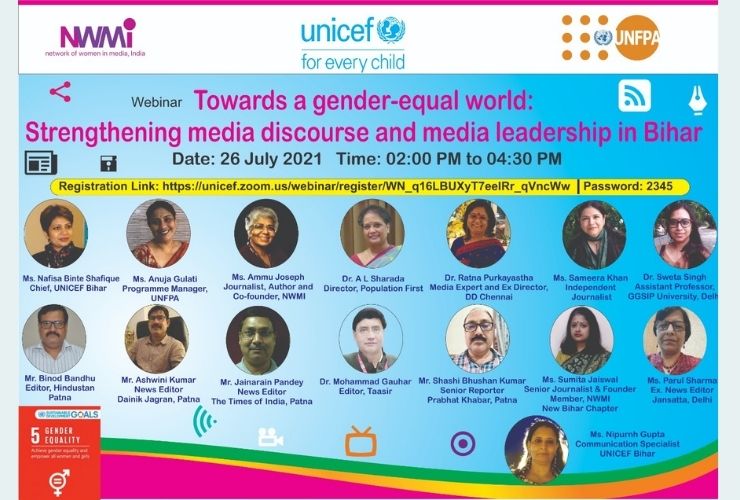 Gender sensitive coverage
Dr AL Sharda, Director, Population First, spoke on the need to look at media coverage of the pandemic through a gender lens. "The first two waves of the Covid-19 pandemic had a devastating effect on the lives of girls in the country and the looming third wave is likely to further compromise their rights," she said. In this context, it is important to understand whether the media has been able to reflect these realities in its reporting on the pandemic, or whether it continues with its urban and middle class-oriented reporting, she added.
Commenting on a media analysis study carried out by the NWMI and supported by Population First, Dr Sharada noted that while online publications have had more detailed investigative and analytical articles, regional language media coverage has been largely based on government press releases. "Since regional publications have a greater reach, we must work more closely with them to improve the quality of reporting." The findings of the analysis were presented later in the meeting.
Ammu Joseph, independent journalist, author and co-founder of NWMI, spoke on the need to strengthen gender perspectives in the media. Quoting the recently released Global Media Monitoring Project-2020 report, she said that although the number of women in the media has increased, the voices of women are not heard enough, and news coverage of violence against women is not presented prominently. "But there is some somewhat good news: women's visibility as reporters finally increased by three percentage points to 40 percent. This is considered a positive development since it has been stuck at 37 percent since 2005," she said.
Sameera Khan and Dr Sweta Singh, from NWMI's Mumbai and Delhi chapters, respectively, presented the findings of research on the media's coverage of women's experiences in the pandemic: "Locating gender perspectives in Covid-19 reportage in India: an analysis of print media in India".
This study conducted by NWMI looked at 12 mainstream Indian newspapers published in seven languages between March 2020 and September 2020. It was supported by Population First, UNFPA and the Royal Norwegian Embassy in India.
Citing news reports on the reverse migration of workers during the lockdown, the researchers said women were represented in the photographs of migrants, but their voices were not heard in news reports; women were described as someone's wife, daughter or sister. It is estimated that while 35 percent of men lost their jobs during the pandemic, as many as 70 percent of women lost their livelihoods during the same period. However, the hardships of women were not reported proportionately in news stories.
Panel discussion
The session with senior editors focussing on the gender discourse in Bihar's media, was moderated by NWMI member Parul Sharma, former editor of Jansatta, Delhi. The panelists were Ashwini Kumar (news editor, Dainik Jagran), Jai Narain Pandey (news editor, The Times of India, Patna), Binod Bandhu, (editor, Hindustan, Bihar), Dr Mohammad Gauhar, Editor, Tassir (Urdu Daily), Vijay Swaroop, (chief of bureau, Hindustan Times), Shashi Bhushan, (senior reporter, Prabhat Khabar, Bihar) and senior journalist Ratna Purkayastha.
Moderator Parul Sharma noted that there have been changes and that an increasing number of women journalists can be seen working in media houses. But the concerns remain the same, and more needs to be done she noted. She flagged the recent developments during the
pandemic situation, during which newspapers had reduced their editions, slashed pages and had started depending on digital media and e-papers editions. Some of the key questions she posed to the panelists were: What measures were being taken to ensure job security; with
regard to offline and online safety for women journalists? Were trainings initiated to protect them from trolling and were there mechanisms of redress?
She also asked panelists to focus on the difficulties faced by the language press and whether the papers were able to touch upon issues related to women, health, hospital, and child vaccination.
The panelists noted that there have been significant changes in media coverage of girls and women over the last two decades. According to Binod Bandhu, editor of Hindustan, Patna, women-related news stories are now properly planned, discussed in detail and given prominent coverage. "We run issue-based series from time to time that cover multiple dimensions of the problems faced by girls and women."
Ashwini Kumar, local editor of Dainik Jagran, commented that while women's presence in the media has certainly increased considerably, women are still underrepresented in the media. "We need to do more to augment their representation, especially in senior positions and also at the district level. However, a journalist is a journalist no matter a man or a woman," he said.
Jainarain Pandey of The Times of India in Patna said their newspaper had always encouraged women journalists and had been giving quality coverage on women's issues. He spoke about ToI's campaign 'Aadhe Hum, Aadha Humara', launched to sensitise voters of Bihar on the representation of women in state assemblies. Dr Mohammad Gauhar, editor of Taseer, said that as an Urdu daily, it has been their priority to cater to the needs of minority women, especially those living in small towns and villages. "We have a page dedicated to discussing women's concerns besides supplying information relevant to their needs."
Shashi Bhushan of Prabhat Khabar said that even outside dedicated pages for women, women's issues are getting prominence through regular and wider coverage of government schemes such as 'Mukhyamantri Kanya Utthan Yojana', a state-wide campaign to abolish child marriage and dowry.
Sharing her experience in the broadcast media, senior journalist Ratna Purkayastha said: "Earlier women used to be asked to cover women- or child-specific programmes but things have changed. Though representation of women in the media and the coverage of women- related issues has improved, we have miles to go to achieve a gender neutral environment in the media."
Way forward
A number of insights emerged from the discussion on how to address gender issues in the media. There is a need to conduct regular training and sensitisation of media personnel. Sustained efforts must be made towards greater and better representation of women at all levels of the media. Women journalists should get training in new technologies. We need research on gender sensitive and gender inclusive policies in media houses and advertisement agencies, in order that good policies can be improved and replicated. Fellowships or awards for young journalists, to report on stories of change, can encourage breaking of gender stereotyping.
The working conditions of women journalists also came up in the discussion. There is a need for job security and safety measures for women journalists, including tackling online harassment, as well as structures to address sexual harassment at the workplace.
Speaking on the need to engage with the media, Anuja Gulati, UNFPA Program Officer, said the media not only plays a vital role in challenging gender discrimination, gender stereotyping and promoting a positive image of girls and women; it also guides society through its coverage of issues related to gender equality and women.
Concluding the meeting, Sumita Jaiswal, founder member, NWMI Bihar Chapter, reminded participants of the objective of the programme: to have a meaningful dialogue on how to incorporate gender perspectives in media coverage and thus promote gender sensitive and gender responsive journalism. She noted that the discussions had shown the importance of a gender transformative approach in moving towards a gender equal world.