By Ninglun Hanghal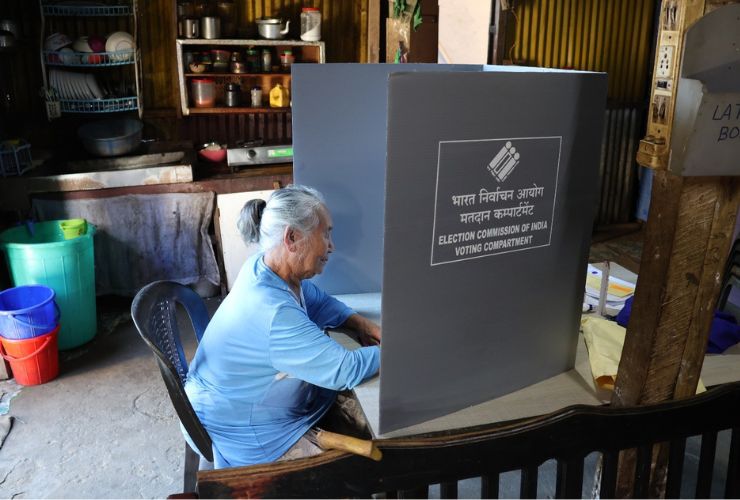 Mizoram will go to the polls on 7 November. Of the174 candidates contesting the state elections to secure seats in the 40-member Legislative Assembly, 16 are women – making up just 9 per cent of the total.
Like most north-eastern states, Mizoram has a higher number of female voters than male voters. Of the total electorate (8,51,895 or 0.85 million), 4,38,925 (0.43 million) are women, while 4,12,969 (0.41 million) are men.
However, only three women have made it to the Mizoram Assembly to date. As early as in 1978, when Mizoram was still a union territory, Pi Thanmawii became the first woman to break the glass ceiling.
In 1987, during the first election held after attaining statehood, Pi Lalhlimpuii became the first woman to win a seat in the new state Assembly. President's rule was imposed in 1988, following which a bye-election was held in 1989. Unfortunately, Lalhlimpuii lost that election, after just two years of being a member of the Assembly.
More than two decades later, after former Chief Minister Pu Lalthanhawla vacated his twin seat in the Hrangturzo constituency in 2013, a bye election was held in 2014. Pi Vanlalawmpuii Chawngthu won the contest and became the third woman legislator as well as the first woman cabinet minister in the Congress-led government.
Since then, Mizoram has not seen any female legislators. This is not surprising because very few women contest elections in the state. The number of female candidates is usually in single digits; there are often less than five women in the fray.
However, there was a positive sign during the last state election, in 2018, with the number of female candidates increasing to 18. Of these, 12 of them contested as independents. Unfortunately, they all lost the election. The BJP fielded five candidates while the Congress included only one. The ruling Mizo National Front (MNF) and the Zoram People's Movement (ZPM) did not field any female candidates at all.
The number of female candidates has not gone up in 2023; instead, it has come down to 16. The MNF, the ZPM, and the Congress have fielded just two women candidates each, while the BJP initially fielded four but was forced to withdraw the candidature of one after party workers objected (more about this later). This time, too, seven women are standing for election as independent candidates. Yet, despite the small drop in the number of women in the fray this time, Mizoram may well see at least one woman make her entry into the state Assembly.
The trend toward contesting on an independent ticket is indicative of the fact that women are often sidelined by political parties while  choosing candidates and handing out party tickets. Many women are known to be active and strong party supporters and party workers. Nevertheless, they are not taken into consideration when it comes to giving them the opportunity to fight elections.
Mizoram's biggest and most influential women's federation, the Mizo Hmeichhe Insuihkhawm Pawl (MHIP), has been advocating for bringing more women into the electoral domain. According to the former and present leadership of the federation, there are capable women to contest elections but such women are not given the opportunity to stand for elections on party tickets. According to them, "At the most, political parties offer tickets to two women only."
Women in Mizoram are popularly known and witnessed to be proactively engaged in the forefront of the economy and societal life. Yet, electoral politics remains a male domain and many women themselves seem to feel that the arena is not for them.
Dr. Rini Ralte, a feminist and social activist, underlines the fact that women in Mizoram have demonstrated capability and efficiency in governance and administration. Citing the example of the Aizawl Municipal Corporation, which has 33% female representation, Dr. Ralte says, "The women councillors are doing a good job, often even better than their male counterparts." She believes that more women in the Assembly will surely bring better government and administration to the state.
The challenges for women to enter electoral politics are varied and layered. Lack of financial resources is one, and absence of moral as well as economic support – even from their own families and social circles – is another. Even when female candidates do have the support of their natal and/or marital families, the negative societal mindset still surfaces in many forms. According to tradition and custom, male members of both family and society are the decision-makers; so public platforms such as the state Assembly is meant for men.
MNF candidate B. Lalawmpuii, who is a corporator in the Aizawl Municipal Corporation, hails from an affluent family of politicians and has the support of her husband and her in-laws. "My father is a party worker and my father-in-law, too, is an a politician," she says. "It's because of their support that I am contesting."
But things are not all rosy when other women come out in public spaces and appear on public platforms. According to candidate Baryl Vanneihsangi of the ZPM, society still seems to think that political participation is not for women. "People in my constituency say they do not want to be represented by a woman," she says. But she is undeterred, saying, "I am a fighter." And despite such social attitudes, she says turnouts at her campaign meetings are positive.
As if fighting societal mindsets, financial hardships, muscle power and political opponents were not enough, in recent times women in Mizoram have had to face new, emerging challenges as they venture out in public and political spheres.
The Mizo Zirlai Pawl (MZP), the biggest and most influential student body in Mizoram, has declared that women who are married to "non-locals" should not be allowed to contest elections in Mizoram. The student organisation's call appears to have generated mass support. A huge turnout was witnessed in a rally called by the students on this matter. The socially accepted view appears to be that the woman now belongs to the husband and his family/community, and must therefore take on a new identity for herself.
The BJP has had to withdraw one of its female candidates for the upcoming elections due to public pressure. Judy Zohmingliani, who is married to an Anglo-Indian man, was to contest from the Tuivawl seat. Since her husband is a "non-local", she is apparently no longer considered a "local". Accordingly, she has been dropped from the party's list of candidates.
On the other hand, the Congress has not heeded the call of the student body and has gone ahead with nominating a female candidate whose spouse is a "non-local." Meriam L. Hrangchal, who is married to a Gorkha man, is the Congress candidate from the 33 Lunglei South ST constituency.
One-third reservation of seats for women in the municipal body, the Aizawl Municipal Corporation, has had a huge impact on Mizoram – not only in terms of quantity or numbers, but in terms of quality, too. The guaranteed quota from 2010 onwards has had an empowering effect on women's participation in politics and encouraged them to forge ahead in the political space. The relatively large number of women contesting state elections in recent years – both in 2018 and now – is at least partly due to this.
Reservation of seats for women in the Legislative Assembly will no doubt also be empowering and bring about a sense of equality in society. It will not only help balance the equation and promote women's empowerment, but it is also likely to lead to better governance in the state.
At this juncture, pending the implementation of the recently passed  Women's Reservation Bill or Nari Shakti Vandan Abhiniyam (Constitution [128th Amendment] Bill, 2023), the emerging situation in the state presents a new challenge for women. Even after the new law comes into force, will Mizo women, including women whose partners happen to be "non-local", be freely allowed to contest? This new stumbling block is yet another hindrance that can adversely affect the political participation of women in Mizoram.
Ninglun Hanghal is a freelance journalist. She is former Delhi Correspondent of The Sangai Express and is at present the consulting editor of The Northeast Stories, an online e-magazine. She writes regularly on women, development and current affairs of Manipur and Northeast India.