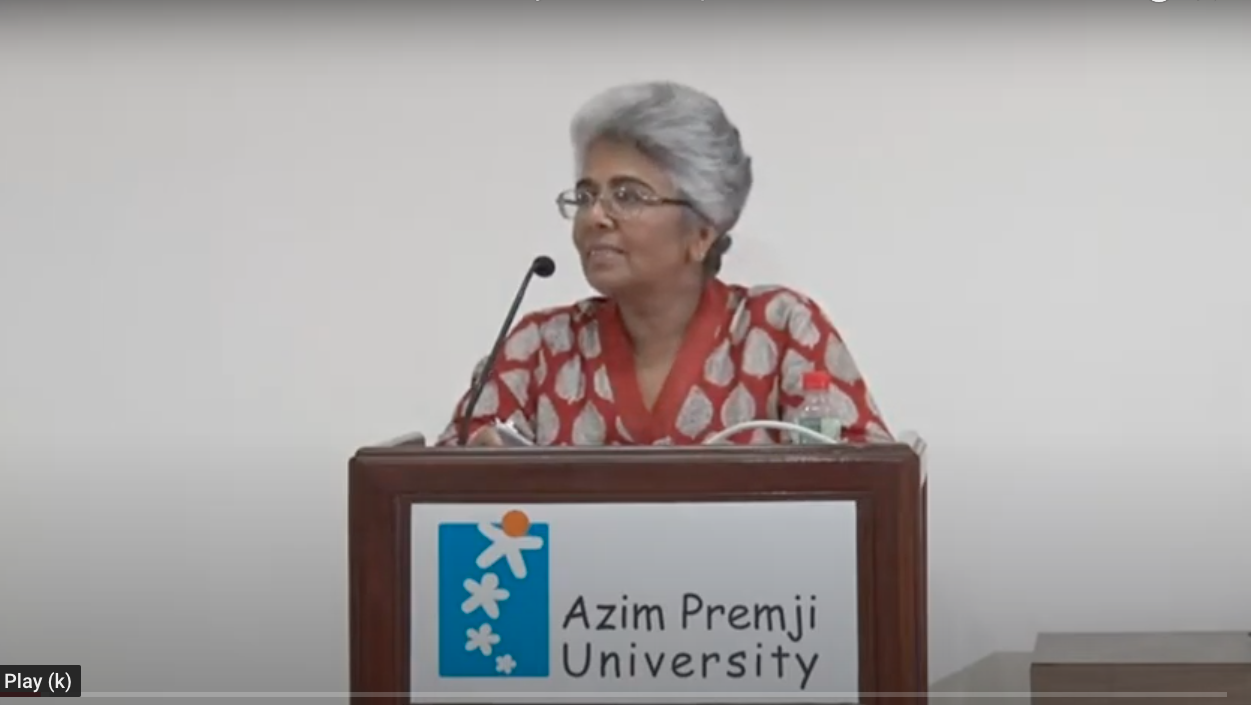 By Editors
The summary of the Colloquium Lecture given by Ammu Joseph at the Azim Premji University on September 22, 2017.
The shocking and tragic assassination of Gauri Lankesh serves as a grim reminder of the grave and present threats to freedom of expression (of which media freedom is a part) in general and the dangers faced by individual journalists attempting to speak truth to power in particular. However, there are a number of other ongoing, insidious challenges to media freedom and independent journalism that may not be very obvious to even those members of the public who follow the news in print, on television or online. Yet media freedom is an essential part of democracy, a prerequisite if citizens are to enjoy their rights to freedom of expression and information. So what ails the media today should be of concern to everyone who would like India to remain a functioning democracy. It is time more citizens became aware that they have a stake in media freedom.
The main reason for my being here today is our shared sorrow about the recent, shocking murder of Gauri Lankesh right here in Bangalore, and our common concern about the implications of the crime for the media in general and journalism in particular.
As we all know by now, over the past couple of decades, Gauri had metamorphosed into a fiery, fearless journalist and activist, known in particular for her spirited and consistent opposition to communalism, majoritarianism and casteism – both in print and on the ground. In an interview last year Gauri not only observed that certain people want to see her in jail but added, "…let me assure you, they are keen to somehow shut me up too…" And now they have – tragically, forever.
I think it is important to note that Gauri's sudden and untimely death raises to 41 the number of journalists known to have been killed for confirmed, work-related reasons over the past 25 years in India – known as the world's most populous democracy (the motives for the recorded killing of 30 other journalists and media workers during this period are either unknown or unconfirmed).
These are figures compiled by the international organisation, the Committee for the Protection of Journalists. This year India was ranked 136th (out of 180 nations) in the World Press Freedom Index, three points down from last year. Global media watchdog organisations, such as Reporters Without Borders, have also in recent times labelled India as the third most dangerous place for journalists in the world, the most deadly in Asia, and so on.
These are, unfortunately, not exaggerations. Ahead of World Press Freedom Day (3 May) this year, the Indian mediawatch website, The Hoot, highlighted the fact that 54 attacks, and 25 cases of threatening journalists, were reported in the media here over the previous 16 months. You may also have heard that Santanu Bhowmick, a journalist from Dinrat news channel, was killed in Tripura on Wednesday.
So it is clear that the assassination of Gauri Lankesh goes beyond the murder of an individual, independent-minded journalist, deplorable and condemnable as that is in itself. It is part of a highly disturbing trend and represents a blatant attack on freedom of expression. She herself had recently called attention to the growing threat to freedom of expression in general and the right to dissent in particular in the country today.
I believe it also calls into question the reality – even the dream – of a new India, a modern Bangalore and, indeed, a civilised society.
The bottom line is that, whether or not one knew Gauri or admired her or liked her or agreed with her, her murder cannot but affect us all – as Bangaloreans, as Indians and, above all, as citizens of what we still assume is a democracy, with Constitutionally guaranteed fundamental rights including – as the Supreme Court recently reminded us – the right to dissent.
I believe it is highly likely – if not certain – that the execution-style murder was prompted by Gauri's political views, writings and activities. But when I was asked by a newspaper the day after her death whether I thought it had anything to do with her being a woman, I said that, on the face of it, the crime would seem to have more to do with her work as a journalist and activist than with her gender.
However, I also said it has become increasingly clear to many of us that there is a special kind of hostility, even hatred – especially in certain quarters – towards women who are strong, have strong views, are unafraid of voicing their opinions and of taking action based on their convictions. And many women journalists tend to fall into that category.
The animosity towards "bold" women is very evident if you look at the nature of the online trolling that women, including and – in some ways – especially female journalists, are subjected to. Sexual abuse in the most unimaginably filthy language is par for the course. In addition they have to deal with not only "gender-neutral" death threats but also threats of sexual violence, acid attacks and other forms of violence specially reserved for women.
As you probably know, Gauri was mercilessly trolled while she lived – and even after her death, by some who thought it appropriate to justify and even celebrate the murder. The Network of Women in Media, India – of which I'm a founder-member – has issued half a dozen statements over the past few months deploring such virtual violence against various women journalists and calling for action against offenders. The frequency of such assaults appears to have risen in recent times; unlike in the past, the website of our home page is now almost entirely taken up with our responses to instances of online abuse that come to our notice.
With Gauri's murder the violence appears to have moved from the virtual world into the real one. And that is a very serious, extremely alarming development with terrible implications for not only journalists but society as a whole.
Interestingly, the latest report of the UN Secretary-General on the safety of journalists and the issue of impunity, presented last month, focuses specifically on the safety of women journalists. It clearly states that there has been an increase in violence, threats and harassment against women journalists and that even the number of women journalists being killed is on the rise.
According to the report, women journalists disproportionately and routinely face gender-based violence in the workplace and in the field, online and offline. A major form of the violence and harassment is sexual. You must have heard about what happened recently to the female journalist who featured in the Quint video urging readers to report rapper Omprakash Mishra's offensive, sexist song, "Bol Na Aunty…" (which I confess I haven't bothered to listen to). Death threats she received in the middle of the night reminded her of what had happened to Gauri Lankesh. She also received rape threats. Ultimately Quint took down the video, ostensibly in order to protect the journalist.
According to the UN report, women are also more likely than their male counterparts to face reputational smearing campaigns, often of a sexual nature, as well as threats of attack against family members. The latest example of such attempted character assassination here is the recent slanderous Facebook post by a former police officer about an unnamed but clearly identifiable female journalist, which I'm glad to say she boldly challenged in a Facebook post of her own a few days later.
As the UN report states, the online environment constitutes a new platform for attacks against women, which are usually anonymous and exceedingly invasive. As with women and girls generally, women journalists are disproportionally and increasingly subjected to online threats of violence, including sexual violence, trolling, doxing and being "swatted". Women who cover topics such as politics, law, economics, sports, women's rights, gender and feminism are particularly likely to become targets of such violence. While men journalists are also subject to abuse online, abuse directed against women media professionals tends to be more severe and gender-related. As with cases of violence against women generally, most women journalists do not report or make public the violence they experience.
Countless women journalists choose to continue working in the face of violence, threats or harassment, but some understandably resort to self-censorship, shutting down their digital accounts, and/or leaving the profession. For example, the internationally renowned American feminist writer, Jessica Valenti, quit social media last year after receiving rape threats targeting her 5-year-old daughter. Reddit chief Ellen Pao quit her job in 2015 after enduring what she described as "one of the largest trolling attacks in history," including death and rape threats, racist abuse, libel, and having her home address publicised online – all because Reddit users were furious about her efforts to crack down on hate speech and revenge porn.
Such attacks can also have a chilling effect on other women journalists. In fact, I have been thinking about the likely effect of Gauri's murder on the prospects of women coming into the profession. For many young women, especially from rural areas or small towns, and from socially and economically disadvantaged backgrounds, it is already a struggle to enter the media – overcoming opposition from families, discrimination in hiring practices, and other such barriers. The idea that media careers not only require long and late hours, more mobility and more professional as well as social interaction with strangers (including men), and so on, but could actually be physically dangerous, too, may well make things even harder for them. And this would be a great pity – not only for them as individuals but for the media and society as a whole because media diversity is a vital aspect of freedom of expression.
Moving on from possible gender-based repercussions of the assassination of Gauri Lankesh, which as I mentioned includes threats to freedom of expression, I would like to highlight the point made by an editorial in the online news and current affairs website, The Wire, in the wake of her death:
"Journalists in India have long valued their independence, but of late, that one-time feistiness has morphed into a coziness with the powers that be. Some journalists are blatant about their support for the government, others, while pretending neutrality and equidistance, are more subtle. Either way, the space for independent journalism – which does its job without fear or favour and seeks to serve only the reader/viewer – is rapidly shrinking.
"A brazen killing such as this one seeks to send out a chilling message to not just journalists but to all independent thinkers and dissenters – that this could be their fate too. The only proper response should be to do the exact opposite of what the killers want – to continue standing up to those who are out to spread terror and silence all opposition. Intolerance of this kind has to be resisted and exposed. Gauri Lankesh would have done that and we owe it to her to continue the fine tradition."
In June this year, during a meeting organised by the Press Club of India in Delhi to protest the attack on a reporter for Caravan magazine who was attacked by a mob in the capital city and the climate of intolerance against the media being not only tolerated but even promoted by people in positions of power, the widely respected journalist Ravish Kumar said, "It is only the lapdog media which is safe in India today. Jump into and snuggle down in the lap [of authority] and nobody will dare say anything to you anywhere – lose yourself in the songs of devotion, strum the tanpura, like Narada did, and chant Narayan Narayan on the television screen." He was, of course, referring to Lok Sabha speaker Sumitra Mahajan's advice to journalists to "be like Narada" and not to report unpleasant truths ('apriyasatya').
Considering recent events it seems prescient that he also said, "Now it is the turn of many of our comrades who are practicing alternative journalism, to be the target – those who are running small websites with a handful of journalists. These are websites that boast maybe a lakh or two or five lakh hits. When all mainstream voices are muzzled, it is these websites which report incidents. Somebody somewhere shares the report and it reaches somebody somewhere else. These journalists too are going to be beaten senseless; people will target them. All this is happening systematically as part of the political gameplan, make no mistake."
I think it is important to recognise that Gauri was able to do what she was doing over the past couple of decades – both professionally and as an activist – because she was running her own small newspaper, one where there was no proprietor breathing down her neck and dictating what she could and could not write and publish. That is not to say it was an easy thing to do – in fact, it is now widely known that it was a huge struggle to keep it afloat and that both she and the publication were in dire financial straits. It is obviously a difficult trade-off – editorial independence versus financial security.
One of the lessons I believe we ought to learn from her experience as an editor and publisher is that it is extremely important – for the sake of freedom of expression – to ensure the financial viability of small publications and websites that are trying to keep the flag of independent journalism flying under extremely difficult circumstances. If we as citizens value the role of the Fourth Estate in a democracy – which is to keep a watchful eye on the conduct of the other three Estates, as well as on society as a whole, performing the function of a watchdog entrusted with the task of protecting democracy and promoting the public interest – then we need to actively support such flag-bearers, almost all of which are at present valiantly striving to survive against all odds in their efforts to practice and promote independent journalism.
Of course, even "small" publications (i.e., non-corporate media) are occasionally forced to succumb to external pressure. The exact reasons for the upheavals at the hugely respected scholarly journal, the Economic and Political Weekly, earlier this year are still being debated but it is an indisputable fact that the journal had received a letter from lawyers representing Adani Power Ltd. demanding that an investigative article involving the company, which they viewed as defamatory and harmful to their client's reputation, be removed, deleted and unconditionally retracted. The letter also objected to the publication of an earlier article which, too, scrutinised the Adani group but did not specifically ask for it to be removed. In this case, just a letter, not even a strategic lawsuit against public participation (commonly known as SLAPP), was evidently enough to persuade the concerned decision-makers to back off.
It is ironic that the editor who lost his job in the process had in 2016 co-authored a book titled "Sue the Messenger: How legal harassment by corporates is shackling reportage and undermining democracy in India." Of course, he himself was targeted by a SLAPP for an earlier book, "Gas Wars: Crony Capitalism and the Ambanis."
And he is not the only editor to have lost his job in recent years, following such lawsuits and/or other forms of external pressure. Some of the others were working for major media houses. And, of course, it is a fact that many others have survived by compromising journalistic principles – if at all they believed in them in the first place. There are, of course, honourable exceptions and we must be grateful for and to them. But it is an inescapable fact that the lakshman-rekha that once used to separate the editorial section of a media house from the management section has more or less disappeared, exceptions notwithstanding.
Going back to the issue of legal pressure, SLAPP is not the only threat; defamation cases – including criminal defamation – constitute another one. As you probably know, Gauri had been convicted in one defamation case and had several others filed against her.
The unfortunate fact is that the more business-oriented and profitable the media enterprise the more likely it is to succumb to pressure. I don't know much about the financial status of The Quint, but its response to a recent tweet by one of their contributors appeared rather excessive. Even if his tweet – expressing a personal opinion from his personal Twitter account – was in bad taste (which many agree it was), the decision to not only disown him ("[he] is not an employee of The Quint"), not only ban him from writing for them in the future, but to actually take down all his previous articles (on topics entirely unrelated to his tweet) was, in my opinion, akin to swatting a fly with a sledgehammer.
This incident became public this week. Many more go undetected even within the profession. For example, I recently read a very good report in a leading daily by a woman journalist who is a member of our network on the very real problems farmers in Rajasthan have with the crop insurance scheme that had been introduced with much fanfare. By the next day it had been taken off the website, evidently under pressure, and the person who allowed it to be printed in the first place was apparently placed in the doghouse by his boss in the editorial hierarchy. Incidentally, the female reporter also received a threat via Whatsapp, ominously reminding her about the murder of Gauri Lankesh.And this is just one example among the many that colleagues regularly report.
Yet fake news websites seem to thrive. As a recent article titled, "How do fake news sites like Postcard News flourish?", put it: "Fake news sites do not exist in a vacuum. They need an ecosystem around them that encourages and actively promotes them." Although Postcard Newshas gained a reputation for spreading fake news and fake videos clearly aimed at creating communal discord, its articles and videos are regularly shared by people in high places, including political party spokespersons and government ministers.
Since Donald Trump has somewhat muddied the waters I thought it may be useful to go back to the original meaning of the term, "fake news." There is also a tendency now to use the term, "paid news," quite loosely. But I'm going to skip the definitions in the interest of time. In any case you may have seen the useful full-page ad in the papers today – placed by Facebook – with guidelines on how to identify false news. I'd just like to say that what fake news is not is real news that you just happen to dislike or disagree with (which is the sense in which Trump tends to use the term).
But I do want to say something more about what is literally "paid news" in India. It is a sobering fact that it took the Election Commission of India nine years to finally, in June this year, disqualify a Madhya Pradesh minister for three years over paid news charges. Although five Hindi dailies between them published 42 paid-for articles, there is no indication of any strictures against them (I suppose it is a question of who will bell the cat!).
Earlier this year the Election Commission flagged 80 cases of paid news during the Assembly elections in Punjab, 13 cases in Uttar Pradesh (UP) and two in Uttarakhand. But, as the mediawatchwebsite, Newslaundry, commented, "While the ECI has taken the first step in the fight against paid news, it lacks the teeth to go after politicians and media houses who indulge in the practice. Until it does so, it would be foolish to expect paid news to die out any time soon."
While "paid news" has entered the public lexicon, the phenomenon of "private treaties" is less widely known. Such treaties were pioneered by Bennett, Coleman and Co. Ltd. (BCCL), which owns the Times of India group which in turn has interests across all media sectors, but their innovation has reportedly been imitated by several other media houses. Launched in 2004, the initiative involved BCCL picking up stakes in various companies in return for long-term advertising and publicity. It is widely known within the profession that favourable coverage – and the flipside: no negative coverage – are among the benefits offered to partners in such private treaties.
These then are some of the insidious challenges to media freedom and independent journalism that may not be very obvious to even those members of the public who follow the news in print, on television or online.
I would now like to turn briefly to another aspect of the role of the news media in a democracy, which isto create what is known as the "public sphere," where information essential to citizen participation in national and community life is presented, and where issues of importance to the public are highlighted and debated. Such a public sphere is indispensable in a democratic system because democracy critically depends upon an informed populace making political choices. So this aspect of the role of the media is really very important.
However, with the rising influence of the market in determining media content, the public sphere – in the real sense of the term – has been shrinking rather than expanding. This is because the increased commercialisation that is now perceptible in the mainstream media makes them less able and willing to cultivate and nurture the public sphere, despite the fact that it is indispensable to democratic society.
Some people, including certain decision-makers in the media, think this is not only all right but, indeed, it is as it should be because, after all, the media business is a business like any other, where the bottom line is what really counts. But, in my opinion, such a view of the media, particularly the news media, can and should be questioned.
Questioning becomes all the more important today, when the media set the public agenda in a number of ways. The news media – and journalism – also set the terms for national debates on important current events and developments. In the process they shape public perceptions of issues across the socio-economic and political continuum. By determining who has a voice in these debates and who is silenced, which issues are discussed and how they are framed, the media have the potential to maintain the status quo or challenge the dominant order. If citizens of a democracy are to make informed political choices, it is clearly important that a wide range of political viewpoints, as well as the interests and concerns of all sections of society – including the least powerful – be represented in the media.
Yet, today, many momentous events and life-threatening issues of vital importance to large numbers of our countrymen and countrywomen – and children – are barely covered in the media. The narrow focus of the "serious" side of the news media, coupled with the excessive focus on news as either entertainment or a boxing (and shouting!) match, prevent many other critical matters from entering public consciousness and popular discourse. And this, in turn, ensures that such issues are not tackled as they should be in order to ensure that all citizens have access to their rightful entitlements and to ensure that the country moves towards equitable and sustainable development.
I think it is important to remember in this context what Amartya Sen said about public discussions: "Given our democratic system, nothing is as important as clear-headed public discussions of the causes of deprivation and the possibility of successful public intervention. Public action includes not only what is done for the public by the state, but also what is done by the public for itself. It includes what people can do by demanding remedial action and through making governments accountable … The lives and well-being of hundreds of millions of people will depend on the extent to which our public discussion can be broadened and made more informed."
I don't know if you will agree with me, but I believe that the priorities and preoccupations of significant sections of the news media today are far removed from the realities and anxieties of the majority of citizens. This is not because journalists are not interested in covering serious issues that affect disadvantaged sections of the population. Many are. In fact, quite a few journalists and media-watchers, including myself, have been documenting and critiquing the skewed nature of much of present-day media coverage, which accords inordinate attention to certain people, events and issues while giving short shrift to a wide range of other situations and developments that critically affect large numbers of people across the country. And I think it is worth recalling that Gauri Lankesh and her paper often tried to bring to public attention events, developments and opinions that rarely make it to the "mainstream" media.
I personally believe that one reason for this situation is the fact that we as citizens have, somehow, somewhere along the line, given up on the idea of public service journalism. I wonder how many of you are aware of the Supreme Court's 1995 "airwaves" judgment, which held that "the airwaves or frequencies were a public property (and that) their use had to be controlled and regulated by a public authority in the interests of the public and to prevent the invasion of their rights." So 23 years ago the apex court had called for "immediate steps to establish an independent, autonomous public authority representative of all sections and interests in society to control and regulate the use of the airwaves." We are still waiting for the court's order to be implemented. I think it is a scandal – and often wonder if it doesn't constitute contempt of court. But few, even within the media, seem to remember, let alone wish to resurrect, this landmark judgment.
Meanwhile, the horse has bolted from the stable: private news channels have grown in leaps and bounds in multiple languages, many of them owned by political parties, others by complex webs of ownership that are difficult – if not impossible – to unravel. And at the moment they represent a law unto themselves, more or less. Many of them pay little attention to journalistic norms and standards and some also indulge in all kinds of unethical practices to promote themselves and boost their ratings. It is difficult to figure out if, when and how the genie can ever be put back in the bottle – not in terms of official regulation or censorship but in terms of professional standards and ethics. And the unfortunate fact is that for far too many people television is the main, if not only, source of news (apart from WhatsApp, of course!).
But if criticism is to be taken seriously, credit must be given where it is due. And I must saythere is little doubt that at least some sections of the news media – even the mainstream, corporate media – have often played a positive role by helping to highlight a number of important issues and expose dereliction of duty, misuse of power and corruption in high places.
Around the world, public broadcasting has always been a bulwark against the race to the bottom in journalistic standards. In many countries public broadcasters have played a valuable role in pursuing a wide range of stories with a seriousness and integrity that tend to elude more mainstream, profit-oriented news organizations. This is because non-profit media organisations are more free to pursue independent journalism measured against standards set by independent individuals, none of who are reliant on advertisers or the government for their careers or incomes.
I strongly believe that this option (including the receding vision of public service broadcasting) is still worth pursuing, however impossible such a dream may seem in today's environment. You may say I'm a dreamer but I hope I'm not the only one.
Actually, I know I'm not. This morning there was animated discussion in the NWMI Whatsapp group, sparked off by the news – subsequently denied – that the co-founder and owner of SpiceJet (who was reportedly part of the BJP's 2014 poll campaign) is set to take control of NDTV. It was encouraging to me that after the initial shock, dismay and doomsday predictions, the conversation turned positive and proactive, even getting into possible strategies for countering such developments. In fact, when I mentioned that the news was one more depressing development I'd have to add to my litany of woes in this lecture, several colleagues pointed out that there is still hope – in at least sections of the print media, in the growing number of alternative spaces such as those I mentioned earlier, and so on. In fact, commenting on the title of the lecture, one young journalist posted, "It's less a meltdown and more a diffusion, I'd say…"
She also said at one point in the discussion, "If someone invests in me, I'll start a company that makes real news look like attractive, fake WhatsApp forwards and pass it around." Someone else added, "It has to say 'forwarded as received' – otherwise no one will take it seriously!" Jokes apart… but actually jokes may save us in the end. One of the wonderful aspects of social media is that it has unleashed the power of humour. The Twitterati are so quick to come up with fitting repostes to almost everything. You must be aware of the very recent hashtag #ArnabDidIt.
So, to sum up, I'd say all is not lost. The media in India may well live to see another day. And nobody would be happier than I to see journalism revitalised and the news media restored to its rightful place as the Fourth Estate, not unilaterally determining what "the nation wants to know" but serving the people of that nation with neither fear nor favour.
Let me end by suggesting that the well-known poem by Rabindranath Tagore, "Where the mind is without fear…" could well serve as a prayer or anthem for the media in India today.