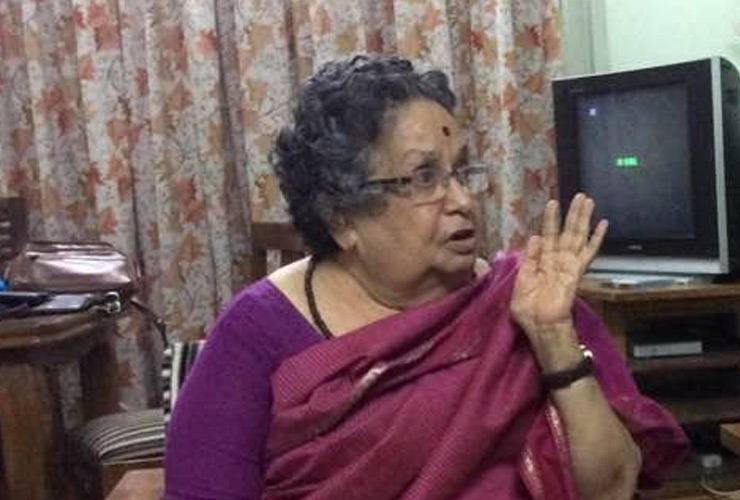 By Smitha Ramanathan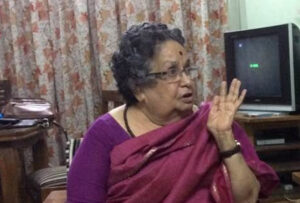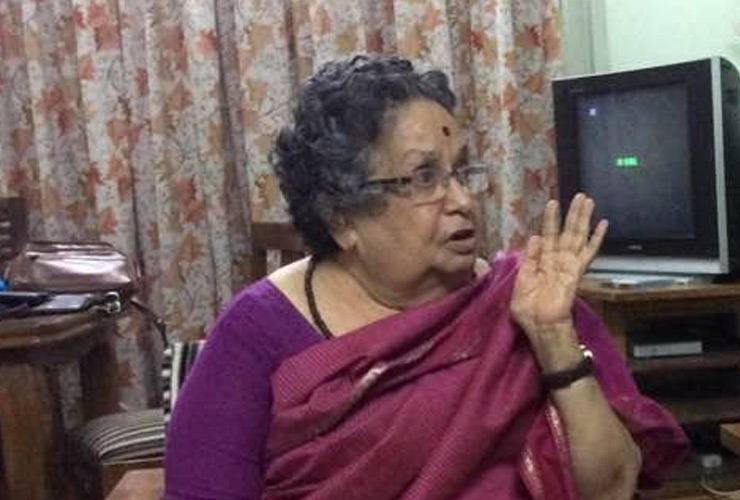 Veteran media woman Indu Ramesh passed away on August 26, 2020. She was 83 years old. She started out as a transmission executive with All India Radio and retired more than 30 years later as the station director of Bangalore's Commercial Broadcasting Station, CBS – Vividh Bharati.
In the early 1960s when she joined All India Radio, there were very few women in radio. The few who were there mostly handled the music section or programmes meant for women and children. Newsgathering, interviewing politicians, getting them to the studios were all considered 'manly' tasks, she would often say. However, with her zeal and passion for radio and mainstream programming Indu Ramesh began to take on such 'manly' tasks. She worked in Delhi, Chennai and Bangalore AIR stations. Under her directorship the Bangalore CBS won the Best Station Award twice in a row.
After retiring from AIR, Indu became active in community radio and was one of the pioneers of the movement in India. She was one of the signatories to the 1996 Bangalore Declaration for a media policy on community radio. She was an advisor to the nongovernmental organization MYRADA for establishing their community radio station Namma Dhwani in Kolar district. She mentored Sarathi Jhalak, a community radio station in Hosakote run by NWMI member Shamanthaka Mani. She was programming advisor to Ramana Dhwani, Bangalore, the station run by the Shree Ramana Maharishi Academy for the Blind. Passionate about community radio, she travelled across rural Karnataka to produce programmes. She was also a producer for WINGS: Women's International News Gathering Service.
To me she was a friend and neighbour before she became a mentor and teacher and hence always remained Indu Aunty! My work has been with NGOs and we would talk about our shared experiences of rural Karnataka. Indu introduced me to the world of media and audio media.
My first exposure to audio production was in 2012 when I accompanied her to record, for WINGS, a programme on tribal women. This was in the project location of the Swami Vivekananda Youth Movement, in Mysuru district.
Her former colleague from AIR, sound engineer M Ramamurthy, usually accompanied her to do the recordings. It was a pleasure watching the senior pair working together. There were many people gathered in the classroom of the village school where the recording took place – not the ideal conditions for voice recording. However, she made sure that other participants maintained silence. Interviewees were instructed to speak only one at a time, and to speak as slowly and clearly as possible, since the programme was an English one, meant for a western audience. All the while she was courteous and respectful to her interviewees. Ramamurthy ensured appropriate placement of the mikes and smooth recording.
That programme on forest women, won her an honorable mention for radio documentary at the IAWRT International Awards of Excellence.
Indu taught me how to write scripts for radio features. "Write short crisp sentences, imagine you are speaking to the audience," she would say. She did not tolerate sentences starting with Ands, Buts and Sos! She was an audiomedia person through and through. She often said that during meetings and presentations she never used slides or powerpoint. The spoken word was all.
Indu was also an author. Her novel Four Tales and a Lifetime draws quite a bit from her days in AIR. The cookbook From the Kitchens of Mysuru is about the traditional cuisine of the Deshastha community.
She was eager to share her knowledge and experience. In 2002 she was struck by a rare illness, Guillain Barre syndrome, that left her completely paralysed. She recovered with intense medication, physiotherapy, yoga, and sheer grit. However, it took her nearly 10 years to do so. She wrote about her experience in a Kannada magazine and later published a booklet in Kannada and English. She would visit persons with the GB syndrome in their homes and hospitals to counsel them and offer advice. The Yoga University (S-Vyasa), Bangalore had helped her recuperate. After she recovered she used to volunteer there, counseling their students and patients, and teaching students spoken English. In later years after her mobility became restricted Indu used to edit publications for them. She wrote a biography of Lakshmiji, the founder of that institution.
She had taken to painting and embroidery to regain flexibility and strength of hands and fingers. Till her very end she stayed active painting, embroidering and editing.
She was energetic, practical and compassionate. I am grateful to her for her guidance and friendship and will miss her.