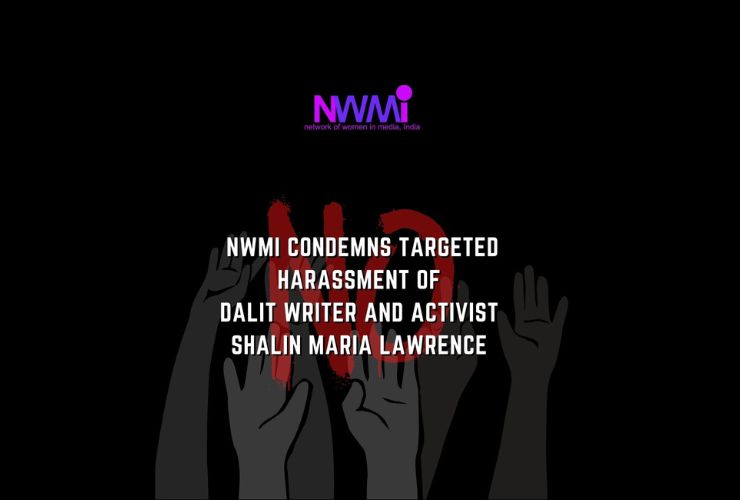 Shalin has been facing high-volume coordinated harassment for questioning the TN state government and the Union government for atrocities against Dalits.
The Network of Women in Media, India, strongly condemns the continuous and ongoing harassment of Chennai-based writer and activist Shalin Maria Lawrence on social media sites. She is a columnist for various English and Tamil publications. Shalin has been facing high-volume targeted harassment on Twitter as well as Facebook over the past year, specifically from handles associated with the DMK and the BJP.
Shalin, who joined Twitter in 2020, and has been active on Facebook for over a decade, has used her considerable platform to raise awareness of caste-related atrocities in Tamil Nadu, especially those that might not find a mention in regional media. This has drawn the ire of both right-wing groups as well as persons associated with the DMK, which is in power in Tamil Nadu. However, rather than engaging in introspection or at least combating her with facts, figures, or ideas, they have taken to coordinated attacks, bombarding her with demeaning language including casteist slurs, body shaming her, slurs based on her religion, and making scurrilous charges against her character and integrity. They have also targeted her close family members.
Shalin is not the only outspoken woman to be targeted in this manner. A global survey by the International Centre for Journalists and UNESCO in 2020 found that nearly three out of four women journalists had experienced online violence. The violence "frequently operates at the intersection of multiple forms of discrimination and disinformation," the survey found. The toll of such violence on the mental health of women journalists cannot be calculated. Many women journalists engage in self-censorship to avoid being subjected to such assaults online. The result is only a weaker democracy in which views that could be valuable are silenced.
Shalin's refusal to be silenced comes at a great cost to her physical and mental health. Nevertheless, she persists to speak and write on caste and women because she believes these are important issues that must find a place in public discourse.
Every political party in India speaks for women's rights and equality. Every political party condemns gender-based violence and caste-based violence in the abstract. But not one political party has seen fit to stop its supporters from engaging in coordinated, targeted harassment – weaponizing gender and caste – of women, especially those from marginalised communities, who express their opinions.
The NWMI stands in solidarity with Shalin and demands that the ruling DMK take accountability for the actions of their supporters online and rein them in.
The NWMI demands:
The leaders should reprimand their supporters/cadres and tell them to stop such harassment against Shalin and other women.
The DMK and BJP should send a strong message to their supporters that the harassment of women writers, journalists, and activists cannot be tolerated, let alone permitted.
Ideas must be combated with ideas. Arguments are essential for a healthy democracy. But name-calling, targeted attacks and abusive language only destroy political discourse and erode democracy.
The Network of Women in Media, India
13 March 2023