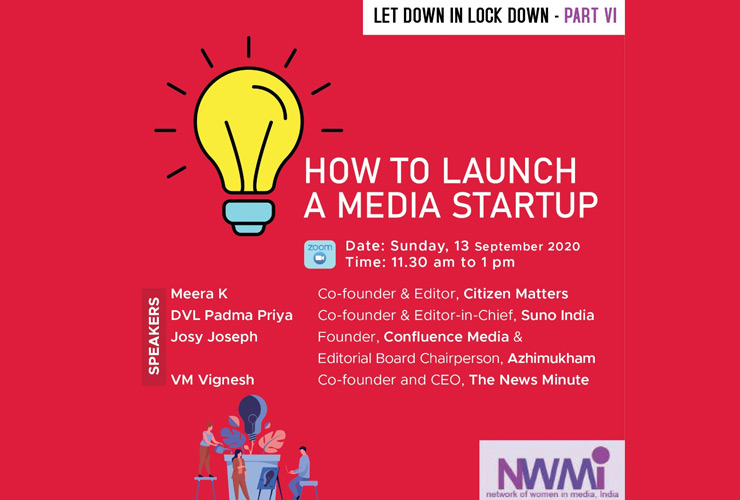 By Supriya Unni Nair

Panelists:
Meera K, Co-founder & Editor, Citizen Matters
DVL Padma Priya, Co-founder & Editor-in-chief, Suno India
V M Vignesh, Co-Founder & CEO, The News Minute
Josy Joseph, Founder Confluence Media & Editorial Board Chairperson, Azhimukham
---
13 September 2020
Suno India: Podcasting in India
DVL Padma Priya, Co-Founder & Editor-in-Chief, Suno India, described her venture as an early stage start-up.  Set up in 2018, Suno India is a multilingual podcast platform catering to various age groups and covering a range of topics.
Padma Priya explained that she and the other three co-founders were working in different areas within the public health and climate change space when they noticed that mainstream media was not focusing on many topics at the ground level. She said the organization's aim was to fill gaps and focus on issues that were hardly being touched upon by mainstream media.
Suno India began with addressing the topic of adoption in a feature called Dear Pari. According to Padma Priya, the concept of a podcast was born because they understood that many people were not comfortable on video. The approach was successful, she said, at least partly because the topic dealt with issues of universal concern and attracted a global audience.
The co-founders initially invested their own funds in the venture launched in February 2018.  In the early days, for eight to nine months, they had to go without salaries, she said.
According to her, they wanted to avoid seeking revenue through advertisements. They managed to scale up thanks to partnerships. For example, they were part of a project on voting with Factly, and two separate projects on elections with The Wire Urdu and a Coimbatore-based company. Suno India received grants, and producer Shobu Yarlagadda of Bahubali fame also invested in the start-up. Some listeners supported them financially, too, she revealed.
Padma Priya pointed out that it is vital to have partners with different skill sets, since one person will not be trained in all the facets of starting and running a company. It is also essential to have a lawyer and chartered accountant in place, she said. According to her, an understanding of trademark and intellectual property (IP) matters is also crucial. Understanding the space, learning about data collection and analytics, figuring out how to present the product, and being familiar with the basics of marketing are all necessary skills, she pointed out. She also stressed the need for a good board of directors who can provide advice when required. According to her it is also important to strike up the right relationships with collaborators.
Padma explained that she and the other co-founders are aware that the going will be tough, but they are confident about their capability. They have picked up leadership and negotiation skills along the way.  Pointing out that learning how to network is crucial for entrepreneurs, she said this skill helps in finding the right collaborators.
Padma Priya believes that, contrary to popular belief, passion projects can survive; it all depends on the entrepreneur staying true to his or her vision.
Citizen Matters: Civic issue driven
Meera K, Co-Founder & Editor, Citizen Matters (CM, explained that they had originally set up the civic media platform in 2008 as a for-profit organization. The initial focus of the stories was on civic problems in Bangalore. Funding came in from the founders, some readers and a few angel investors.  They even turned to advertising. However, they found that all this was not enough to cover the costs.
In 2013 they decided to shift to the non-profit route and started the Oorvani Foundation to help run the online publication. Citizen Matters also receives funding through grants and donations, crowd and retail funding, and from HNIs (high net-worth individuals).
Today the scope of CM stories has been expanded so as to ensure pan India access and relevance. The range of topics has also expanded from urban civic issues to areas such as climate change, focusing on both regions such as the Himalayas and urban India. For example, explained Meera, CM published a three-part series on how climate change is affecting cities.
She underlined the fact that entrepreneurship involves risk taking, money management, networking, selling the idea to investors, and identifying a target audience. According to her, for media start-ups the ROI (return on investment) curve tends to be much longer than for non-media start-ups.
The News Minute: Focusing on South India
V M Vignesh, Co-Founder & CEO, The News Minute (TNM), explained that the organization was set up in 2014 when he and Co-Founder Dhanya Rajendran realized that the national narrative does not focus on the five southern states.
As readership for English is relatively high in the southern states, they decided to start an online publication in English, which would be accessible to readers in all five states. During the initial days they did not have staff in all the states and news gathering mainly involved aggregating content from different publications, he explained.
According to him, since both co-founders had worked in other organizations (Dhanya as a journalist) they were confident that they could also become entrepreneurs. He explained that they gave themselves a deadline of a year to 15 months to try and make the venture work.
Every day of the journey was a learning experience, said Vignesh, as they slowly put together a team. According to him, to date, the model of focusing on the southern states has worked for them and they plan to stick to the original plan.
He explained that his experience working in the software industry had taught him all about processes, organizational skills and the nuances of operational activities. He stressed the importance of all these 'background' factors while setting up a media start-up.
According to Vignesh, the important factors to consider while establishing a media start-up are:  getting a product in place, operating on a lean model, and also planning revenue streams.
The organization would have to be run without money coming in for a long period of time, he pointed out. During pre-pandemic times, this would be between 12 and 15 months, but in the current scenario it can go up to 18-24 months, he said. Citing his own example, he explained that The News Minute was on bootstrap mode for two years.
He stressed that financial planning should include: hiring only the resources that you need, setting up a budget and working strictly within that budget.
According to him, one of the key factors for the success of a media start-up is the clear identification of a target audience. He explained that building a mass product is tough in these times; in addition, there is a lot of competition in that space. In his opinion, focusing on a specific area or target can help conserve cash for a longer period.  Working in a lean manner helps curtail expenses to the bare minimum, he explained.
He admitted that it was a learning curve as they realized that the difference between other start-ups and media start-ups is that the former is able to scale up more easily and faster. According to him, the runway for the former before they reach break-even would be four to five years, while for media start-ups it would be closer to seven-ten years. He explained that while revenue generation tends to be the main focus for non-media companies, most media companies do not focus on the revenue angle for a while.
Vignesh went on to explain how TNM later received external funding – ie, funds originating from outside the company. He again stressed that those planning to start media companies need to focus on revenue generation from day one. Venture Capitalists (VC) have their own ideas of what to fund, he said. For example, during 2014-16, VCs wanted video plus digital content – until they found out that this was not lucrative.
He also emphasized that it was essential for an entrepreneur to be mentally agile and open to change. According to him, this mindset would help in adapting to new situations. Revenue generation and negotiations are tough paths to journey through, he said, and a backup or parachute are always worth keeping in mind.  Nevertheless, he said, if you have a passion for it, go for it – that has been their mantra at TNM.
Pointing out that TNM's content was aimed at a more or less general audience as opposed to a niche readership, he said they had recently  launched a membership model. Aimed primarily at roping in more of their NRI readership, TNM is offering a three-tier membership model, with charges ranging from Rs 649 to Rs 3000 and above. The membership promises additional offerings such as specialized newsletters, advertising free journalism, access to an exclusive TNM Digital Community and access to exclusive online events.
However, Vignesh stressed that TNM's journalism will always be free – their content will never be behind a paywall.
Azhimukham & Confluence Media: Banking on investigative journalism
Josy Joseph, Founder Confluence Media & Editorial Board Chairperson, Azhimukham, explained that he managed the seed capital for his media venture, Azhimukham, thanks to the award money he had won for his own journalism. Josy and his wife, Priya Solomon, set up Azhimukham seven years ago. However, he revealed his that his start-up is still burning a hole in his pocket as he is still pumping money into it.
According to Josy, traditional media models are difficult to scale up as they are always dependent on revenue from advertising. He mentioned that the media space in the country has a number of platforms which are aping the old models. These do not have the financial capability to support investigate journalism, he pointed out.
He was of the opinion that media organizations in India are yet to follow a model wherein money is provided to nurture and develop investigative journalism which can, at the same time, also generate revenue. Investigative journalism is time consuming and also expensive, he pointed out.  Josy explained that Azhimukham was set up to fill this gap, and encourage more journalists to pursue investigative journalism. According to him, 'high value, expensive, rigorous, investigative journalism' is at the core of the company's values.
In 2019, Josy founded Confluence Media along with fellow journalists from New Delhi, Mumbai and London. He describes Confluence Media as a platform agnostic media house, providing multi-media projects – including documentaries, podcasts and publishing.  He secured seed-funding commitments from Jim Swartz, founder of venture capitalist firm Accel, and other HNIs for Confluence Media.
He revealed that he had been collecting historical material from his younger days onwards and, today, along with his team of researchers, he has converted them into a series of books, from which he is able to generate money.  He hoped that these books and research papers could in the future be converted into documentaries and maybe even a web series.
Their second revenue stream is from podcasts, he said, revealing that he was collaborating for projects with audio streaming and media services provider, Spotify. The third is in the space of scripted series and research work for films.  He describes his start-ups as 'creative consultancies'.
He elaborated on Confluence Media's projects on illegal immigration with global networks, including the Organized Crime and Corruption Reporting Project (OCCRP), and others across Mexico. According to Josy, some revenue had started to trickle in from such projects as well. He revealed that he is expanding his collaboration with OCCRP and is open to commissioning investigative pitches.
Josy explained that it is extremely difficult to build your own platform for mass consumption. His aim is to work without fear of reprisal or censorship, he said. According to him, in India, there are not many media companies that can be called truly global, despite the fact that India accounts for 11 of the most widely used languages in the world.
According to him, good journalism is in demand in areas like OTT (Over-The-Top) media platforms, films and documentaries. India has made very few documentaries that are character driven, the likes of which have seen success on global OTT platforms. Even though he is aware that the current political environment is not conducive to making good documentaries, he is hopeful that the situation will change in the future for those who are willing to make rigorous investigative journalism a habit.
Traditional media is sinking, he said, and does not look likely to be able to reinvent themselves into multiple platforms.  He pointed out that one of the topics still up for debate is whether putting high quality journalism behind a paywall serves the larger public cause. This conflict is actually a chicken and egg situation, according to him. He explained that he planned to make investigative stories on his website free but premium products to entice potential subscribers. He gave the examples of The New York Times and The Washington Post as traditional media that had successfully used this model.
Revenue sources and funding patterns
Meera explained that seed funding, angel investors, Venture Capitalists (VCs) and High Networth Individuals (HNIs) are some of the sources for funding for entrepreneurs.
According to Vignesh, it is crucial to identify early on what kind of organization the media start-up is going to be: non-profit or for-profit. He pointed out that VCs do not cater to non-profit organizations, and suggested seeking funding for such ventures from HNIs. At the same time, grants are out of reach for for-profit organizations. Risks are higher for such start-ups, and VCs look closely at Return on Investments (RoIs), he said.
According to Vignesh, the funding is out there, but it is crucial to have a proper product in place. He explained that nowadays, in the digital media, the subscription model is slowly replacing the ad model. He cited the examples of sports and aviation sites in the US that have successfully managed to bring in revenues through this method.
Josy Joseph was of the opinion that high quality, adversarial, investigative journalism would bring in subscribers. According to him, Impact Funding – investments made into organizations with 'the intention to generate a measurable, beneficial social or environmental impact alongside financial return' – is another source of money.
However, Meera cautioned that Impact Funding came with its own set of challenges, and they are not available for non-profits. She also pointed out that media in India cannot access international funding under the Foreign Contribution (Regulation) Act, 2010 (aka FCRA).
Before approaching potential funders and collaborators, it is essential to do your homework about the market and audience, and to have a thorough understanding of the product, said Josy.
All the panelists stressed the importance of carefully vetting sources of funds. Vignesh elaborated on this and explained that if a product is good, and investors are comfortable with the founders and their passion, there should be no challenge. In fact, the funders' perspective is also conducive to scalability, he added.
According to him, for 18-24 months, it would be prudent to use the formula 'cost x 1.5' for budgeting. Costs could be kept low by hiring interns or fresh graduates, he suggested. Meera pointed out that budgeting would depend on what the focus of the start-up was about.
Dealing with legal issues
According to Meera, a thorough legal assessment should be undertaken while setting up a media start-up. Vignesh agreed and added that it was essential to get a good lawyer on board for any eventuality. He explained how, in the case of TNM, they registered a Limited Liability Partnership so that assets would not be attached in case of any legal hassles. He cited the case of The Wire, which crowdfunded for legal aid. According to Josy, good lawyers who can help with legal entanglements can be found across the country.
Advice for budding media start-up entrepreneurs
Meera explained that since there is clearly a discerning audience looking for good content, a market still exists for media start-ups. Padma Priya added that it is helpful to generate ideas from around you. She stressed that if your content is good the audience will come to you. The audience is there, the question is how to tap them, she added.
She emphasized, however, that the journey involves a lot of work, and it is therefore essential to have a team comprising people with different skill sets to support the venture. Vignesh also stressed the importance of the team working alongside the entrepreneur. It is helpful to get perspectives from the team as well, he said.
According to Josy, having a "burning desire" and not being afraid of failure are crucial to entrepreneurship. He explained that it was essential to take failures in one's stride as learning experiences. He was of the opinion that there is still appreciation for quality journalism among the Indian audience. Being committed to quality is crucial, he said, stressing the fact that, while setting up a media start-up, it is essential to be confident about being able to produce good quality content. If the entrepreneur is confident, it is easier to sell the product to potential investors, he explained. It is crucial to define the product as a quality product that the entrepreneur is placing in the market, and to also convince the investors that he or she was capable of selling it. According to Josy, the market will measure the product against global standards, so it is very important that the product stands up to this scrutiny.
However, he warned that money does not come easily, and entrepreneurs need to understand that the journey would be tough.  He encouraged potential entrepreneurs to do thorough market research before launching a media start-up. Meera concurred and revealed that Citizen Matters had organized group discussions as part of the market research exercise.
Padma Priya explained that while planning Suno India they kept an eye on the podcasting space to know what was already available and what kind of content was being generated there. According to her, potential media start-up entrepreneurs now have access to reports on the market by firms such as KPMG. They should also look at the other players in the sector, and find out which gaps they can fill, she suggested.
Meera stressed that the journey would be very tough, and involve a huge learning curve, especially for those who do not have a media background.  Having a sound plan, ability to reduce risk and access to funding are the keys to launching a media start-up, she said. She advised that the focus should be on telling a good story, establishing sources and ensuring thorough fact-checking.
According to Josy, the key to success is to not look inwards and to be confident about one's capabilities. He was of the opinion that anyone who can succeed in starting a business today will be able to succeed 'forever'.
Vignesh highlighted identifying a good product, wanting to help change the world, and having drive and passion as the main requirements for taking the leap into media entrepreneurship.
Padma Priya echoed his sentiments and said the key questions an entrepreneur must ask himself or herself are:   what the innovative aspect of the new product is, what space they're going to work in, what gap they're trying to fill, what their core values are and why they want to do what they are doing.
"YOLO (You Only Live Once)! If you have the passion, then you should go for it," she added.
As customary, the session was followed by a lively interactive question and answer session.
To know more about other webinars in our  "Letdown in Lockdown" series, visit https://nwmindia.org/initiatives/jobs-initiative/letdown-in-lockdown-jobs-initiative/