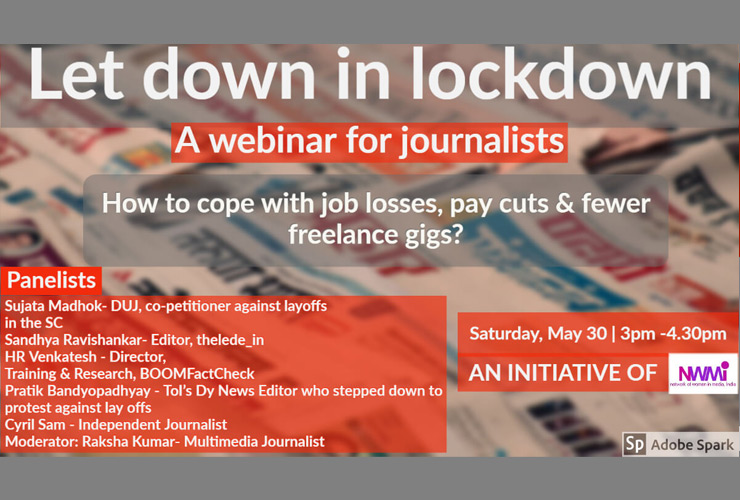 By Supriya Unni Nair

Panellists:
Sujata Madhok
, Delhi Union of Journalists (DUJ), co-petitioner against layoffs before the Supreme Court of India; 
Cyril Sam
, independent journalist; 
Sandhya Ravishankar
, editor, 
The Lede
; 
H R Venkatesh
, director, training and research, BOOMFactCheck; 
Durga Nandini
, senior director, communications and partnerships, Change.org ; 
Raksha Kumar
, (moderator), multi-media journalist.
Current scenario
The current crisis has hit the whole of the news media landscape, unlike in the past, when at least some media houses were free of the horrors of retrenchments. To make matters worse, Covid 19 appears to have catalysed an increase in the number of editions, and in some cases whole businesses, shutting down.
Cyril Sam, an independent journalist who reports on and studies the business of journalism and the political economy of communication technology, rolled out an ongoing survey in mid-April and found that layoffs were discretionary and shrouded in ambiguity.   He said that by the end of May a total of 22 companies had cut salaries, while 13 had gone in for layoffs, two had imposed furloughs, four bureaus had been shut down, seven print editions had been suspended and one closure was reported. Media houses had cited the huge advertising crunch for these moves. Cyril noted an increased push towards digitisation, with more news outlets opting for paywalls and donations to boost revenues.
His findings indicated that no official communication was sent to the affected journalists. There was also no clarity in the actual number of people being laid off, as most people were working from home during the pandemic and there was little interaction with colleagues who, under normal circumstances, would have been aware of such developments.
Unfortunately, the regional media remains under-represented in the survey, with no organised way to get the correct numbers of those affected in that sector. According to Cyril, the issue of non-representation of certain parts of the country in news coverage, which has long plagued Indian media, will now be on the increase. He predicted that the situation was likely to deteriorate further in the coming days. Employment contracts will see a marked change, with media companies favouring retainers and stringers instead of contract staff. Jobs as we know them will no longer be available, he said.
Legal action
On April 27, the Supreme Court of India issued notices to the union government, the Indian Newspaper Society and the News Broadcasters' Association to respond to a petition filed by the Brihanmumbai Union of Journalists, the Delhi Union of Journalist and the National Alliance of Journalists against media houses that had retrenched employees or forced them to take pay cuts.
The petition quoted the advisory issued by the Labour Ministry in the context of the pandemic, asking employers not to lay off employees during this period. It also pointed out that the Prime Minister, too, had made similar appeals, saying that employees should not be punished for the lockdown.
Journalist and DUJ member Sujata Madhok,  who is one of the co-petitioners, explained that the INS and the NBA attributed the severe actions taken by media houses to the loss of advertising revenue and dip in circulation, with the INS  claiming that the government itself owed publications advertising dues to the tune of Rs 800 crore.
According to Sujata, the INS wanted the government to extend financial support to newspapers and had cited the example of other countries which had done so. She underlined how outrageous it was that journalists were being terminated at a time when the press had been declared an essential service, and reporters and photographers/camerapersons were risking their health to gather news while the pandemic was spreading.
Although there were news reports that 21 journalists had already tested positive for Covid19 by then, there was no follow up news  about them. Sujata pointed out that there is zero clarity on the safeguards that journalists in the field were provided with, whether in terms of training, equipment, health insurance, coverage of treatment costs or the necessary follow-up quarantine. Sujata urged media houses to reconsider their revenue models, as this is the only way to protect the interests of journalists, especially during a health crisis, when they do not have the recourse to go out and search for jobs.
Vanity investments
Moderator Raksha Kumar agreed that the media revenue models in existence today constitute an important aspect of the subject that needs to be examined. Are they fundamentally flawed? If so, how can we remedy this? She pointed out that, in the media landscape, most investments are made without finding out whether or not they will be profitable.  Quite a few are "vanity investments" (investments in which making money is not the primary motive or, sometimes, even a motive at all). In times of crisis, these are the first to get hit.
Knowing your rights
Sandhya Ravishankar, Editor of The Lede, has brought together a group of eclectic individuals to reach out to journalists affected by the job crisis in the news media. The group – Network for Protection of Journalists' Rights (NPJR) – is already in touch with a large number of  journalists who were retrenched. Most of them had been intimated about their layoffs over Zoom or through phone calls, and many were not aware that they had any rights. NPJR guides retrenched journalists on how to react to a situation when they receive such calls. The strategy they advocate is never to resign straight away.
Sandhya emphasised that, when faced with such a situation, it is crucial not to let it overwhelm you, but to fight back, knowing what your rights are and what you are entitled to.  She underlined the fact that the need of the hour is to come together and form a group to fight this injustice together. As part of the NPRJ initiative, a network of labour lawyers is being developed across India to help with advice, documentation and legal representation, if required. Sandhya stressed that making an example of one management is enough to make others follow suit.
Surviving retrenchment
H R Venkatesh, director, training and research, BOOMFactCheck, tapped into his personal experience of losing a job. Recounting how he bounced back, he says the experience was a blessing in disguise.
His shared his strategy, 'Survive and Thrive in Journalism without Losing Your Soul', which is to cultivate the mindset to overcome such misfortune.
Don't panic. Keep in mind that rebuilding takes time, maybe years. Find any job in journalism or otherwise in the meanwhile.
Start building skills, the rarer the better. These are skills that will take a while to hone.
Look for hidden strength. Sometimes your weakness can be your strength.  Look for niche areas. For example, journalists who can speak for their own community, based on gender, language, etc.
The world of journalism has turned upside down, especially for people who worked on the creative side. You need to forge a direct relationship with your readers. By all means be loyal to your company but only after you are loyal to yourself.
In such difficult times, it is okay to feel worried and anxious.
Look for legal representation.
Diversifying your career
We are in a situation where traditional journalism jobs – reporting and sub-editing – are scarce, forcing trained journalists to look elsewhere. Many struggle with the fact that they have been involved in one specific kind of job for many years and find it challenging and frightening to put themselves out in the job market. They worry about whether they will find it difficult to fit into a new role and face a some level of identity crisis, wondering if  they will be good and/or happy in their new roles. Another cause for concern is "recruitability" or employability, the nagging sense of 'Am I good enough?'
NWMI member Durga Nandini, senior director, communications & partnerships, Change.org, has considerable experience in diversifying her skill sets within journalism – 11 years spread over print, newswire, television and digital media – and, later,  also in communications. After her stint in journalism, she worked in media and communications, and subsequently branched out into partnership and fundraising.
As a recruiter herself, Durga said a CV is likely to be more appealing if it reflects a trajectory with different tasks and roles. Diversifying skills also increases flexibility in the job market.  She summed up pointing out that quick learners and those who can jump in and swim in the deep end are what almost all recruiters are looking for.
To know more about the other webinars in our "Letdown in Lockdown" series, visit https://nwmindia.org/initiatives/jobs-initiative/letdown-in-lockdown-jobs-initiative/