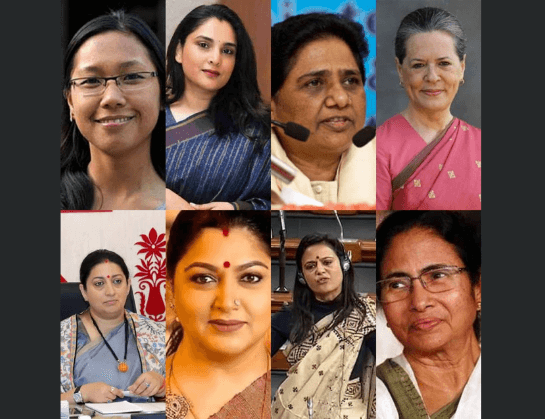 By Kalpana Sharma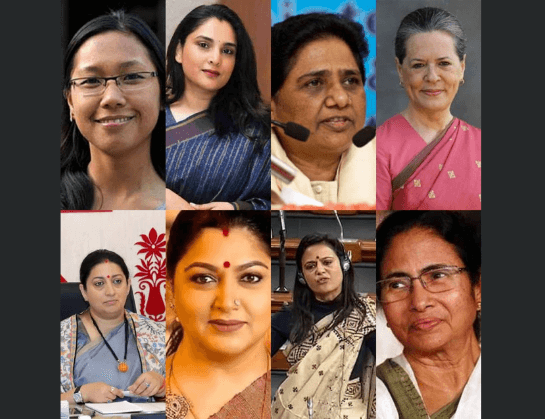 The tokenism that now marks International Women's Day (March 8) has virtually become the norm. Politicians make ritual statements about women's "empowerment", the corporates and the retail sector reach out to their "market" consisting of women buyers, while in the rest of the country it is business-as-usual. Women continue to be tortured, killed, raped, ignored, unwanted, deserted, and mostly invisibilised.
Given this, it was not at all surprising that the fleeting mention of what I once called "The Forgotten Bill" in my erstwhile column in The Hindu, surfaced this year and was acknowledged by the media in passing, only to be buried again as the ongoing election season surges ahead.
I am referring here to the Women's Reservation Bill 2008. For the many who may have forgotten what this law is all about (or may be too young to have heard of it), given that it frequently does a disappearing act only to surface for air before going back into deep slumber, here is the crux: The law provides for 33 per cent seats in Parliament to be reserved for women. The details can be read here.
It evolved over time, with much discussion on whether it would actually make a difference. Shouldn't political parties allocate 33 per cent seats to women, rather than having a system where parliamentary seats are reserved for women on a rotation basis?
That was a logical alternative. Except that no political party was willing to commit to that. And as is evident today, barring the Trinamool Congress (TMC), headed by Mamata Banerjee, who is also currently the only woman Chief Minister in India, no other party has come anywhere close to allocating 33 per cent of seats to women during an election.
Also, although more women were elected to the Lok Sabha in 2019 than ever before, they still constitute less than 15 per cent of the total. The percentage in the Rajya Sabha is even lower: just 11 per cent.
From this it ought to be abundantly clear that male politicians have too much to lose to make way for women, voluntarily. They will only do so reluctantly, if compelled by law. And even then, as we know from the experience of women's reservation in panchayats, they work around it by getting their wives elected from their traditional strongholds when "their" seats are reserved for women.In this election season, when five states are heading for the polls, even the token discussion on this Bill in Parliament was barely covered in the media. As a result, between 2010, when it was passed in the Rajya Sabha, till this week, when only a few female Members of Parliament (MPs) spoke in the Rajya Sabha on March 8, having been given the floor as a gesture towards International Women's Day, there has been precious little to stir any interest in the subject.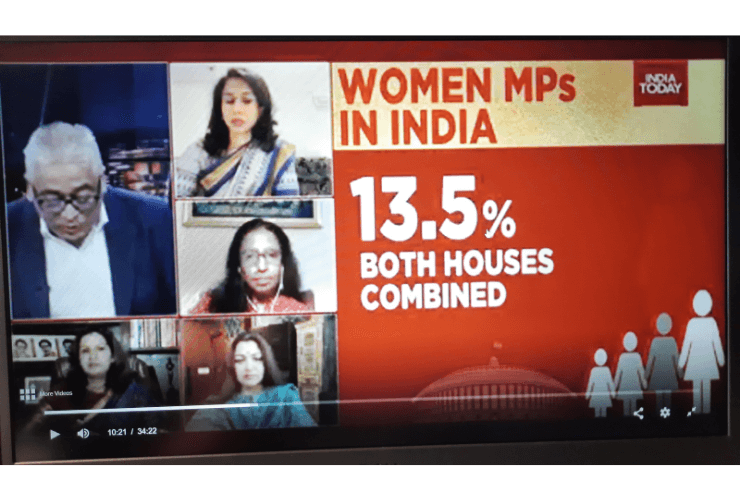 Rajdeep Sardesai was something of an exception. On March 8, in his news slot at 9 pm on India Today TV, he used the entire time to discuss the Bill. Also, unlike other shows with multiple talking heads, he gave adequate time to women representing the Bharatiya Janata Party, the Congress Party and the Shiv Sena, as well as Tara Krishnaswamy of Shakti, an organisation that aims to promote the participation and representation of women in politics, to have their say.
Panel discussion on women's representation in Parliament on India Today TV on 8 March 2021.
Several aspects of the situation stood out during the discussion. One, that all the three women politicians had once belonged to the same party, namely the Congress. Khushboo had switched to the BJP and Priyanka Chaturvedi to the Shiv Sena.
Second, despite Sardesai pushing them, none of these MPs was willing to fault their own parties for not being proactive enough to push the Bill. He asked Khushboo, for instance, what stopped Narendra Modi from pushing the Bill through the Lok Sabha given the BJP's clear majority. Her response was less than convincing.
Also, although – unlike their male counterparts – these women did not talk over one another, they came through as uncritical party loyalists despite the fact that their own parties had fallen short in terms of encouraging women to get elected.
A striking feature of the passage of the Bill in the Rajya Sabha in 2010 was how women MPs, cutting across party lines, had come together to celebrate its passage. In these polarised times, such cooperation and solidarity might not happen again.
While TV coverage of the discussion in the Rajya Sabha was cursory, so was the space given to it in print media. There were some reports, but little by way of comment or analysis about why it has become so impossible to move ahead with this law.
Sardesai also asked why only women should fight for such a law. "Unless men change, nothing is going to change," he said. Some men are apparently willing to speak up in favour of the law. Congress MP Shashi Tharoor stated on Sardesai's show that he would be more than happy to vacate his seat if his constituency was reserved for women. That resolve is unlikely to be tested in the immediate future given that this law is nowhere on the horizon.
Speaking in Jammu, Farooq Abdullah, President of the National Conference, came down strongly on the BJP for not passing the Bill and said it would be the "biggest service" to Indian women if the law was pushed through. When the BJP could pass the farm laws and revoke Article 370 even though people were against it, why could it not pass this law "when the entire country wants it," he asked in a report in Times of India.
Meanwhile, the discussion on women's reservation in the Lok Sabha, where it could not be passed the last time and ultimately lapsed, was drowned out by the Opposition demanding a roll-back of rising fuel prices, particularly of LPG.
Even the passing debate on the Women's Reservation Bill in the Rajya Sabha makes it amply clear that no political party is willing to place its passage on its priority list or commit to increasing the percentage of women contesting elections.
Finally, even if Ravish Kumar of NDTV India did not touch directly on the women's reservation law, his March 8 telecast on Prime Time was superior to any other because he is one of those rare TV anchors who actually understands what "women's empowerment" actually means.