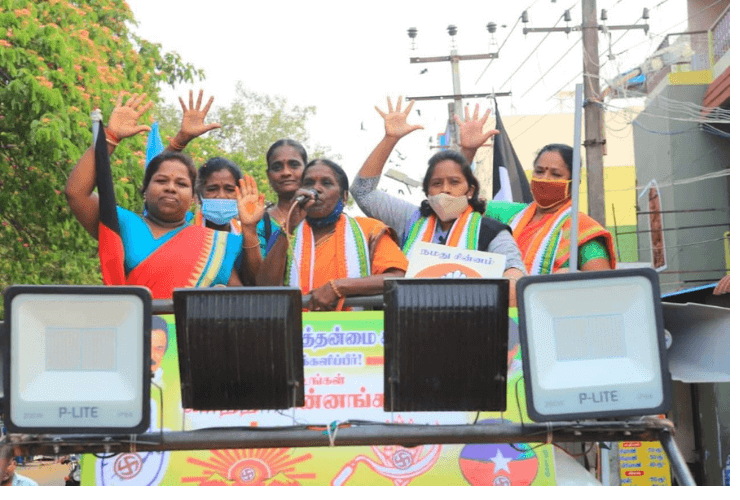 By Vidyaa Ramkumar (guest post)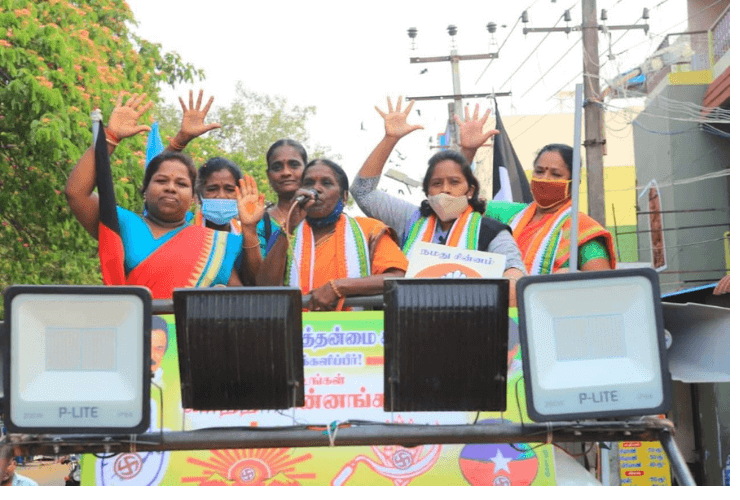 "We would make better leaders. If we can control the finances and home so efficiently, why not a state"? asked the wife of a minister.
"Though the number of women voters in Puducherry is high, when it comes to representation of women in the Assembly, it is highly disappointing. I was denied a seat this time, too. I have decided to quit politics," says a seasoned lady politician.
"I wanted to cast my first ever vote for a female candidate but there's no one I can find," says a first-time voter.
"We long for women leaders, we are fed up with men who don't give an ear to our issues like dowry harassment, domestic violence or alcoholism. They favour our husbands," — statement from a Self Help Group in Villianur village.
The above are a few statements which stood out for me while I was interviewing women on the topic, "Women in Politics in the Union Territory of Puducherry." The situation would more or less the same throughout India but, for now, I'll stick to my observations about the quaint little town of Puducherry, to which I belong.
Puducherry is a Union Territory (UT) in South India which includes four enclaves – Karaikal, Mahe, Yanam and Puducherry itself (the capital). In 1674, the French East India Company set up a trading centre in what was then known as Pondicherry and this outpost eventually became the chief French settlement in India. Puducherry (formerly Pondicherry and generally known as 'Pondy') was under French rule until 1954. A few residents still speak French (and English with French accents) though the predominant local language depends on the state proximate to each enclave: Tamil Nadu in the case of Puducherry and Karaikal, Andhra Pradesh in the case of Yanam and Kerala in the case of Mahe.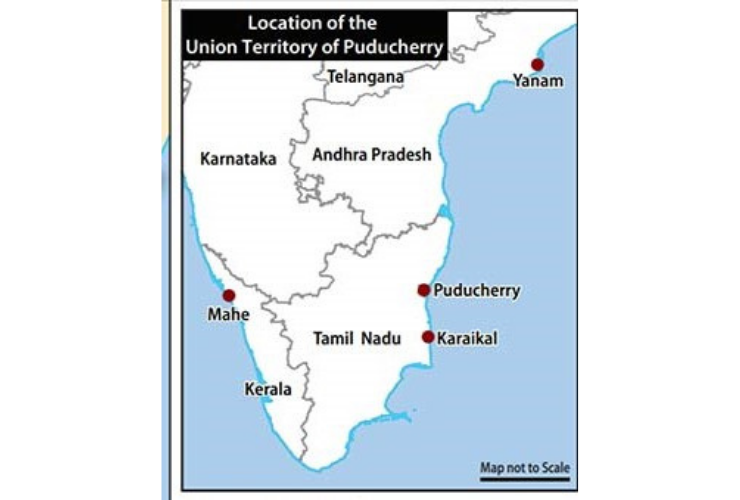 The political, economic, social as well as cultural habits of the enclaves are, therefore, aligned to the districts adjacent to each of them. Differences in mindset resonate with respect to matters of governance, too. However, although socio-economic practices as well as cultural beliefs are dissimilar in the four enclaves, there is significant uniformity with respect to their treatment of women and children, as indicated by responses to burning issues linked to gender equality and children's rights.
According to a professor of political science in a government college in Puducherry, "When one looks into women's participation in politics, it's not something that is related only to whether they have a right to vote but also their involvement in the decision-making process of the parties, political activism, political consciousness and many more rights that they're being periodically denied."
Even after over half a century of the UT's political history and 12 elections to the territorial Assembly, women's participation in political activities and elections remains low. Although women voters outnumber men in Puducherry, they are hardly visible as representatives of the people, whether as Members of the Assembly (MLAs) or Members of Parliament (MPs). This situation is, of course, similar to what prevails in many Indian states.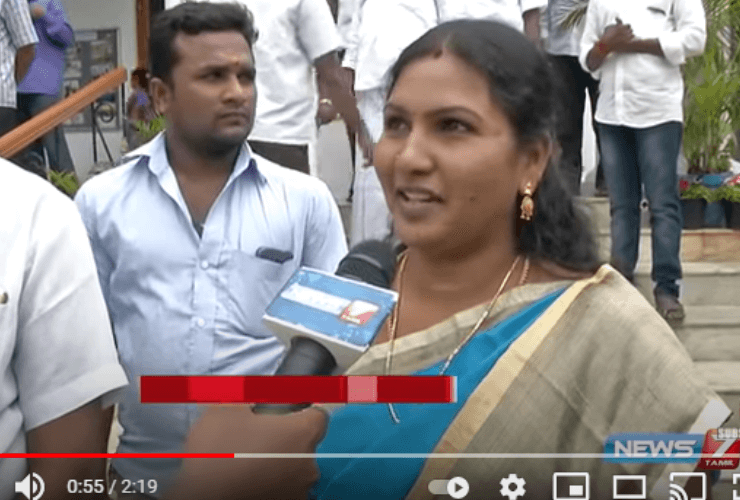 As an activist who wishes to remain unnamed said, "In the history of Puducherry since independence, since in 1963, only 11 women have become MLAs. Of them, only Renuka Appadurai, a Congress leader, was made an Education Minister in 1980 in the then DMK-Congress coalition government. Since then, no women legislators have become ministers." In fact, there were no women MLAs in Puducherry from 2001 to 2016. The situation improved when four women were elected during the 2016 elections to the 33-member Assembly (which includes three members nominated by the Central Government).
For the Assembly elections scheduled on April 6, 2021, women voters wish to see more female nominees but that seems to be a distant dream. Women voters outnumber men in all Puducherry constituencies: out of a total of 10,03,681 voters, 5,30,828 are women. Yet, in the current election, out of a total of 324 candidates, only 36 are women. A majority of the female candidates have either been fielded by the Naam Tamilar Katchi party or are independent candidates. It appears that women have been largely ignored by political parties all along, from nominations to the Assembly. Many activists are of the opinion that Puducherry's cabinet, which currently comprises just six members, should be bigger for better governance, especially in view of the far-flung enclaves (Karaikal, Mahe and Yanam).
According to one teacher from Mahe, "Political parties in Kerala, currently governed by the CPI(M) led Left Democratic Front, have groomed the next line of young women candidates as contestants for panchayat and local body elections, with some parties nominating almost 60% female candidates, which augurs well for facilitating a role for women in governance at various levels. Incidentally, the credit for being the youngest Mayor of Trivandrum Corporation goes to a woman who is just 21. The Mayor's post was reserved for women this time. It was the ruling party's strategy to thank youngsters who had stood with them. Such a welcome move should be emulated by all the political parties in Puducherry."
"By being silent, we aspiring women leaders of Puducherry, irrespective of political parties (which have great ideologies), are surrendering to the wishes of these parties and thereby giving a silent burial to our dreams/goals of entering the political arena. We work equally hard, like the men, leaving our families to fend for themselves. It is such an inexcusable situation in a democracy that women are still considered unequal," lamented a woman politician who was denied a seat by a mainstream political party.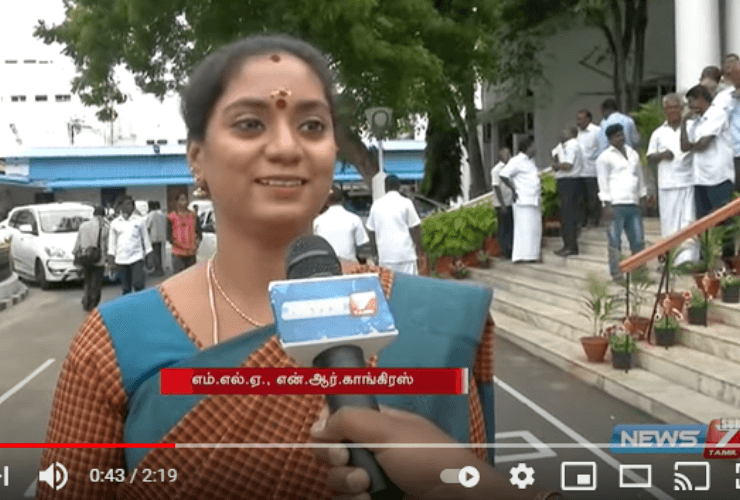 According to a Pondicherry University student, "My friends and I would like to work for the Student Federation of India (SFI) but our parents are not supportive. They fear that we will not concentrate on our studies and careers. It is true that families come in our way. Men have called the shots but things have changed: women are more aggressive and assertive nowadays. Nationally (and in most states) we find capable women leaders in many political parties, even though they may be very few. We voice our opinions and are strong enough to face problems head on. Although some families are supportive enough about our decisions regarding studies, careers and marriage, when it comes to entering politics, it's a big NO. For women who have a political background, with grandparents, fathers or in-laws in various political parties, holding high office, entry to the higher echelons of power is relatively easy and this means they are also respected and able to survive. But what about people like us without such connections who aspire to enter politics and be leaders some day?"
According to a few women politicians, the reason why they or members of the next generation are likely to opt out of politics is that they find men holding positions in political parties very judgemental, patriarchal, chauvinistic and misogynistic.
One aspirant suggested that the new generation of women should be able to overcome their fears concerning social media trolls and tweets, which are often blaringly sexist, targeting both their gender and their bodies. At present they remain voiceless within their parties. According to her, no one would be forthcoming in terms of listening to a woman's point of view about harassment; nor would they take up the cudgels for them unless they think they can use the allegation as a weapon to subdue others.
Committees with the ultimate high power in political parties may condemn such wrongdoers, but the punishment meted out is never stringent, which makes women even more vulnerable. As a budding woman student leader said, we need men who will enable us to grow by merit, who will value and respect us, motivate us to act and support our endeavours.
In an effort to increase women's participation in politics in India, the 73rd and 74th Amendments to the Constitution that came into effect in 1993 mandated that one-third of seats in panchayats and municipalities be reserved for women. Reservation is implemented through a process of rotation to different constituencies. It also provides for random reservation for the post of panchayat chairpersons for women, and studies have shown women's concerns get fairer play in panchayats headed by women. At the level of state legislative Assemblies and Parliament, Constitutional Amendment Bills providing for reservation of seats for women were introduced in 1996, 1998 and 1999; however, all three Bills lapsed. At present, the Women's Reservation Bill 2008 (which seeks to provide 33 per cent reservation for women in state Assemblies and the national Parliament) was passed by the Rajya Sabha but is still pending in the Lok Sabha.
Women's movements have reflected a belief in the right for women's voices to be heard. Women possess skills, knowledge and talent but are generally overlooked by the male-dominated political system. Women leaders belonging to different political parties and ideologies have excelled in identifying problems and solving them. They are often more accountable, quick at decision making and implementation, good at drawing support from the public and gender-sensitive in terms of addressing and negotiating issues pertaining to women and children.
Let us hope that, with younger generations of women opting for politics, one can look forward to better representation of women in this arena, and thereby ensure fuller, fairer and more meaningful political representation in the world's largest democracy.
Dr. Vidyaa Ramkumar was till recently Chairperson, District Local Level Complaints Committee – Sexual Harassment at Workplace for Women, Government of Puducherry. She has also been Chairperson, Child Welfare Committee and Independent Member, State Security Commission of the Union Home Ministry for Union Territory of Puducherry.