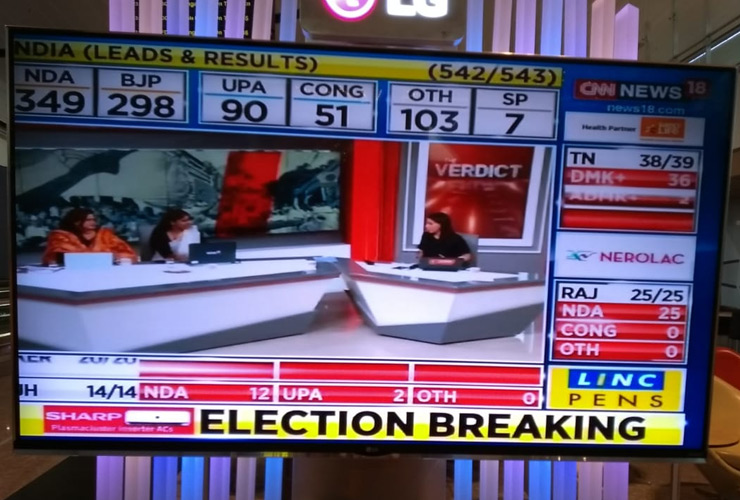 By Ammu Joseph
As the results of the Lok Sabha elections of 2019 trickled in from the morning of Thursday, 23 May, NWMI members decided it may be worth noting the gender composition of the panels assembled by television news channels to comment on the unfolding scenario.  It seemed worthwhile to attempt a quick, informal follow-up on the NWMI study of the representation of women in prime time news discussions aired by Indian news channels (Panels or Manels?), released on 1 February 2019.
A team of volunteers from among members of the earlier research team (Pushpa Achanta, Sonal Kellogg, Manjira Majumdar, Kamayani Bali Mahabal, Rina Mukherji, Kavitha Muralidharan, Sweta Singh and Varsha Torgalkar) watched prime time programmes (8-10pm) on 23 May 2019 for this purpose.  The impromptu effort was obviously not the kind of systematic, month-long monitoring done for the Manels study.  However, a total of 17 channels in six languages were covered (two Bangla, six English, one Gujarati, two Hindi, one Punjabi and three Tamil channels, plus the Lok Sabha and Rajya Sabha channels, which have prime time programmes in both Hindi and English).
It is important to note that the pattern of coverage on the day of the election results was different from the daily routine since the primary, if not only, news of the day was a fast developing story with the denouement expected the same evening.  Even though the outcome was fairly clear by afternoon, much of prime time, usually devoted to studio discussions on what television journalists decide is the event or issue of the day, was taken up last Thursday with live coverage of the victory celebrations and speeches at the headquarters of Bharatiya Janata Party.
Some volunteers provided inputs on the composition of panels at various points in the day when they happened to be watching the channels they had opted to monitor. A general impression that emerged is that the representation of women during prime time news tends to be lower than at other times, although there were exceptions to this apparent rule.
Even during prime time, the earlier slots appear to feature more women than the later ones.  For example, the CNN News 18 panel, anchored by three men, initially had one female and four male panellists.  However, later in the programme, which also featured a US-based male journalist, the female panellist was replaced by yet another male.
Another general observation is that even in panels that are not all-male, female representation is typically minimal.  According to one researcher, who watched English TV channels, the general pattern appears to be 1:5, with the number of women going up to two if the panel is bigger.  For example, while India Today TV had one woman among five panellists, Times Now had two women among eight panellists and Republic TV had two women among 12 panellists. NDTV 24×7 did a little better:  there were three women among the nine panellists in the studio, and the three persons interviewed on location during the programme included one woman (4:12).
Yet another general observation: female anchors do not appear to ensure more gender balance among panellists.  For example, Mirror Now, which has a woman anchoring the prime time show, The Urban Debate, had no women on the panel discussing the election results. Similarly, News 18 Gujarati had a woman anchor but all the panellists, including party spokespersons and political analysts, were men.
Neither of the two Bangla news channels monitored, ABP Ananda and Zee Chobbish Ghonta, had any woman on any panel during prime time.  This is particularly surprising considering that West Bengal, along with Uttar Pradesh, elected the most number of women parliamentarians to the 17th Lok Sabha:  11 each.  Going back to a point made earlier, the anchor of Zee Chobbish Ghanta during prime time on 23 May was a woman.
The gender drought was also evident in Zee Hindi, PTC Punjabi and, unfortunately, even in the Lok Sabha and Rajya Sabha channels.  All of them appear to have assembled manels for prime time discussions on what was possibly the biggest news story of the year, and one with wide-ranging, long-lasting implications for the country and its citizens.
News18 Tamil also had no woman panellist during prime time on 23 May. Puthiya Thalaimurai had one and News7 Tamil did relatively better with a female anchor as well as a female panellist. Across the channels special debates featured hardly any women among the party spokespersons or experts brought in to discuss the results.
Marathi news channels appear to have conformed to the 1:5 or 2:more formula referred to earlier. IBN News18 featured a panel with one woman and five men, all political analysts or members of political parties. ABP Maza had two women among eight panellists.
On NDTV India (Hindi), in the earlier part of prime time, there were three anchors, among them one man and two women. The five-member panel comprised four men and one woman. The Prime Time show itself, anchored by a man, did not feature a panel but did include the speeches of three male politicians (albeit the leaders of the victorious BJP and the leading party on the losing side, the Indian National Congress).
However, as mentioned earlier, programmes earlier in the day in several channels had a greater female quotient.  For example, Mirror Now had two female panellists during the day even though it had none during prime time.  On the other hand, Times Now had none during the day despite the fact that one of two anchors was a woman and that women's representation went up during prime time. India Today's ratio remained fairly consistent, with 1:6 during the day and 1:5 during prime time. To end on a positive note, at one point in the afternoon CNN News 18 had an all-women line-up:  female anchor + two female panellists.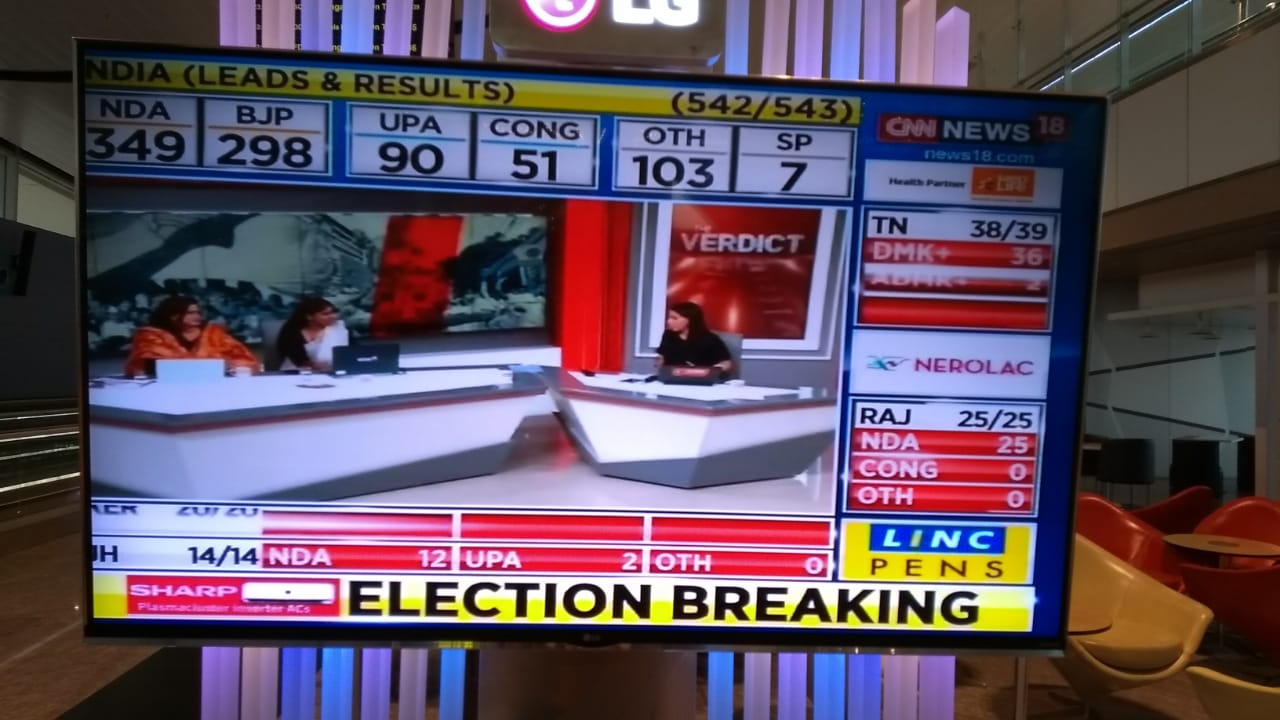 A rare 'womanel' in the afternoon of election day. (Photo credit:  Laxmi Murthy)
Decision makers in news channels are surely aware of women – journalists and others – who are more than capable of analysing and commenting on political, even electoral, developments.  What is it that keeps them from aiming for more diversity – in terms of gender, caste, class, creed, region – among those whose views are, presumably, meant to enlighten viewers?
The question of who will form the next government affects all citizens, and it evidently has different implications for different sections of the population.  A variety of perspectives is indispensable if citizens are to make sense of complex political developments such as elections and their outcomes.