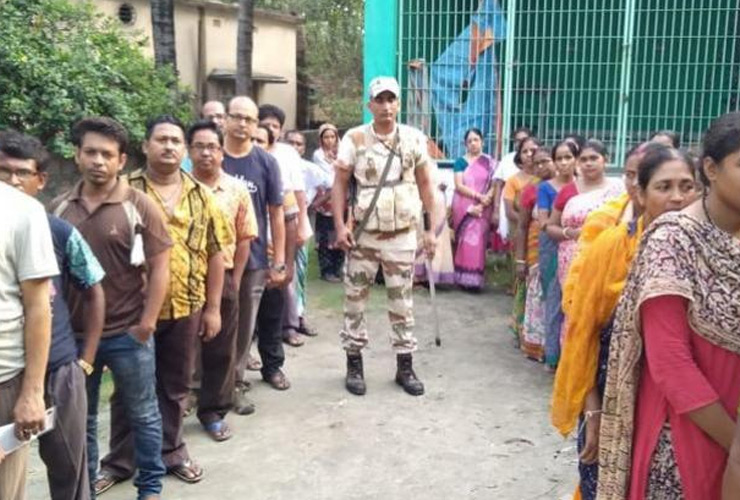 By Ammu Joseph
The headline looks encouraging:  Consistent increase in women candidates in LS polls since 1957. But it is misleading, as the very first paragraph clarifies:  the great increase reported is from three per cent in 1957 to nine per cent in 2019. That's a six percent increase over six decades – one percent per decade!
Fortunately, however, the persistent, gaping gender gap among electoral candidates is in sharp contrast to the almost non-existent gender gap among voters during the just-concluded Lok Sabha elections.
Not only did women turn out in greater numbers than in previous elections , according to the available figures for the first four phases, but the gap between male and female voter turnout was only 0.3%, which is pretty much as good as none.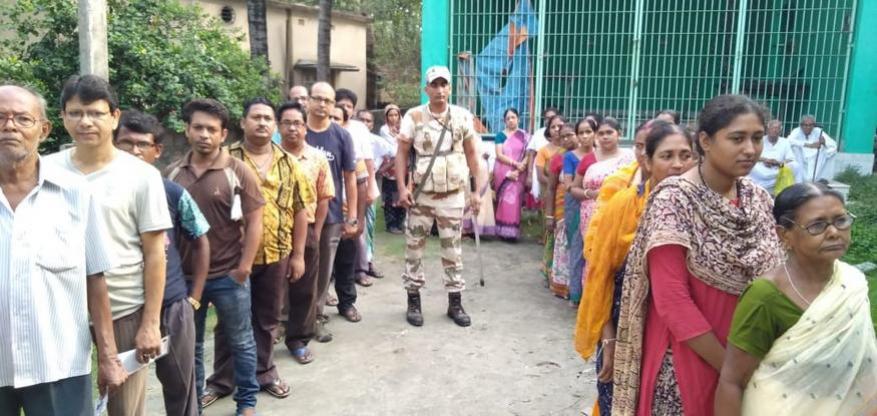 Voters queue to cast their vote at a polling station during the seventh phase of the 2019 Lok Sabha elections, in Kolkata. (Image: News18)
What's more, the turnout of women reportedly exceeded that of men in at least nine states and Union Territories, with the highest recorded in Manipur at 84.16% and Meghalaya at 73.64%, followed by Arunachal Pradesh, Kerala, Dadra and Nagar Haveli, Uttarakhand, Goa, Mizoram and Lakshadweep. Even in states where men outnumbered women among voters – Gujarat, Uttar Pradesh, Maharashtra and Karnataka – there was an increase in the number of female voters, which narrowed the gap.
The trend is likely to have continued till the end of the election season.  According to a live update by NDTV, after polling ended on 19 May the Election Commission reported that of the 7.27 crore voters who took part in the 7th and final phase of this long drawn out election, 3.47 crore were women while 3,377 were persons belonging to third gender.
The rising number of female voters had been reported during recent Assembly elections as well.
Another story on the bridging of the historic turnout gap during the 2019 general election quotes Gilles Verniers, co-director at the Ashoka University's Trivedi Centre for Political Data, on what he sees as the factors behind the increased voter turnout among women:
"First, greater access to information through widely accessible mediums such as mobile phones has helped reduce the gaps that existed between various segments of the electorate, including men and women. Second, …, political parties have dedicated greater portions of their manifestos to women, which might have encouraged them to cast their vote. And third, the Election Commission has made greater efforts to register women voters over the past decade."
Interestingly, he does not mention the possible role of the "pink polling booths" that Election Commission officials credit with having encouraged more women to vote.
Update (21 May 2019):
Women voters outnumber men in 13 states and union territories
Read more at:
http://timesofindia.indiatimes.com/articleshow/69419602.cms?utm_source=contentofinterest&utm_medium=text&utm_campaign=cppst