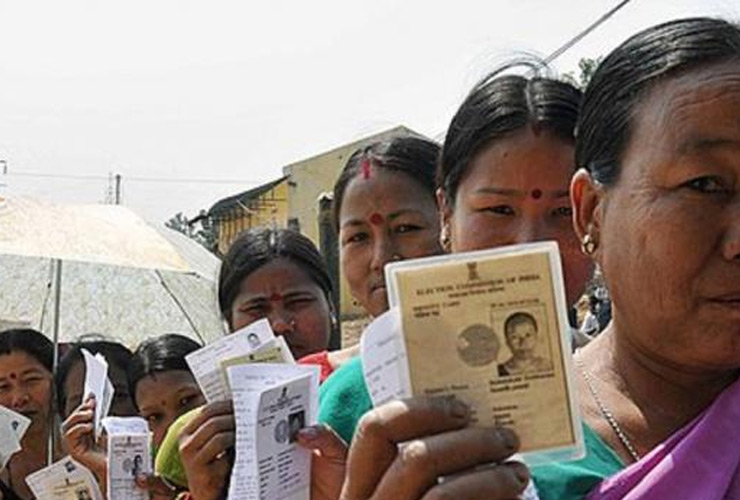 By Ammu Joseph
"Not BJP, not Congress:  Women voters are real winners today," claimed the headline of a December 12 article that highlights the fact that female voters outnumbered men in a significant number of constituencies in the recent elections to the state assemblies of Chhattisgarh, Madhya Pradesh and Mizoram.
According to Richard Mahapatra, "Women are the new-found constituency of politicians for sure-shot victory.  In a country where woman representatives are only a few, who too are accepted with contempt, they have become a force that is going to redefine electoral politics of the world's largest democracy."

What can explain this trend and what is its significance?  Are women now seen as a political constituency worth taking seriously?  Will the growing power of the female vote make political parties pay due attention to the demand for a more gender balanced Parliament and more representative Legislative Assemblies?
In an earlier, related article, headlined "It will take 55 years to have one-third women representatives in Parliament," Mahapatra observed that "notwithstanding this much desirable electoral trend, what surprises us is the diametrically opposite presence of women lawmakers—hardly 7 to 8 per cent in state assemblies and around 11 per cent in Parliament."
As he points out, in 56 years, India's Lok Sabha has not been able to double its tally of elected women representatives. In 1962, women constituted just 6 per cent of the members of the lower house of Parliament;  in 2014, women made up just 11 per cent of all members.
Judging by the poor representation of women among candidates during the recent state elections (see blog posts below on the situation in Madhya Pradesh and Mizoram, for example), political parties are still not inclined to field women for election.  However, as this November 2018 article by Kundan Pandey, headlined "Political parties try to bank on women's electoral strength," points out, they are trying hard to woo women voters by making a range of promises in separate manifestos/vision documents and offering goods and services, not to mention loans, to persuade women to vote for them.
What will it take for parties to be convinced that equal representation is a more persuasive way to assure women that they matter as citizens?