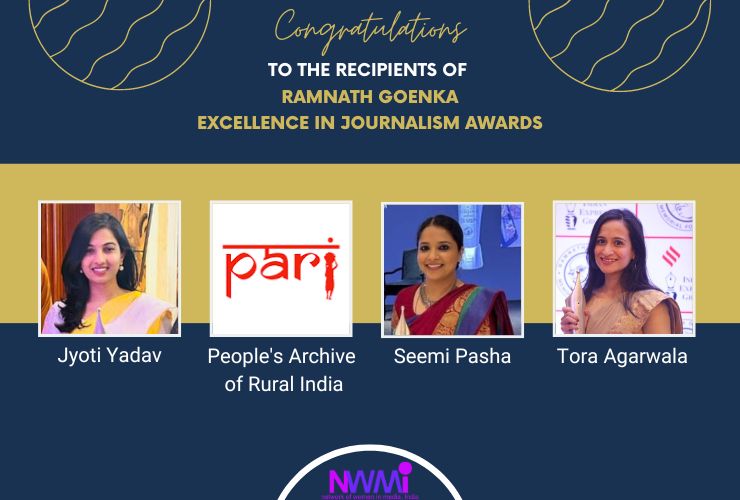 By Editors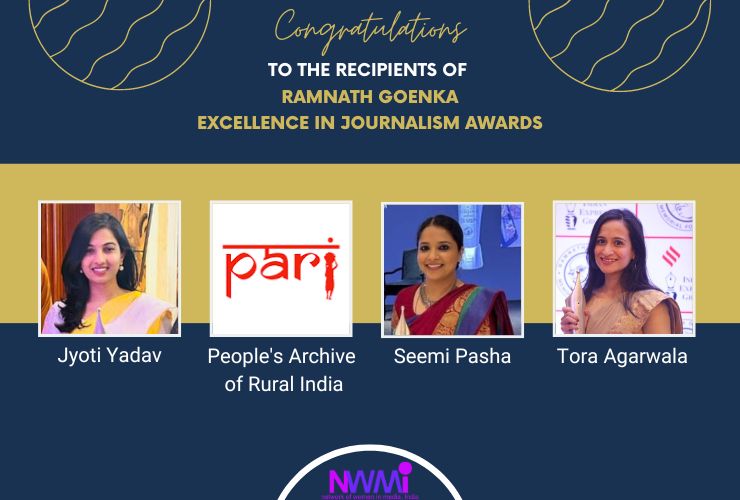 Several members of NWMI picked up top honours at the Ramnath Goenka Excellence in Journalism Awards for 2019 and 2020. The awards were presented on March 22, 2023 at New Delhi. Chief Justice of India D Y Chandrachud was the chief guest. Congratulations to the  winners!
NWMI member Jyoti Yadav of The Print was the joint winner with Bismee Taskin for their series on the migrant exodus during Covid lockdown in the Hindi Print (2020) category.
Links:
https://hindi.theprint.in/india/rural-women-untold-story-of-covid-crisis-loans-at-high-interest/140918/
https://hindi.theprint.in/india/labourer-traveled-1600-km-from-mumbai-to-up-died-just-30-km-from-home-corona-positive/138772/ 
https://hindi.theprint.in/india/in-coronavirus-era-a-village-in-up-which-is-difficult-to-reach-is-waiting-for-its-earning-sons/138323/ 
https://hindi.theprint.in/india/in-lockdown-pregnant-woman-who-reached-gopalganj-in-bihar-did-not-get-immediate-help-due-to-suspicion-of-corona/139160/ 
https://hindi.theprint.in/india/laborers-who-have-earned-in-cities-are-returning-to-their-homes-said-they-will-die-hungry-but-family-will-be-together/138668/ 
https://hindi.theprint.in/india/up-migrants-reach-hardoi-from-punjab-by-train-but-are-then-told-to-find-their-own-way-home-coronavirus/137668/ 
https://hindi.theprint.in/india/iron-rods-responsible-for-the-death-of-workers-say-eye-witnesses-of-bus-truck-collision-naugachia-bhagalpur/140470/ 
Seemi Pasha won the award in the Politics and Government Broadcast category (2019) for her documentary for The Wire on Jamia Nagar residents in Delhi after the police crackdown at Jamia Millia Islamia.
Watch the documentary here:
Tora Agarwala of The Indian Express won the award in the Reporting on Arts, Culture & Entertainment Print category (2020) for the story on battlefield 'diggers' scouring the hills of Manipur to look for remains of soldiers who died in World War II.
NWMI members were also part of Team PARI (People's Archive of Rural India) which won the award in the Environment, Sciences and Technology Reporting Print category (2019) for its coverage of the effects of climate change on farmers, pastoral communities, fisherfolk, nomadic communities etc., across India.