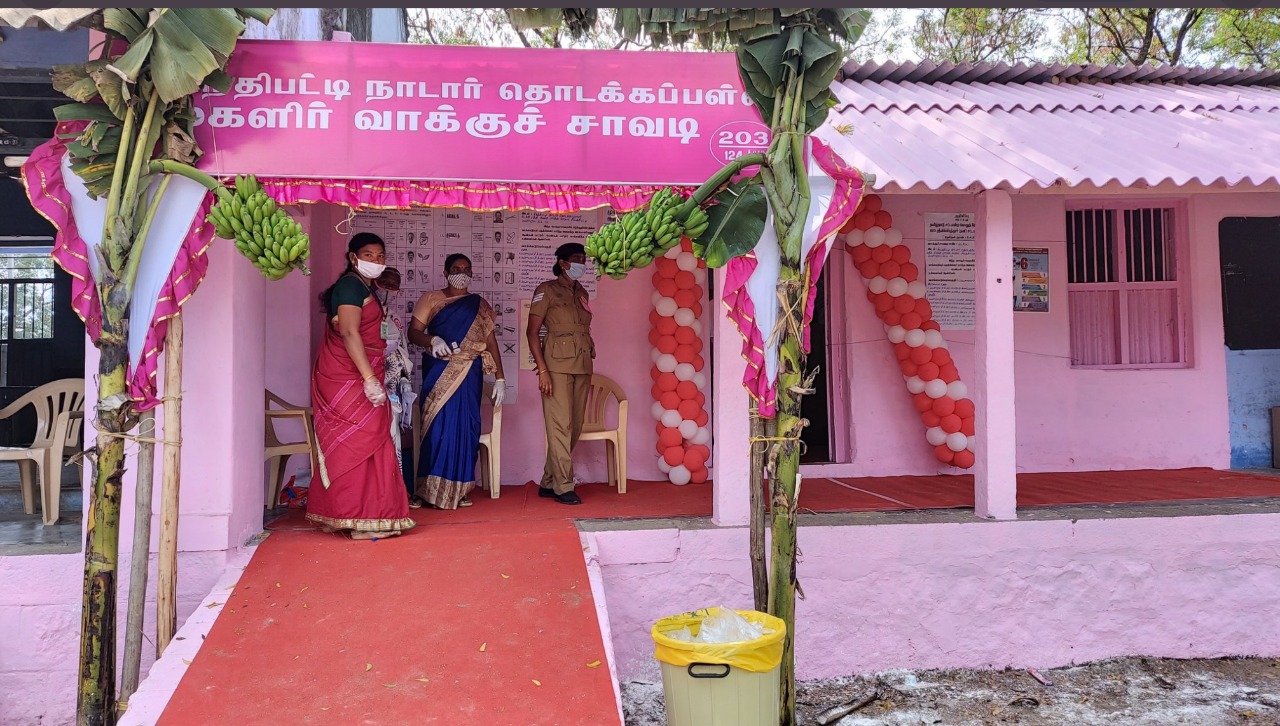 A photo essay by NWMI Editors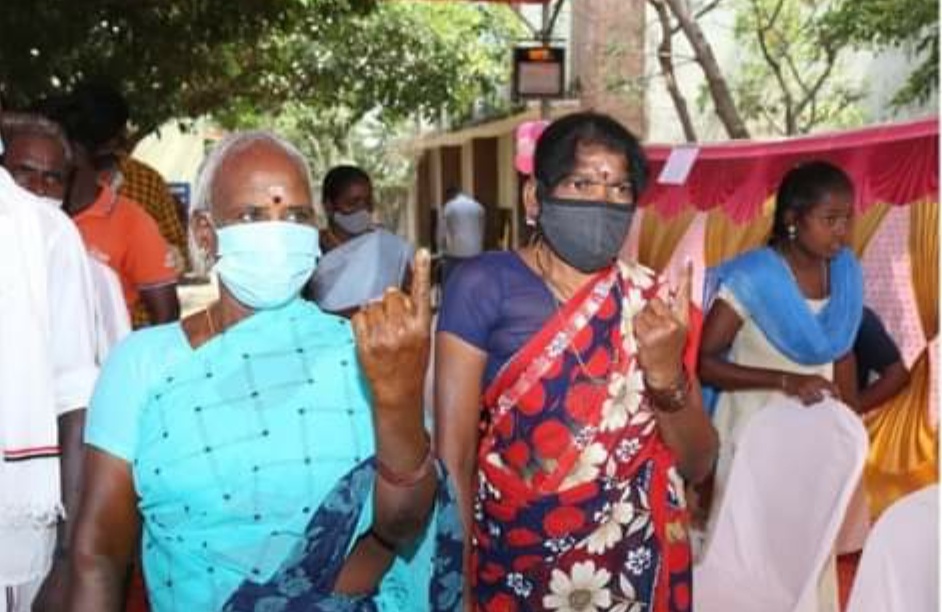 On April 6, in the single phase assembly elections for 234 assembly seats in Tamil Nadu, 5,68,580 more women voted than men.Women voters have outnumbered men in Tamil Nadu for over a decade. However, in terms of percentage of eligible female and male voters who participated in the voting, they were almost the same with 72.54% of 3,19,39,112 eligible women voters casting their vote and 73.09 % of 3,09,23,651 eligible men voters doing so.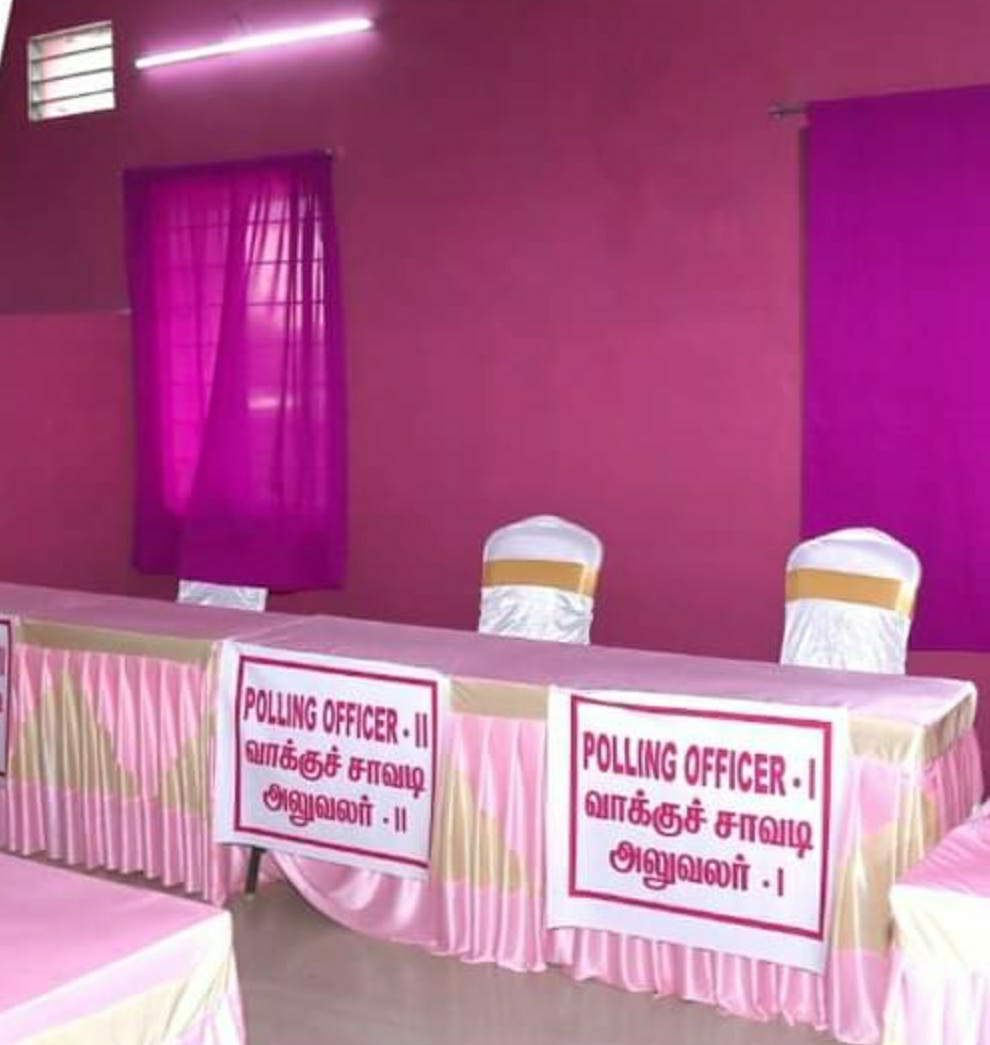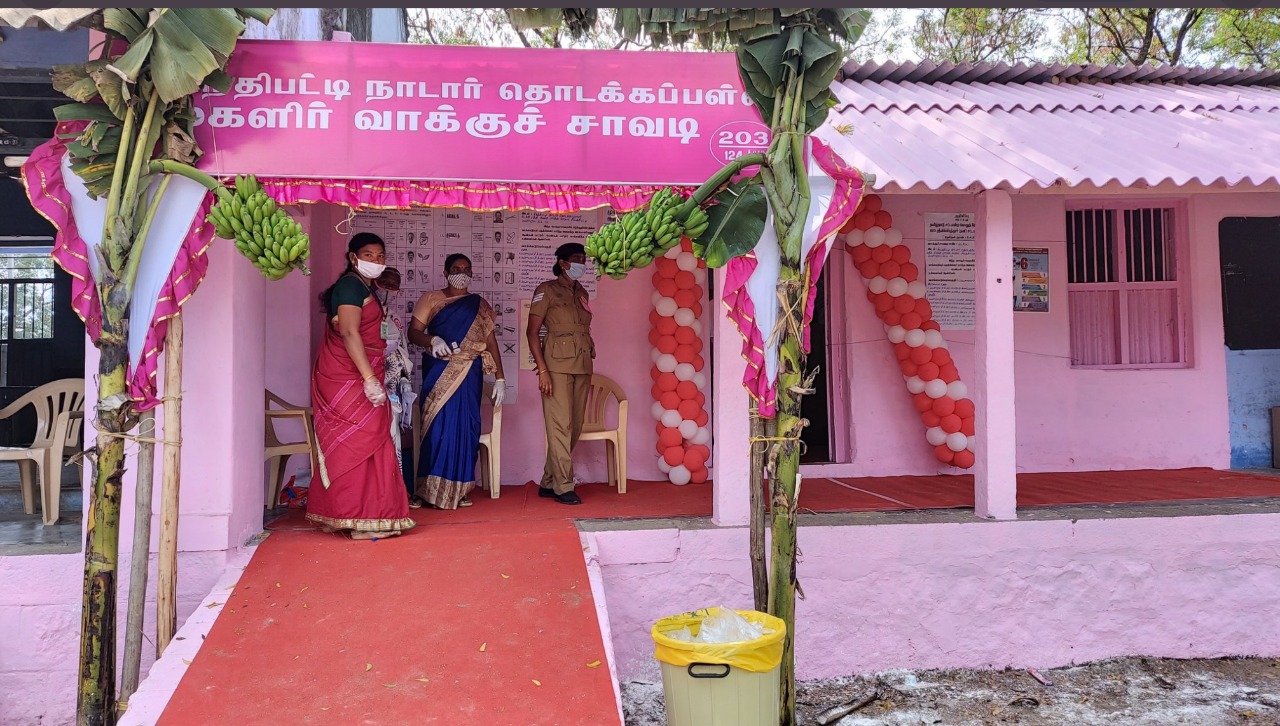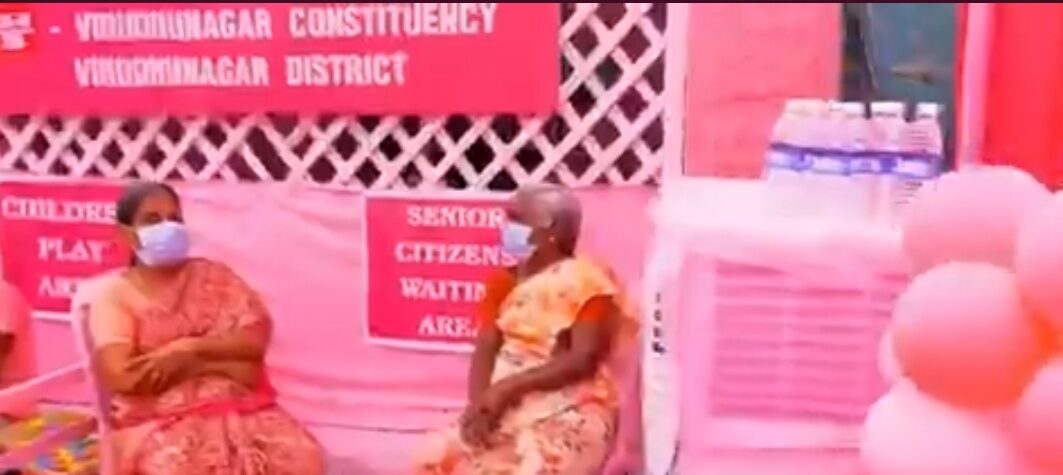 In a bid to woo women voters, the Election Commission of India had ordered that there should be at least one 'pink booth' per constituency, where the entire staff from polling officers to security personnel are women. Local officials in Tamil Nadu seem to have gone all out to enforce this. While a booth in Sriperumbudur had pink lights and curtains, another in Mamsapuram painted the exterior walls and roof of the booth pink, and yet another in Virudhunagar even had a pink water cooler.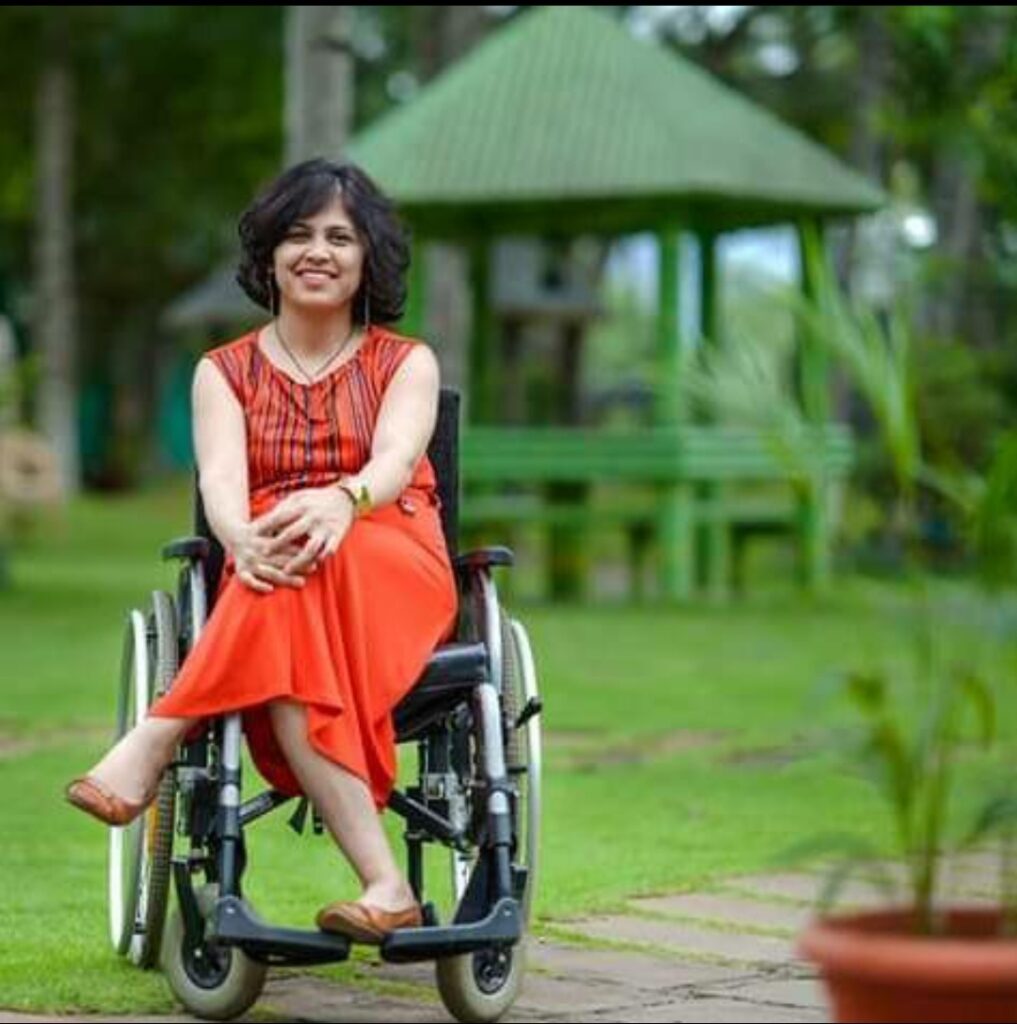 People with disabilities were provided free public transport to reach polling booths. As per ECI instructions, each booth had one official to help differently-abled voters. Although disability rights activists welcomed this initiative, they would like it to be extended to everyday life. Coimbatore-based Swarnalatha J, managing trustee at Swarga Foundation, an NGO which supports differently-abled people and is herself differently-abled, wrote on social media after voting: "Last 3 elections, I voted for the party for whom religion, beliefs and sentiments were a priority. Yet, I had to fight with every government official to build ramps and wheelchair friendly toilets. Finally tired, through our foundation, we made government schools, Police Commissioner's office and the Railway station in Coimbatore wheelchair accessible, which are used by lakhs of people everyday. I haven't visited a temple for more than 3 years now; there is not one temple where we can find a ramp for my wheelchair! "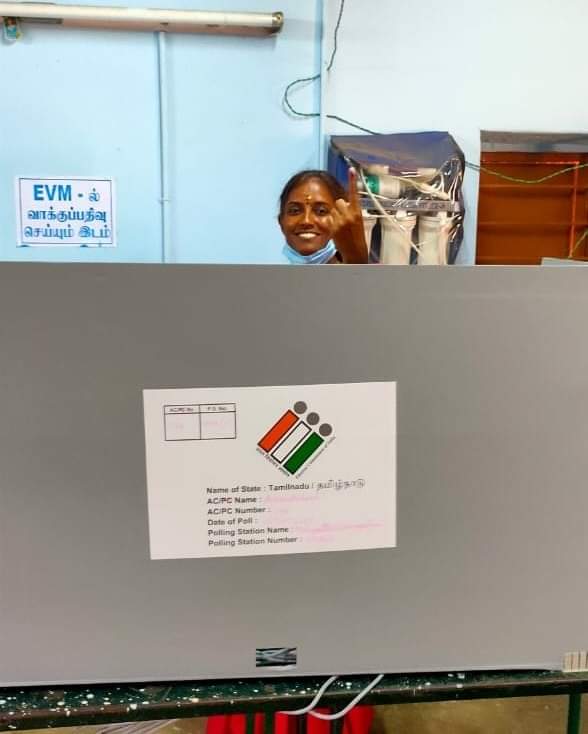 Jothimani Sennimalai, Member of Parliament from Karur from the Congress party raised this question on social media after the polls, "'Politics is still a male domain. When are we going to achieve the balanced participation of women and men?" Out of 3998 candidates in Tamil Nadu, only 411 were women.Though political parties were falling over themselves to woo women voters, they all fell short when it came to fielding women candidates.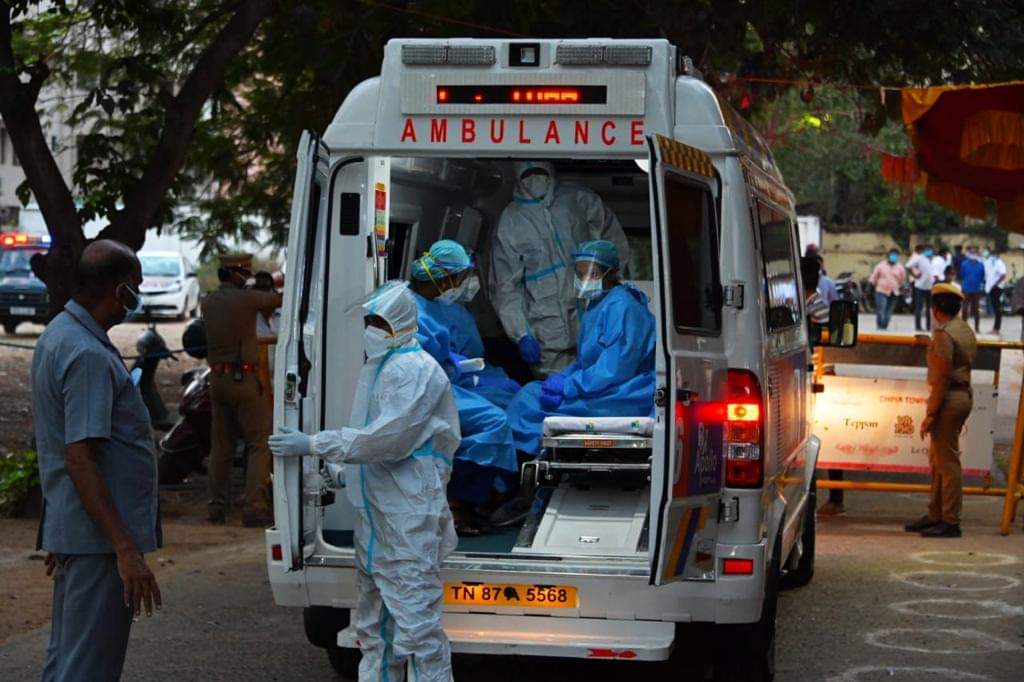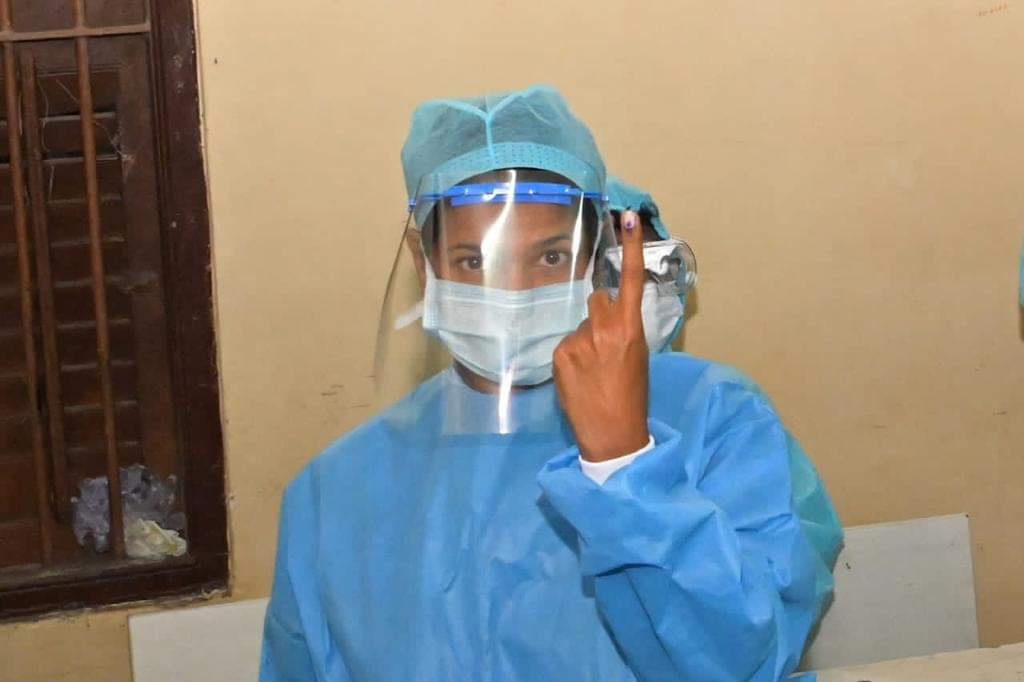 Another MP from Thoothukudi and DMK Women's Wing President Kanimozhi, who recently tested positive for Covid 19, arrived at her polling booth in Mylapore Chennai in an ambulance, wearing a PPE suit. "I was able to vote today, despite my health condition.Thanks to the Election Commission for ensuring that being unwell was not an impediment to choosing our next Government," she posted on her social media.