A photo essay by Sarita Mohanan Bhama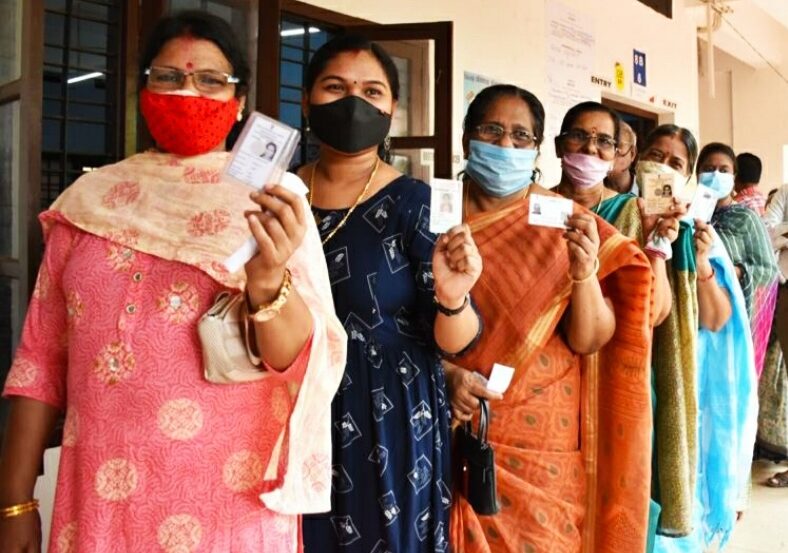 At least 73.58 per cent of the total 2.74 crore voters in Kerala exercised their franchise during the recent state Assembly elections, going by a preliminary assessment conducted just before polling drew to a close at 7 pm on 6 April 2021, according to the Election Commission of India. An almost equal proportion of men and women turned up at polling booths, with an estimated 73.69 per cent of male voters, 73.48 per cent of female voters and 37.37 per cent of transgender voters casting their votes, as per the preliminary assessment.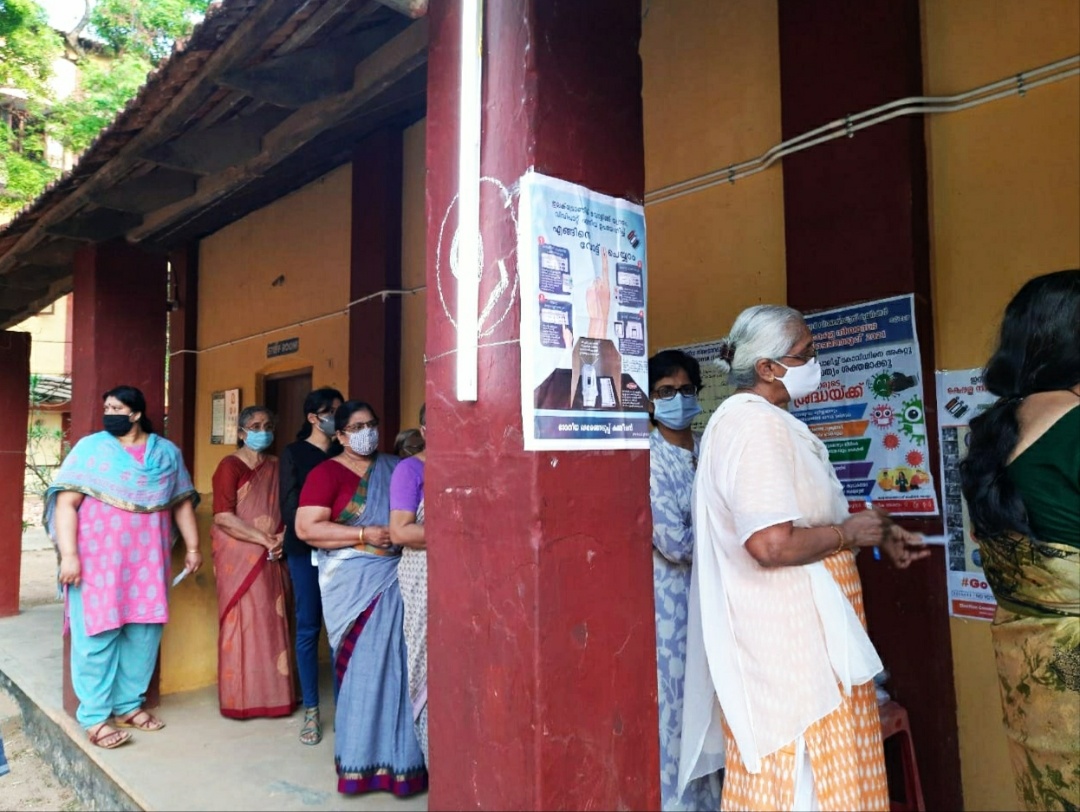 Women outnumber men by 8.27 lakh on Kerala's electoral rolls.  They constitute the largest group of voters in almost all eligible age groups except two:  20-29 and 30-39, while women in the 40-49 age-group account for the largest group of voters among the electorate.  Yet most parties in the state saw fit to allot only about six per cent of the seats they were contesting to female candidates, and just 104 women contested in Tuesday's elections, making up a mere 11 per cent of the total number of candidates.
Election day in Kerala was not without colour and drama!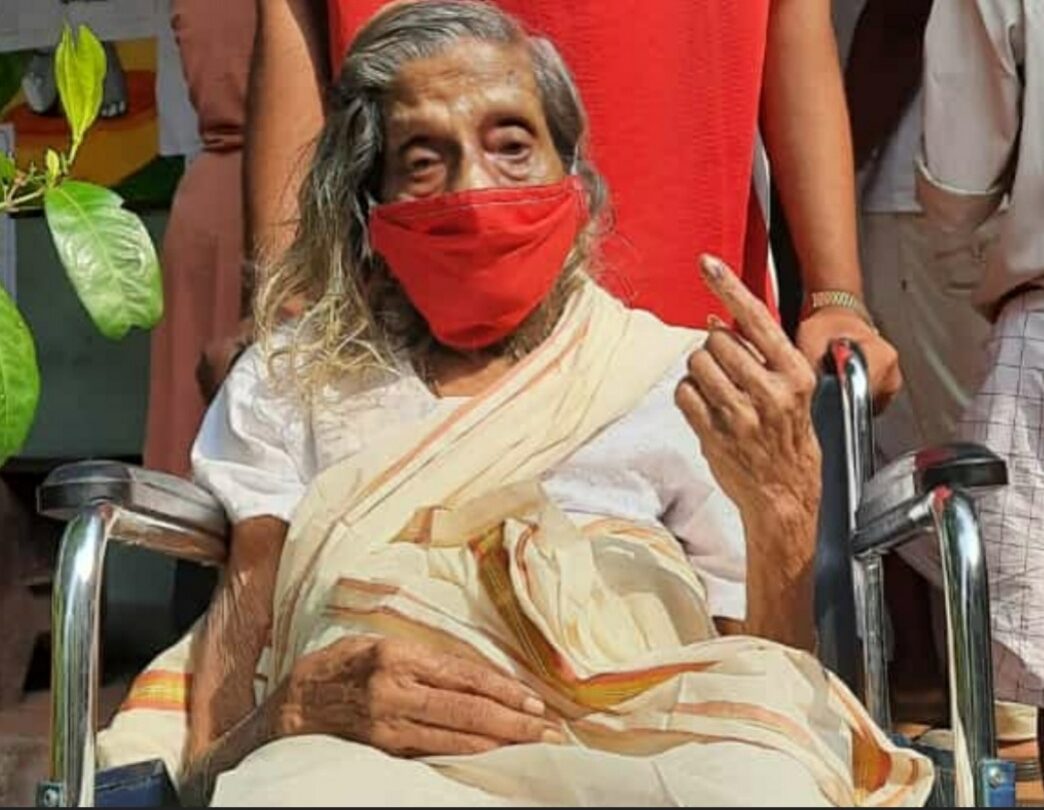 Thanks to new, generous norms in the time of pandemic, electoral officers allowed 80-plussers to vote early, in the safety of their own homes.  However, the officials somehow missed 101-year-old Kannokkada Ammini Amma. Not that this lapse was going to stop the centenarian from making good use of the voting privilege she has unflaggingly exercised ever since India became a democracy. This time, Ammini Amma got her grandson to wheel her royally to her polling booth in Kanayanoor school, Chottanikkara. Who did she vote for? A former theatre enthusiast and aesthete, Ammini Amma chose to wear a deadpan expression in answer to that cheeky question.
 India's youngest Mayor, Arya Rajendran, cast her vote in Mudavanmugal LP School, Thiruvananthapuram. Arya, who recently became mayor of the city at 21 years, is simultaneously pursuing her studies, towards a BSc in Maths, at All Saints' College. No marks for guessing which party Arya voted for. Both her father Rajendran, an electrician, and her mother Sreelatha, an LIC agent, are long-time CPI(M) party workers. Arya Rajendran, an activist of the Student Federation of India (SFI) was the surprise Christmas present that the CPI(M) unwrapped for Kerala's capital city as its mayor, after the local body polls in December 2020. As the tradition of the city mayors goes, the lady mayor is addressed as the city's mother, a happy irony for Arya Rajendran, who is the youngest member of the Council. Although Arya is currently busy with college exams, she is keen to set in motion initiatives to address waste-management issues in the heritage city that she heads. "This is the first time I am voting in a full-fledged Assembly election," she says.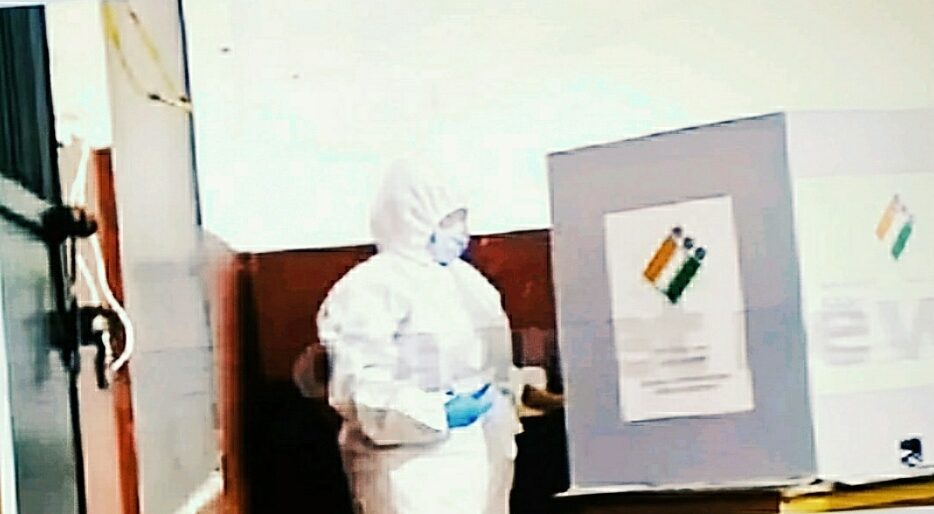 Veena Vijayan, Chief Minister Pinarayi Vijayan's daughter and CEO of Bengaluru-based Exalogic Solutions, arrived at the polling booth in the evening, not along with her celebrity parents as she usually does. Recently tested positive for Covid, Veena was wearing a full PPE kit and her customary cheerful countenance was nowhere in sight. Her father is seeking a mandate from Dharmadam in North Kerala, while her husband, PA Mohammed Riyas, is contesting from Beypore in Kozhikode. "Covid positive or not, I cannot let slip an opportunity to vote for my father," she evidently told the media as she proceeded to cast her vote with all due precautions. Incidentally, both Chief Minister Pinarayi Vijayan and Mohammed Riyas tested positive for Covid-19 a day after polling.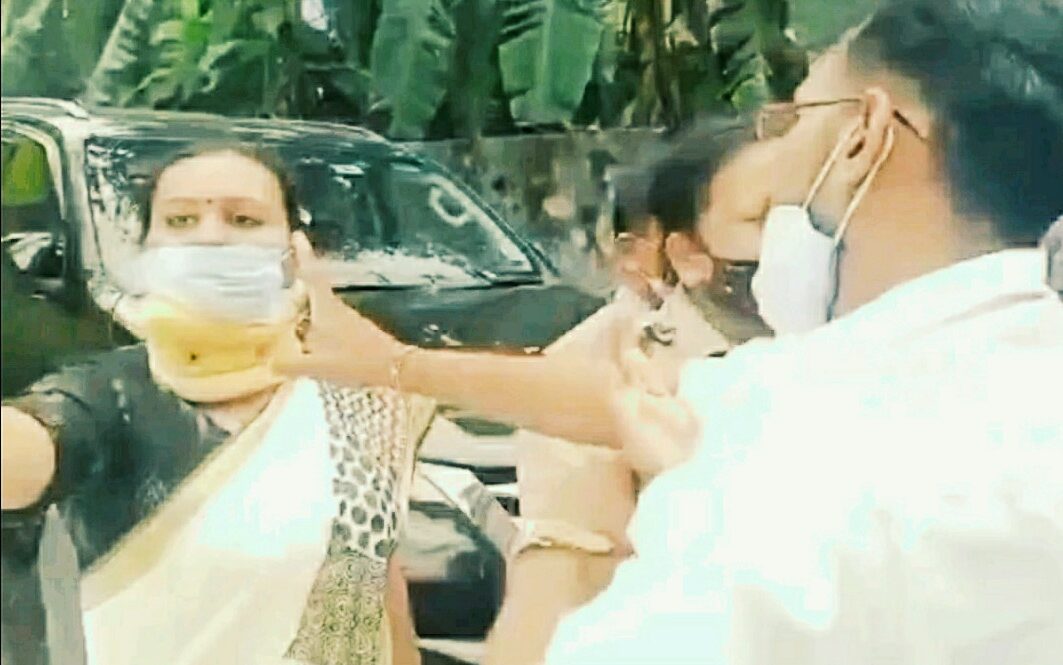 Meanwhile, another Veena with leftist political moorings reportedly got into trouble in South Kerala on election day. This is a still from a video in circulation featuring Veena George, the Left Democratic Front (LDF) candidate in the Aranmula constituency. She alleges that party workers from the Congress heckled and attempted to manhandle her when she was visiting polling booths. She has reportedly complained to the Election Commission about the incident. A television anchor-turned-politician, she had defeated Sivadasan Nair of the Congress in 2016 and is challenging the same rival in the 2021 election, too. The video doing the rounds shows a group of men arguing with and heckling her. "The Election Commission has given all candidates the right to visit polling booths. I can identify the people who tried to assault me. I don't know why they (Congress) are afraid of me," she says.
 When the topic of fielding young women candidates for the Assembly comes up, the Congress brandishes one of its aces:  26-year-old Aritha Babu, contesting from Kayamkulam consituency. Ahead of polling day she became a talking point for an entirely different reason, thanks – unexpectedly – to the opposite camp. AM Arif, the CPI(M)'s Member of Parliament (MP) from Alapuzha, made a demeaning comment about the Congress candidate, referring to Aritha Babu's part-time occupation while speaking to a gathering of women in Kayamkulam during the last hours of campaigning. The young candidate, who gets up at 4am to milk her cow and make the rounds to distribute the produce, thereby supporting her parents, also happens to have a postgraduate degree in Social Work. Hailing from a marginalised community, she had been elected to the Alapuzha District Panchayat at the age of 21. Although Kayamkulam constituency has been a long-time bastion of the CPI(M), there are hushed comments, even from leftist activists, that the MP's remark was in bad taste. "Arif's words hurt hard. He insulted not just me, as a candidate, but the entire community of people who eke out their living from dairy-related activities. This should shock the Communist party that claims to stand for workers," Aritha said, after casting her vote at Chulur UP School.