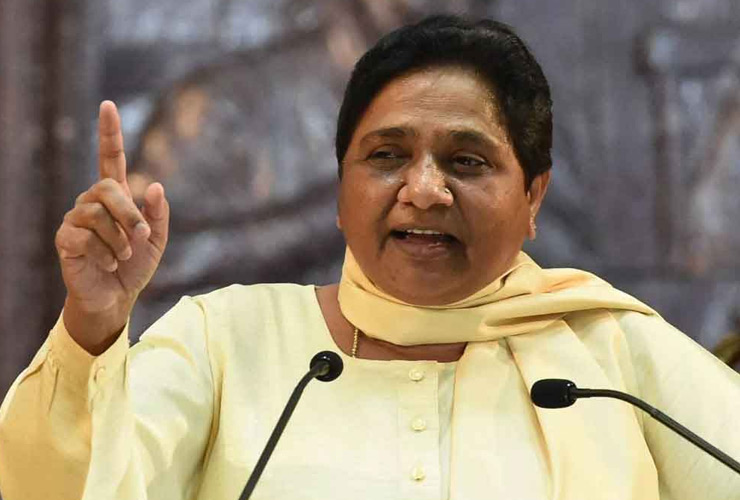 By Nisha Susan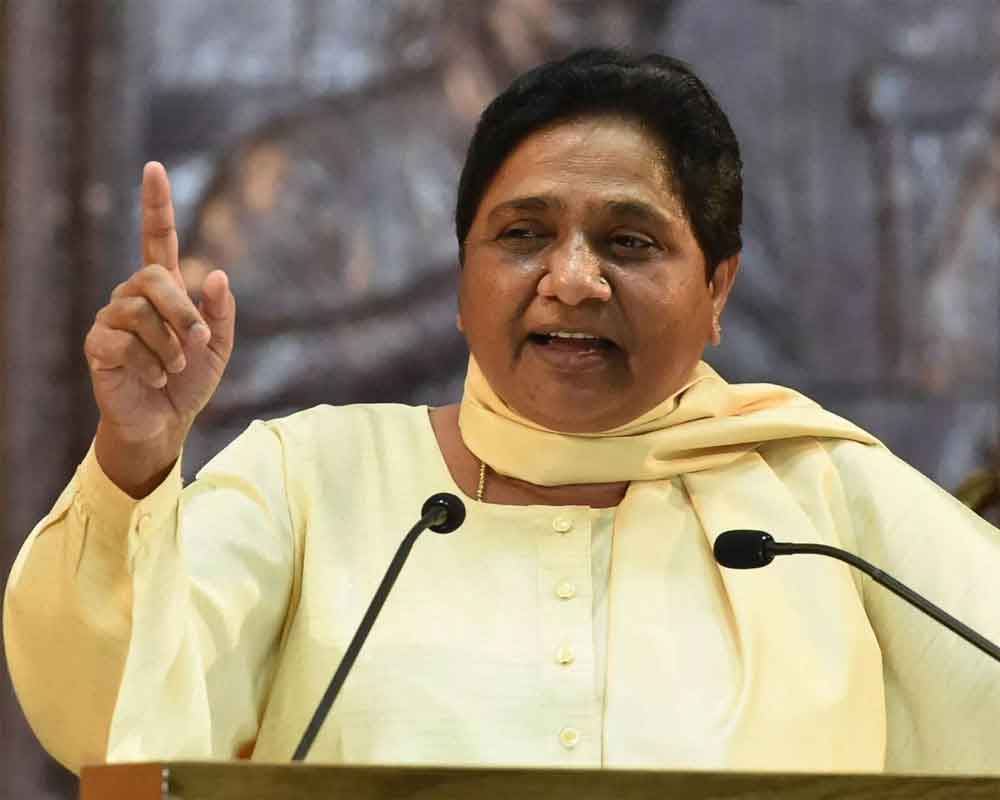 In an interview many years ago, Anoop Kumar, writer and founder of Nalanda Academy said this to me: when people ask me why I vote for Mayawati I always say, 'because I can.' It took me a while to understand the brilliance of his phrase (which for the record, predated Obama). In that answer, Kumar was indicating to silly/serious interlocutors that it was a privilege he valued to have a Dalit woman politician in the forefront of UP politics. We often take for granted the handful of powerful women politicians in the landscape, as if they always were and always will be. But looking at the tiny numbers of women we have in government bodies where there is no reservation for them (unlike the gram panchayats) is a reminder of how much we should prize the ascent and staying power of everyone from Mayawati to Sushma Swaraj to Mamata Banerjee, whether or not we think they are good politicians.
If you have any doubts, take a look at the gender ratio for the 2019 elections. According to the Trivedi Centre for Political Data in Ashoka University, of the 8048 candidates only 711 are women, which adds up to 8.8%. That is an uptick of 1.2% from 2014. Three states and a couple of union territories have no women candidates at all. As Gilles Vernier from the Trivedi Centre tweeted, "NTK at 50%. AITC at 37.1% (40.5% for WB alone). BJP and INC neck to neck at 12.8% and 12.6%. 8 parties are doing better." To be able to vote for a woman and to be able to vote for a woman from a marginalised community is still a rare opportunity in India.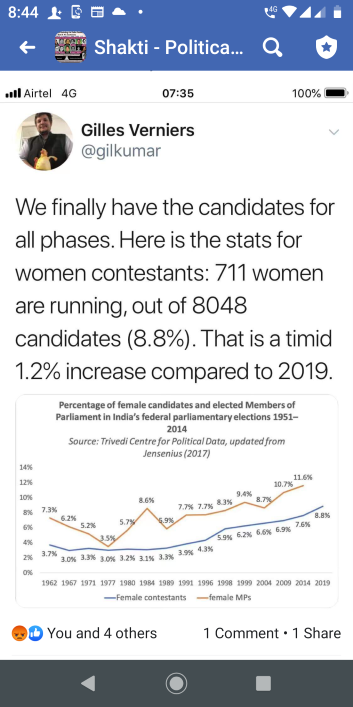 Male politicians on the other hand seem to know explicitly and consciously the threat that women politicians pose to them. From violence to slander to legal strategies such as the Haryana  Panchayati Raj (Amendment) Act, 2015 which set minimum educational qualifications for contesting in panchayat and urban government body elections, the ways and means to keep women out are ever multiplying. (One of my most baffling moments as a newspaper reading child was an editorial from a man who compared the entry of women in politics to the soiling of currency notes. Calling politics too dirty for women is a self-sustaining ecosystem.) But every election a small group of women persists despite the possibility of being washed away in the river of anxiety sweat from male politicians.
One intriguing example of the male politician's sweating over women rivals came recently via the Minister of Finance Arun Jaitley (also see the bizarre pamphlet about Atishi). He tweeted 'Behan Mayawati — she is firm on becoming a Prime Minister. Her governance, ethics and discourse stoops to an all-time low. Her personal attack today on the Prime Minister exposes her as unfit for public life.' Any career politician or even amateur one would feel entitled, obliged even to say the second and third sentence here. (Never mind that Mayawati had clearly scored a hit at the body pompous with her sardonic statement that married women are afraid of Modi in case wife-abandoning is contagious.) It is the first sentence that intrigued me. 'Behan Mayawati — she is firm on becoming a Prime Minister.' I mean doesn't every politician harbour at least an occasional dream of giving that Red Fort speech? But of course this was Jaitley issuing a dog-whistle to savarna voters and sexist voters, indicating that the Mayawati who dares to mock the PM today might become even more uppity tomorrow. Imagine the horror of Mayawati becoming PM so run and vote for the BJP, my friends, he was saying.
I also think that it is Jaitley himself, Jaitley personally feeling gobsmacked when confronted with the chutzpah of Mayawati after five years of everyone being sycophantic towards Modi after decades of being part of a political culture of respect = genuflection. Perhaps Mayawati has enough chutzpah to become PM, he has registered and it is a wave of panic that he must share with his brothers in arms. Just look at this one who doesn't understand aukaat! She is firm on becoming a Prime Minister is his equivalent ofthe horror movie trope of the call is coming from inside the house. We are a long and unhappy distance from a decent gender and caste balance among those who get tickets from political parties. We are a long way off from a time when we can relax and take for granted our women politicians, Bahujan politicians, queer politicians. In the meanwhile we can only hope that the call keeps coming from inside the house and scaring (shall we be cheap and pun) the pants off male politicians.
More about the abysmal representation of women among candidates in the 2019 Lok Sabha elections:
Till 7th phase, women only 10% of all candidates in poll fray: Report
https://www.business-standard.com/article/elections/till-7th-phase-women-only-10-of-all-candidates-in-poll-fray-report-119051301319_1.html
A Dismal 7.31% Women Candidates In Phase Four Of The Elections
https://www.shethepeople.tv/home-top-video/phase-four-women-candidates-lok-sabha-elections
From BJP to SP, political parties remain fickle in their commitment to women's representation
https://caravanmagazine.in/politics/political-parties-remain-fickle-in-their-commitment-to-womens-representation
Indian politicians don't walk the talk on women
http://news.trust.org/item/20190509122903-14t90/?fbclid=IwAR2iZl-5VjHT1i7DUv-o88BTwkmemp7uCbNPj45ZJVjhg-lTPyCQJeTQ61k
In India's Elections, Female Candidates Still Need Men's Blessings
https://www.nytimes.com/2019/05/15/world/asia/india-elections-women-voters.html?action=click&module=Top+Stories&pgtype=Homepage&fbclid=IwAR0SOSXAhNfhd2Igujhnha763hLODjh4Zd3Cdc5t-G-4-tzzJpyEeGroBok